Luol Deng's Huge Contract Is a Smart Gamble for the Los Angeles Lakers
July 2, 2016
Steve Mitchell-USA TODAY Sports
Luol Deng agreed to a four-year, $72 million contract with the Los Angeles Lakers Saturday morning. It's a smart gamble that gives the Lakers legitimate talent in a position of need. But it also fogs up their long-term cap sheet and supports the notion they're content on sitting out next summer's free-agency bonanza.
According to The Vertical's Shams Charania, Deng talked to a few other teams before taking an exorbitant amount of guaranteed money—in a deal that won't become official until July 7—from a club that can't promise anything else: 
Deng had significant discussions with several teams, including the Washington Wizards and Utah Jazz, before committing to the Lakers, sources said. ... For the Lakers, Deng will provide versatility and an ability to shoot, slash and make plays. Deng has a solid reputation on and off the court, serving as a steady professional.
One of the most illustrious franchises in NBA history, the Lakers can't secure pitch meetings with top-tier free agents. Signing Tier B or C options is also difficult without paying through the nose. Deng is 31 years old and may soon embark on the least productive four-year stretch of his career. 
But that doesn't mean this acquisition is without merit. For a team that's packed with impressionable young talent, Deng provides a priceless splash of veteran leadership. He's a smart, unselfish professional who works hard on both ends and can fill multiple roles.
Deng Fits the Bill
Kim Klement-USA TODAY Sports
With $72 million coming to his bank account, there's no need for Deng to feel antsy about securing another payday. He won't go out of his way to steal shots and touches from D'Angelo Russell, Jordan Clarkson and Brandon Ingram.
Ideally, he'll guide and support them in ways, both on and off the court, that are beneficial to the Lakers' long-term growth. Building a profitable culture is important, and surrounding young players with older ones who do things the right way is a good way to do it. 
On the court, Deng's fit makes perfect sense. Even with Ingram on board, the Lakers still need a stopper who can stick to top-flight wing scorers and slide up a spot to defend larger power forwards. Ingram may be that guy someday, but Los Angeles doesn't want him to take an unnecessary pounding in the first few years of his career.
That's where Deng comes in. He's not the perimeter defender he used to be—31,000-plus minutes on the odometer will do that. But he's a massive upgrade over Kobe Bryant and Anthony Brown. 
If healthy, Deng and Timofey Mozgov—the other declining free agent Los Angeles reached a verbal agreement on a four-year deal with this week, per Adrian Wojnarowski of The Vertical—can help a defense that allowed more points per possession than everybody else last season. But at this stage in his career, Deng is also better suited playing up from his natural position.
That's fine until you look at Julius Randle and wonder how Deng fits beside him. 
Deng shot 48.4 percent from the floor after the All-Star break last season, when he replaced Chris Bosh as Miami's starting power forward. (He shot 43.1 percent before the break.) His usage percentage and minutes per game spiked too, and Deng responded with his best basketball as a member of the Heat. 
We don't yet know what Los Angeles' starting lineup will be. But assuming it's eventually Russell, Clarkson, Ingram, Randle and Mozgov, Deng can come off the bench for Randle and give everybody else some breathing room. He's a decent three-point shooter (34.8 percent on catch-and-shoot attempts last year, per SportVU) who couldn't miss in the playoffs. 
Deng Does the Details
Deng is also a good cutter who knows how to read and react to what the defense is doing, particularly when a larger player guards him: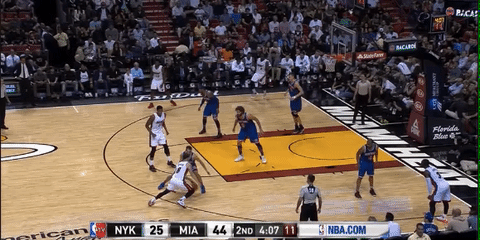 NBA.com
Last season, one-third of Deng's shots came in the restricted area, where he connected on an impressive 67.2 percent. Smart off-ball cuts to the rim helped, but he's also effective in transition—both qualities that are sure to make head coach Luke Walton smile. 
As a small-ball 4, Deng confused defenses as a screener for Heat point guard Goran Dragic. That skill can translate to Russell and Clarkson. Teams won't know whether to switch, trap or hedge the pick-and-roll. Against smaller defenders in the post, Deng is still agile enough to slip the screen—which means he pretends to set a pick before cutting toward the rim—and force hurried rotations. 
These are skills he'll bring in the first couple of years in L.A., but the back half of the deal will be brutal, especially if Ingram breaks out and becomes a star sooner than later. At this price tag, playing Deng fewer than 25 minutes per game doesn't make a ton of sense for the Lakers.
Last season, he shot only 28.8 percent behind the three-point line when he didn't have a day of rest in between games. It's a 16-game sample size—and he made 30.6 percent of his threes with two days of rest (in a 10-game sample size)—so there may be nothing to this number. But Deng's wear and tear is real, and the Lakers put themselves at risk by locking into him for as long as they did. 
An adult presence is helpful, but we know off-court quality isn't necessarily the top priority for the Lakers, considering they first targeted 27-year-old Kent Bazemore before he took less money to stay with the Atlanta Hawks, as ESPN.com's Brian Windhorst reported.
The Catch
But instead of hunting less expensive, still-improving players in their prime or nearing it, the Lakers tied themselves to a declining veteran who offers more certainty. When you compare his deal to others who have signed, the Lakers don't look like the best negotiators in the world. 
Jared Dudley is not a two-time All-Star like Deng, but both are low-maintenance veterans with similar skill sets at a similar age. The 30-year-old Dudley signed with the Phoenix Suns for $30 million over three years, per ESPN.com's Jeff Goodman. Solomon Hill isn't as smooth or efficient as Deng, but he's six years younger with superior foot speed on the perimeter. Hill signed with the New Orleans Pelicans for $48 million over four years, per ESPN.com's Marc Stein. 

Kim Klement-USA TODAY Sports
The Lakers have a little over $20 million worth of cap space left, not including the room exception; dollars don't matter this year, but lockout pending, they will next summer. 
If Ingram, Russell, Clarkson, Randle and Larry Nance Jr. all make sizable leaps over the next couple of years, maybe L.A. already has a perennial All-Star (or two) on its roster and doesn't need to rely on free agency to get one.
Maybe the Lakers bide their time, wait out LeBron James and the Golden State Warriors and strike down the line? Perhaps, in a strange way, they're finally playing the long game? The playoffs aren't on the horizon this season, but L.A. can still add another max contract next July and conceivably become a scrappy No. 6, 7 or 8 seed with room to grow. 
Deng cost a ton, and a two- or three-year deal would have been much easier to swallow. But if that's the price it costs to add a potential culture-changing presence, the Lakers won't regret this move.
Salary-cap information provided by Basketball Insiders. Stats per NBA.com unless otherwise cited.