Can Will Fuller, Braxton Miller Find Big Roles in Texans Offense in 2016?
May 29, 2016
Pat Sullivan/Associated Press
Last year, the Houston Texans suffered through miserable quarterback play, an injury-plagued rushing attack and a reliance on DeAndre Hopkins to carry an otherwise mediocre receiving corps.
This year, head coach Bill O'Brien and the Texans opted for an offensive skill position overhaul. They transitioned from the aging and injured Arian Foster to the underrated Lamar Miller, formerly of the Miami Dolphins. They lured quarterback Brock Osweiler from the Denver Broncos, paying him handsomely to assume command of their offense.
And on draft day, Houston added two more critical pieces. Moving up to secure Will Fuller in the first round and stealing Braxton Miller in the third, the Texans gave Hopkins the talented running mates at receiver that he's sorely missed since Andre Johnson departed. And despite Osweiler, Fuller and Braxton Miller all being first-year players for the Texans, the present and future look bright for Houston's offensive attack.
What Brock Osweiler Needs
Osweiler's tremendous rise from lost cause as Peyton Manning's developmental backup to potential starter over his mentor was both shocking and a testament to how far he's come from his Arizona State days. Over the last four years, Osweiler has reworked his mechanics and improved his velocity control and downfield ball placement.
Within the Broncos offense, Osweiler grew as a distributor, finishing short passes with consistency and forcing defenses to stretch, similar to how Manning thrived in the scheme. And like Manning, Osweiler has grown to be a great vertical-route thrower, especially in the slot. The play below illustrates that capability and comfort, even with a handful of secondary bodies around his target.

Broncos vs. Seahawks
Hopkins will continue to get his share of targets, and he has no reason to expect a drop-off in his stature as one of the best receivers in the NFL. But on top of that, Osweiler's vertical-passing ability and ball placement should allow Fuller and Braxton Miller to quickly become trusted weapons.
Where Will Fuller Fits
Drawing similarities to DeSean Jackson, Fuller is one of the better vertical receivers in recent draft history. And for him, that means more than just being straight-line fast. Fuller offers subtle buildup moves to force defenders off balance as they try to anticipate his underneath or deep post routes in their initial turns.
Fuller's quick feet and acceleration to separate at the top of the route make him a threat to defenses whenever he's on the field. But what makes Fuller special (and, for the Texans, worthy of a first-round pick) is his ability to finish isolated catches in vertical, perimeter and jump-ball opportunities.
In the play below, Fuller escapes tight pressure off the line, subtly slides past his defender and finishes with a fantastic in-air reception.
Notre Dame vs. Pittsburgh
Fuller, though generally used on the perimeter, should give Hopkins the much-needed, NFL-ready vertical threat in the Texans offense. Hopkins wins downfield, but he's best when he's able to dominate as a mid-range route-runner and maximize his length and balance after the catch. With Fuller opposite him, Hopkins not only will face less two- and three-defender shadows, but he will also not be relied upon to manufacture big plays all by himself.
Why Braxton Miller Can Thrive

After just over a year at the receiver position, there's no doubt Braxton Miller is still a work in progress as a full-time receiver. However, his progression as a route-runner and increased confidence as a receiver have been remarkable.
From his breakout performance in Week 1 against Virginia Tech to his Senior Bowl performance as arguably the best receiver in attendance, Miller's progression as a capable NFL receiver should come sooner than his draft round might insinuate.
While route definition—such as keeping his upper and lower half in sync and setting up double moves—will be an ongoing process, Miller's dynamic explosiveness and change of direction already make him one of the more dangerous chess pieces in the Texans offense.
His role may not be all that unlike Tavon Austin's role with the Los Angeles Rams, working as a slot receiver, designed runner and play-action threat in the middle of the field. In the play below, Miller, who's still at his peak rawness as a receiver, separates with acceleration off the line and finishes with a remarkable off-body catch.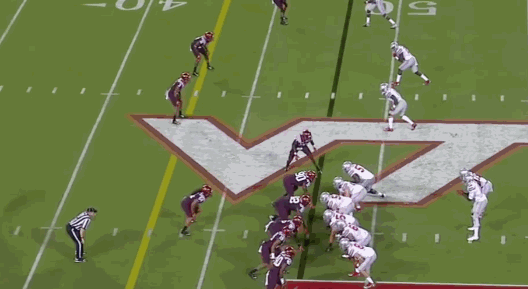 Ohio State vs. Virginia Tech
Miller's versatility as a do-it-all weapon may be the most fascinating part of the Texans' revamped offense. Hopkins already demands ample defensive attention, and defensive coordinators know what to expect from Fuller. But with Miller offering Austin-like burst and Randall Cobb-esque upside, his influence could give Osweiler the complete receiving corps that every NFL quarterback covets.
Four of the Texans' five best offensive pieces (excluding the offensive line) are from other teams or the college level. Lamar Miller can force defenses to stay disciplined on the inside and perimeter. Hopkins can improve upon his 2015 emergence as one of the NFL's best receivers. And Osweiler can grow with four young and talented offensive threats.
Houston shouldn't expect immediate returns from its busy 2016 offseason. It'll take time for these new pieces to mesh before we see what the dividends from this revamped unit will be. But O'Brien finally has a Texans team with an offensive identity—an identity that Fuller and Braxton Miller will play a huge role in as Houston looks to not only reach the playoffs for the 2016 NFL season but also potentially challenge for a Super Bowl berth.