Texas Football: Jerrod Heard Is Key to the Texas Longhorns' 2016 Hopes
March 24, 2016
Michael Thomas/Associated Press
The Texas Longhorns have been searching for a quarterback since Colt McCoy left following the 2009 season. The player who could be their temporary answer at the position is currently taking second-team reps in practice.
Jerrod Heard has been backing up Tyrone Swoopes in Austin this spring, despite winning the starting job from Swoopes last season. Texas head coach Charlie Strong said he gave Swoopes the nod because he's been around longer.
"It's just because he's got experience," Strong told Nick Castillo of the Dallas Morning News. "He's been there. But you watch him, he's making the throws and putting us in the right place."
But for Texas to make a significant improvement from its 5-7 mark last season, it needs Heard to take the job.
It took one game for Swoopes to lose his starting role last season to Heard. After struggling in the season opener against Notre Dame, he didn't start another game until the season finale against Baylor.
The redshirt freshman won the job because he was both more dynamic and more consistent. He completed a significantly higher percentage of his passes last season than Swoopes while also averaging more yards per attempt. 
2015 Statistical Comparison: Tyrone Swoopes vs Jerrod Heard
Comp. Pct
Yds/Att
Pass TD
Int
Swoopes
50.5
5.8
4
1
Heard
57.9
7.6
5
5
Sports-Reference.com
Had Swoopes gotten more opportunities, perhaps he would have been able to get in a rhythm and put up better numbers. In the two games against Baylor and Notre Dame where he got significant snaps, however, he was a combined 19-of-41 passing for 244 yards with one touchdown.
Swoopes is entering his senior season. He has yet to develop into a dependable passer, and it's doubtful that's going to change this year, even under the tutelage of new offensive coordinator Sterlin Gilbert.
Despite his erratic play at times, Heard showed promise in 2015. His style of play fits the new Texas offense well.
Gilbert brings the fast-paced spread offense that Art Briles pioneered at Baylor. The scheme's success revolves around running the ball using the read-option. Swoopes can run those read plays in the red zone, but Heard is faster and more dangerous over the full length of the field.
On this play against Cal, Heard pulls the ball and turns the corner for a huge gain. He demonstrates the ability to make a move for extra yards when he gets into open field.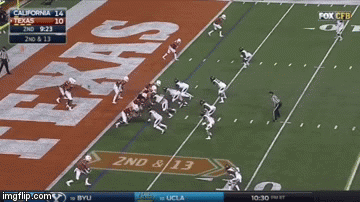 Via YouTube
The threat of the quarterback gashing the defense makes the scheme Gilbert brings all the more potent because defenses can't devote everything to stopping the inside running game. At Baylor, the offense has been most explosive when a true dual-threat quarterback like Robert Griffin III or Seth Russell has been running the read-option.
The passing game in Gilbert's offense uses those read-option plays to set up play action for deep shots downfield. While Heard's arm strength isn't great, he has shown he can make throws against one-on-one coverage when defenses creep up to stop the run.
Via YouTube
On this play against Oklahoma State, Heard sells the fake and then hits his receiver on the deep post against man coverage.
One of Heard's biggest problems last season was taking too many sacks and making it difficult for his team to get first downs and sustain drives. Gilbert's offense tries to prevent that, getting the ball out of the quarterback's hands quickly to neutralize the opposing pass rush.
The pace of the offense is likely to benefit Heard as well. The quick tempo will force teams to play their base defenses against the Longhorns, which will give Heard easier reads to make. It will also let him throw against defenses that are fatigued and have less time to make substitutions.
Based on his performance last year and his overall upside, Heard should be the starter in Austin this season. He should not be perceived as the next Vince Young or the next McCoy. In this new scheme, however, he has the chance to thrive and lift Texas back to respectability.
The expectations for Texas football are usually too high. Strong spoke to the Texas faculty on Monday, saying the Longhorns are "going to steamroll everyone" when they complete their program turnaround, according to Brian Davis of the Austin American-Statesman.
That's an exaggeration, and that turnaround isn't going to be finished this year. More reasonably, the Longhorns could be playing in a bowl game as a seven- or eight-win team if Heard seizes the starting job and plays to his potential.
Heard probably won't be the quarterback when the rebuild is complete and it's time, in his coach's words, to steamroll people. But in the meantime, he is the Longhorns' best chance to begin the slow trek back to relevance.