2016 NFL Draft: Myles Jack Is More Projection Than Sure Thing
January 14, 2016
Jae C. Hong/Associated Press
As college football continues the trend of spreading opponents thin with lavish formations that space defenses out, athletes are moving to positions they'd have never seen two decades ago. Football is cyclical, often repeating past trends with just slight variations. The popular passing game en vogue now has put a premium on players like UCLA linebacker Myles Jack.
A standout athlete at the linebacker position allows a defensive coordinator to be creative enough to be less reactive than aggressive. With the average team throwing the ball over 60 percent of the time, run-clogging linebackers aren't as valuable. But that doesn't mean traditional linebacker duties are worthless, and pure athletes can just roam the field and expect to be successful.
Myles Jack declared for the 2016 NFL draft in early October despite tearing his meniscus in a practice session. The 6'1", 245-pound freak athlete is a highly valued player because of his immense physical gifts. He compares favorably to even the best linebackers in the NFL, if NFLDraftScout's projected 40-yard dash of 4.56 is correct.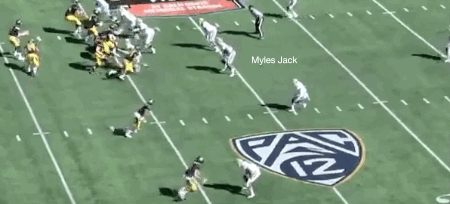 Youtube
Jack's ability to drop into space or even into man coverage is what makes evaluators drool. Rob Rang of CBS Sports has Jack going fourth overall in his latest mock draft. Jack is a great athlete, but his football acumen leaves reason for concern if that's the cost to acquire his talent.
The reason why that cost is too steep is that Jack is a large projection as an NFL linebacker. While it is exciting that he was able to cover slot receivers against New Mexico State, that's not a task he'll be asked to execute often. Jack will be expected to cover tight ends and running backs as well as drop into zone to use his speed to close out on routes.
Youtube
Jack is a pure weak-side linebacker because of his ability to shoot gaps and play in space. The other linebacker positions will present massive challenges for Jack, largely because he was rarely asked to do more at UCLA. And when he was, he struggled. It is difficult to find tape of Jack shedding blocks and making plays at or behind the line of scrimmage.
Some may want Jack to move inside to middle linebacker, but that would be an incredibly big task. Jack was at his best when playing next to a true middle linebacker in Eric Kendricks and strong-side linebacker Anthony Barr.
Unfortunately, due to Jack's knee injury, fans didn't have the chance to see how he'd do when he was the undisputed best player within his positional group.
It's not size or even bulk that makes Jack pigeonholed as a weak-side linebacker. He's very physical but almost to a fault. He doesn't use his hands when blockers approach. Jack slams into them to bounce off and then jets around. This is ineffective from a team-defense approach and increases the chance of injury.

YouTube
Above, we see Jack following reactively to the ball, instead of reading the blockers and meeting the running back at the lane. He only ends up in the general area because he is shoved to the ground. This is a constant in Jack's run-defending film and a major issue if he's to be counted on as a middle linebacker.
Jack's ability to play man coverage is definitely a tremendous positive. He is like a chess piece, and defensive coordinators will love utilizing Jack on a variety of tight ends and running backs. But when Jack is asked to read plays and make the right decision, he struggles.
Youtube
Above is an example of Jack guessing. He can't read the offensive linemen, who rise into a pass-blocking stance as soon as the ball is snapped. Cal quarterback Jared Goff immediately sees Jack crashing down to play the run, instead of covering the tight end. The gaffe cost UCLA about 40 yards.
Issues like this are why UCLA head coach Jim Mora Jr. warned Jack of leaving for college so early. According to Michael Silver of NFL.com, Mora had this to say about his decision to declare for the NFL draft:
He's taking his chips and shoving them into the middle, and we hope he draws a good hand," Mora told reporters Tuesday. "I think it's risky to do this. Having been on that side, there's going to be a lot of speculation as to what he is and where he fits. And as I told Myles on Sunday, NFL teams are very, very conservative, and if there's any question whatsoever, they'll pass on you in a heartbeat…

"If he played all year, I was thinking that we would (not have him next year), but when you only play in three games and that's all the tape they have of you your junior year. ... I've been in 25 draft rooms, and I've never seen a guy taken off of that ever. I worry about that for him."
Mora seemed like he had sour grapes at the time, but he had a good point. We cannot be sure that Jack will fully heal from his knee injury. Arthritis can develop in any surgically repaired knee, which hurts the long-term outlook and longevity of a career.
For all of his boundless athleticism Jack has 4 INT's, 1 sack, and one forced fumble in 29 games. Assign what value you will to production.

— Keith Mullins (@KeithDeuces) January 13, 2016
The NFL will scout Jack's talent more than production, which helps boost his draft stock. But comparing his collegiate production to that of linebackers who ended up being very good or elite in the NFL shows more cause for concern. Take a look at the numbers comparison below, per DraftCobern.
Myles Jack Solo Tackle Production vs NFL Linebackers
Player
Collegiate Percentile Rank
Luke Kuechly
99.89
Ray Lewis
98.99
Patrick Willis
98.39
Lavonte David
97.99
Bobby Wagner
93.69
NaVorro Bowman
90.39
Derrick Johnson
81.08
Myles Jack
64.76
Ernie Sims
62.16
Geno Hayes
61.56
DraftCobern
These numbers represent the percentile rank of Myles Jack's solo tackles in his 29-game career compared to elite NFL linebackers and his closest competition. Jack fails to sniff the area where the finest NFL linebackers were in college, which should raise massive flags.
Someone taking Jack in the top-10 of the draft should be wary of production that is closer to average than not.
Will Myles Jack be the next Ernie Sims? Sims was another great athlete miscast as a traditional linebacker. He bounced around the NFL because of his poor instincts and small frame. I doubt it, since Jack fits the current NFL perfectly as a weak-side linebacker and is exceptionally good at seeing and attacking. Those skills have value but don't project to a top-tier inside linebacker or pass-rusher.
And if not a pass-rusher or an elite middle linebacker prospect, then the value for a weak-side linebacker alone will make Jack go lower than some may expect.
Speaking of elite physical specimens at linebacker, Kwon Alexander fell to the 124th overall pick in 2015, and he had a very similar skill set. Stephone Anthony was a better overall player and still an elite athlete for the position, but he went 30th overall in 2015.
Can Jack be a great, impactful player? Yes, in time he can be.
However, what he starred at in college is not what he will be asked to do in the NFL. That gives major cause for concern, especially when talking about a top-10 pick.
All stats used are from Sports-Reference.com.
Ian Wharton is an NFL Featured Columnist for Bleacher Report.