Georgia Football: Keep it Cliche
August 25, 2009

Given the choice of youth along the line of scrimmage or at the skill positions, which would you take?

I'll take the "big uglies" every time.  Ball and clock control depend on winning the battle up front. Football games are won up front.

On offense, everything gets easier when you have time and space.  The running backs can run and the quarterbacks can see the field. The receivers have time to get open.
On defense, stuffing the run leads to obvious passing situations. A strong push up front and a rush off the edge force the quarterback to make quicker decisions and keep the defensive backs from having to cover for more than brief amounts of time.

These are well-known, tried and true axioms of football.

The offensive linemen don't make the paper that often. Their stats are not available to the pollsters and prognosticators. But their worth and contribution is invaluable to the potential success of any offense. 
Defensive lineman may have more opportunities to stuff stats with tackles, sacks, and forced fumbles, but their real value is occupying space and keeping the lineman off of the linebackers.

Their strengths do not translate into statistical recognition and national hype. They do translate into winning football games.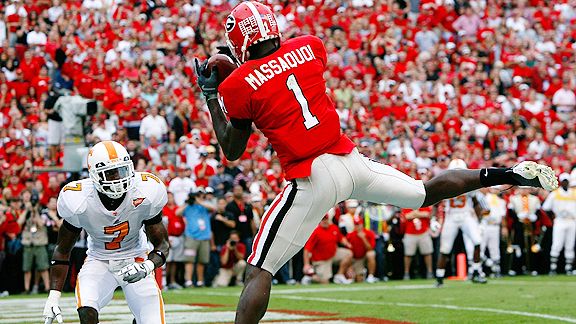 For all of the Bulldawg Nation's hand wringing and teeth gnashing over the loss of three of our four largest offensive statistical contributors, the reality is more remains than has departed.
We may not have the offensive flair or quick strike ability, but we will move the ball. From every report, Cox is an accurate thrower with good decision making abilities.  Samuels is more than capable, as are his backups.
A.J. Green is A.J. Green and the young tight ends and Michael Moore will contribute.

Sure, we have cause to be concerned. The schedule is once again brutal. Our defensive backs need to prove they can make tackles and play assignment football against some gimmicky offenses.
The coaches can't do anything about the schedule, but they can coach up these young DBs and improve the tackling situation.

In baseball, they say pitching and defense win championships. In football, you have to be able to run the ball and stop the run.

Does anybody think we are not capable? Is our personnel going to be outmanned? Are we going to be outcoached? 
I believe, after careful consideration, your answer will be no. Unless, of course, you are a J-School alum working for ESPN and have been ordered to write a hype Florida piece.

Go Dawgs!