* RK author profile: Troy Soos
July 29, 2009


Apropos of the interview I did with Favorite PASTimes, here's a profile on Troy Soos, author of the Mickey Rawlings series of historical baseball mysteries, I did for the Summer 1998 edition of The Mystery Review, a defunct Canadian publication.
* * *

The manicured grass of the baseball field doesn't grow under Troy Soos' feet. The Cincinnati Red Stalkings, the fifth in the Mickey Rawlings mystery series (Kensington Books), is due out this spring. And he's already working on his next book. And the one after that.
Mixing well-researched fact with fiction, Soos depicts the travels and travails of Mickey Rawlings, a journeyman ballplayer in the early 20th century. Rawlings possesses a keen mind, if mediocre athletic skills. He must contend not only with the tenuous nature of the athlete's career, with all its peculiarities and Runyonesque characters, but with becoming enmeshed in the murders that somehow crop up at each of his venues.
As a young man, Rawlings left home to pursue his dream to become a professional ballplayer. His journeys took him to factory towns where work was often secondary to playing for the company team. He caught the eyes of major league scouts and wound up on the Boston Braves of 1911, only to be released after the season. He hooked up with the crosstown Red Sox, where his exploits begin.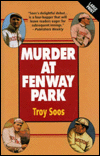 In his debut, Rawlings must deal with a Murder at Fenway Park. By the time his train arrives in Boston, he's missed his first game with his new team. Except for the guard who lets him in, there's no one left to greet him as he wanders the tunnels of the new stadium – no one except a bloody corpse. Now he has to prove to the authorities thathe's not the murderer. Before long he will also need to be wary not to become the next victim.
During a recen t conversation with Soos from his home in Winter Park, Florida, the author discussed the complexities of the historical mystery novel.
Soos was born in New Jersey in 1957, two weeks after the Brooklyn Dodgers migrated to the West Coast. He attended his first major league game in 1963, primarily to see Duke Snider, a former Dodger winding down his career with the fledgling New York Mets. Watching his idol sparked a lifelong interest, not in modern baseball, but in the game's history.
Soos concentrated on baseball in the early 20th century, "an era of greater charm," and was greatly inspired by The Glory of Their Times, one of the best oral histories about that "golden age." This fascination became the basis of the Rawlings mysteries, which originate in that so-called "last innocent time in America," prior to World War I, and continue through the decade of ragtime and prohibition. "Besides," Soos says, tongue in cheek, "if I wrote contemporary historical fiction, there would always be someone who could point out flaws in the details."
After receiving his degrees in physics from Rutgers and M.IT., Soos found more freedom to explore old-time baseball. He eventually gave up his research career altogether to devote full time to his writing.  "Believe it or not, fiction is harder than physics," Soos remarked.
His mystery influences include Peter Lovesey, author of a series of historical mysteries set in Victorian England and he admits his favourite actors are Buster Keaton and Douglas Fairbanks. "Apparently I live in a time warp," he proclaims, although he is up-to-date enough to have his own home page on the Internet (http://members.aol.com/troysoos) (sic).
That he enjoys the research aspects is evident. In preparing for each story, Soos combines vast amoun ts of written research with "field trips," where he consults medical personnel, history buffs, even gun shop owners. "I use newspapers from the cities where I want to set the story. I also visit historical societies to study photographs from the era. And, of course, there's Cooperstown (N.Y., site of the National Baseball Hall of Fame and Library) where I comb through players' files for first-hand material."

Soos also uses yellowed city maps and decades-old directories to ensure accuracy in his use of street names, police precincts, and municipal buildings. In Hunting a Detroit Tiger, Rawlings describes how Detroit city leaders altered street signs to clean up the city's image: "Red light districts, once considered essential entertainment, were no longer quite so desirable. Loathe to eliminate them, however, [they] came up with a novel way of lessening their notoriety … as certain streets became infamous for brothels and blind pigs, instead of shutting down the whorehouse and unlicenced saloons, the City Council simply changed the names of the streets."
Another of Soos' hobbies, silent films, also helps in laying his groundwork. "Many major cities had movie studios and films were often shot right on the street so I can see what an area really looked like at the time. I also have a collection of movie magazines dating back to 1912 which give me a feel for the fashion of the day, as well as how people wrote and talked." Even something as innocuous as old Sears Roebuck catalogues can generate ideas for clothing and furnishing styles, which Soos depicts with great detail. He points out, "I like to get the flavour of the period. I strive more for realism than reality."
Soos considers many elemen ts when putting together his recipes for mystery. "I checked old weather reports. Rawlings might need more time to run through his investigations than an historically faithful schedule would have allowed, so I have to make up a few rainouts or give him a nagging injury that will keep hjm out of the ballpark for awhile."
Given the fictitious nature of his detective, Soos obviously can't replicate the ball, games with 100percent accuracy, but he does manage to depict some notable events, such as the 13- game losing streak the Tigers suffered at the start of the 1921 season.
Bona fide major leaguers seamlessly pepper Soos' novels. John McGraw, Hughie Jennings, Ty Cobb, Casey Stengel and Hal Chase, among others, have all played substantial roles in Rawlings' encounters. But there are limits: "I can't use everyone because I wouldn't have plausible suspects. Certain players, like Cobb or Chase, can be accurately portrayed as villains because that's the way many people thought of them. But you couldn't have Stengel running around with a Meerschaum pipe and a magnifying glass. That's a bit too far-fetched, even for a character like Casey."
Yet Soos includes Red Corriden, real-life ballplayer as a fatality in Murder at Ebbets Field. I looked him up in a reference book, wondering if he had indeed met an untimely death. In fact, he lived until 1959. Soos' explanation: "I used him because he really was the third baseman in that game which decided the 1910 batting championship between Cobb and Napoleon Lajoie. Sometimes it's difficult to determine where to draw the line in using real players. I don't have them do anything that isn't in keeping with their true character. As far as Corriden goes, it's a tough call. Since he's best remembered for his involvement in the Lajoie game, I thought it was appropriate to use his real name, even though that meant I had to bump him off."
Through his studies, Soos also learned that many modern criminology methods did not exist 70-odd years ago. "Most police departmen ts have an 'unofficial historian' I speak with to see how investigations might have been conducted in those days. For example, the use of fingerprin ts as evidence was just becoming generally accepted."
Another source in Soos' preparation is his affiliation with the Society for American Baseball Research. SABR is a collection of scholars, historians and fans who study every aspect of the game from statistics to folk lore. "They've been a tremendous help; very generous in sharing their expertise. When I was working on Stalkings, SABR members provided me with information on everything from the equipment used in the game's early days to the whereabouts of the members of the Red Stockings in 1921."
When he feels comfortable wi th what he has gathered, Soos stops the research, prepares the first draft, then goes back to fill in the blanks. "It takes 14 months of work to put out a book every 12 months," he quipped.
How does Soos pick his topics? "I start with the history and see what conflicts are available for possible plot material. Some of the conflicts may be strong enough to hold up as the main murder plot, some might serve to present Rawlings with additional obstacles, and some simply make for good red herrings."
"One of the aspects to consider includes selecting a team in a city appropriate for the type of mystery I have in mind. For example, Detroit has historically been factories and labour, so it was an entirely appropriate setting for Hunting, which deals with unions and the workers' movement.
"In Murder at Fenway Park, I worked with the attempted 'fix' of the batting championship and great real-life villains in Cobb and Chase, who routinely fixed games for gamblers. I put these elements together and embellished them to write that story."
"For Murder at Ebbets Field, I made Mickey a member of the New York Giants and used the long-standing rivalry between the Giants and Dodgers to make his sleuthing more interesting. I also incorporated the complications which came from competition from the upstart Federal League. And finally I used the fact that major-league players were appearing on the vaudeville circuit and silent movies to broaden the plot beyond the ballfield." Rawlings and Casey Stengel, who was with the Dodgers in those days, are picked to be in a comedy with a preeminent actress of the day, reputed to have more than just an artistic interest in ballplayers. When her body is found on the beach following a cast celebration at Coney Island, Rawlings is once again called upon to aid in the investigation.
"As the series progressed, I incorporated American social history as well. In Murder at Wrigley Field, much of the story involves the anti-German sentiment on the home-front as America prepares to enter World War I. Rawlings, now a member of the Cubs, struggles with the thought that other young men are dying for their country overseas while he plays a kid's game. He must also cope with the murder of his best friend on the team. The fact that the dead man was of German extraction does not garner Rawlings much sympathy in trying to find the killer. (By the way, Soos admits he had a problem with the inaccuracy of the title. The Cubs' ballpark was not named Wrigley Field until 1926, a fact that he points out in the story's epilogue. But such are the problems of dealing with publishers.)
"Hunting focuses on union activities during the 'Red Scare.' I set baseball labour history against a turbulent time in America. By including these non-baseball elements, I hope to keep the series fresh and make things more interesting for myself in doing the research."
As a utility player, Rawlings spends a fair amount of time on the bench, which gives him a chance to deliberate on the crimes. It's precisely because he's not a regular, let alone a star, that Rawlings has the time to become such an astute observer. Soos points out, "If Mickey was a big shot, he wouldn't have time for detecting."
"I couldn't make him out to be a slugger or a star player because I don't understand what that's like. I make him the way he is because I can understand what it's like to love the game so much that you'd do whatever it takes to remain a part of it." Soosadmits his best years as a player came and went with Little League. "He needs to be the way he is for me to be able to write about him."
Stalkings is the author's most ambitious mystery to date. Set in 1921, Rawlings' latest team, the Reds, is gearing up to mark their 50th anniversary as baseball's first all-professional team. The crux of the preparations is the assembling of an exhibition of memorabilia. During the acquisition and cataloguing, a murder is committed. In the course of the investigation another homicide is unearthed, one allegedly committed by a member of that 1869 team.
This "double barrel" time frame created a sp'ecial problem for the author. "Baseball reporting was in its infancy in 1869-70 and primary source material is scarce. I had to use a lot of secondary sources written years later. One difficulty in writing about the old Red Stockings was that by 1872 the club had folded and .. sold off all the equipment, trophies, etc. There's no record of where these relics went, and very few of them have ever been found."
The only recurring character in the series has been Karl Landfors, a muckrakingjournalist in the Upton Sinclair mould who acts as Watson to Rawlings' Holmes, Worldly, educated, in touch with the injustices oflife, Lan dfo rs amply compliments the less-refined Rawlings. In the past few novels, Soos once again incorporates non-baseball history by having Landfors take up the cause of Sacco and Vanzetti, two Italian immigrants who were accused, tried and eventually executed for alleged anarchist activity.
In Hunting, Mickey renewed his relationship with Marguerite Turner, a movie actress he had met in Ebbets Field, Somewhat ahead of their time, they have taken up residence together in Stalkings and have the potential to develop into the Nick and Nora Charles of the baseball mystery.
What lies ahead for Rawlings? "After Stalkings," Soos disclosed, "he'll be moving on to the St. Louis Browns where the story will involve the Negro Leagues and the Ku Klux Klan, which was very strong in the 1920s." The seventh novel, tentatively titled The Tomb That Ruth Built, will deal with the New York Yankees. As the series progresses, Soos indicated some books will be set in the minor leagues, spring training towns, or on exhibition trips to Cuba and Japan. He also sees teaming up Rawlings with Moe Berg, a real-life Ivy League graduate and long-time catcher during the 20s and 30s, who .surreptitiously took photos of Japan during a trip there by major leaguers in the 1930s. These photos became the basis for American air attacks during World War II.
Soos fantasizes about creating a mystery for each of the original 16 major league teams. "Sure, it would be easier to have him stay in one place for an extended time, to have more continuing characters, but it wouldn't be as much fun."
Rawlings' playing career probably won't last much longer, but Soos sees his creation as a player, coach, manager, perhaps even a journalist or broadcaster. "And in want to make him unsympathetic," he joked, "I'll have him become an umpire." (Soos himself is a graduate from umpiring school.)
In addition to his novels, Soos has also written a nonfiction book about New England baseball entitled Before the Curse:The Glory Days of New England Baseball, 1858-1918 (Parnassus Imprints, 1997). When asked to describe the differences in writing fiction and nonfiction, Soos said that non-fiction was definitely easier. "It's much more complex to develop characters and realistic dialogue," he decided. "In non-fiction, if I can't find certain information, I just leave it out."