Giants Offense Has Plenty of Issues, but Eli Manning Remains the Biggest Problem
August 20, 2014

USA TODAY Sports
Three weeks into an extended 2014 preseason schedule and the New York Giants offense has yet to realize summer vacation is over.
After picking up only 38 total yards on four first-team possessions Saturday in Indianapolis, that first unit remains stuck on 14 points on 11 possessions this preseason. Eight of those series ended in punts, five after only three plays. 
And unsurprisingly, the key problem plaguing the Giants as they attempt to adjust to new offensive coordinator Ben McAdoo's system is that veteran quarterback Eli Manning has yet to master the passing game. 
Now, it's not all on Manning. But running backs Rashad Jennings and Andre Williams have been relatively solid, and the backs did all the work on those two touchdown drives. His receivers haven't necessarily been on his page, and the offensive line continues to struggle in pass protection, but the franchise quarterback has to get past those things to some degree. 
Yet in Manning's last two games, he's 1-of-9 for a total of six yards. He's 0-of-5 on passes traveling 10 yards or more, and he's averaging just 3.1 yards per pass attempt through three preseason weeks. That's unacceptable, regardless of how little support he's receiving and how steep the learning curve is with this new offense. 
His top receiver, Victor Cruz, who still hasn't caught a pass this month, chalks it all up to the fact the Giants are deliberately holding back. 
"Mainly because we haven't shown a lot," said Cruz when asked about the offensive issues, via NJ.com's Jordan Raanan. "We haven't given a lot of plays, tipped our hands on a lot of things we're showing [in practice]. It's pretty base stuff [in preseason games]. We just have to do a better job of executing."
That makes some sense because the Giants do play the Indianapolis Colts this season, but again, Manning and the Giants are failing horribly even on the most basic of plays. There's a difference between not game-planning and not trying. 
In attempting to pinpoint the root of New York's offensive struggles with a deep review of Saturday's game tape, I kept thinking I'd notice glaring lapses in terms of timing and synchronization. But that really didn't appear to be the problem Saturday, which is scary because it means we're not simply dealing with an offense that has yet to grasp a fresh system. 
As head coach Tom Coughlin pointed out this week—per Paul Schwartz of the New York Post—the Giants have to "work on everything." That's true, but this really does come down to Manning and his ability to quite simply be better. 
Again, pressure hasn't helped. Manning's first incomplete pass against the Colts came under the pressure of a safety blitz...
Credit: NFL Game Pass
But that doesn't change the fact it was a bad decision to throw that ball. The pass was underthrown, almost appearing as somewhat of a throwaway toward Cruz, who was basically double-covered. But look again, and you'll see that tight end Larry Donnell was a much better option breaking open on a slant to Cruz's left. 

Credit: NFL Game Pass
His second incomplete pass was an overthrow, again under pressure.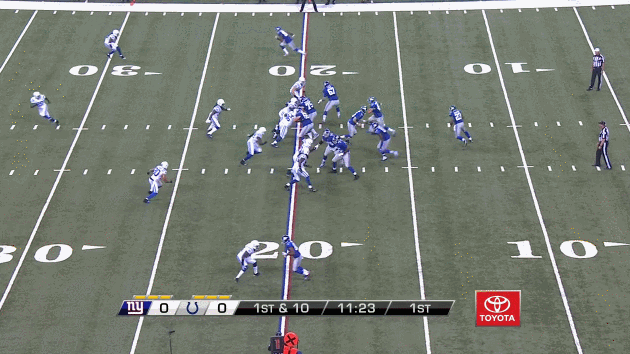 Credit: NFL Game Pass
Yeah, that happens when you have a dude in your face, no matter who you are. You can't fault Manning for that. And you can't fault him for the fact the running game was virtually nonexistent on Saturday. Jennings had just six yards on three carries on those first two possessions, leaving Manning to deal with 3rd-and-long scenarios in both cases. 
If he had been given more 2nd-and-2 opportunities like this one, he might have had more chances to execute quick, safe passes on short, McAdoo-style drops in order to keep the ball moving...
Credit: NFL Game Pass
That came after an eight-yard run for Jennings later in the first quarter, and it was Eli's only completion of the night. 
But he was forced to operate on 3rd-and-long far too often. On another of those occasions (this time a 3rd-and-8), he was sacked after second-year right tackle Justin Pugh decided to do his best impression of a turnstile. 
Credit: NFL Game Pass
That hit came less than three seconds after the snap, so you can't fault Manning there. But beyond that, the majority of the mistakes this passing game made were on him. 
Later, Jennings could once again muster only a single yard on first down, putting Manning and the passing game behind the eight ball. But is there any excuse for the throw he made—under absolutely no pressure—on the following play?
Credit: NFL Game Pass
Just before Manning released, he had three safer options breaking open, including Jennings in the right flat. 

Credit: NFL Game Pass
That's the pass McAdoo wants Manning to throw, rather than a low-percentage bomb to a well-covered receiver. The fact that Manning didn't take his time and recognize that, especially when it wasn't third down, indicates he's yet to catch on regarding that whole "quarterback-friendly" thing. And yes, he followed that up with another low-percentage deep ball on 3rd-and-9. It was underthrown. 
Same here on what should have been an easy completion to Donnell...
Credit: NFL Game Pass
Manning's lone pick, which was negated by a penalty on Indy's defense, also came on a 3rd-and-long. But again, look at the decision he made, and tell me this has anything to do with adjusting to a brand-new offense...
Credit: NFL Game Pass
Climbing the pocket with no pressure four seconds after the snap, Manning had a wide-open Randle underneath, but he instead threw into coverage. I promise you that's the throw McAdoo wants him to make, but the offense can only be as friendly as the quarterback allows it to be. 
We saw that again on the final series from the first-team offense. In this case, Manning had two quality options at the completion of his drop...

Credit: NFL Game Pass
But he still picked the riskier one, overthrowing Cruz into a crowd on a pass that was nearly picked off. 
Credit: NFL Game Pass
If you're desperate for big yardage, you might give Cruz a shot there. But this was first down. In that situation, Manning absolutely has to take that easier option and throw to Donnell at the 37-yard line. Instead, he forced it at Cruz. 
Just like I won't pretend it's all on Manning, I also won't try to claim it's been all bad. That short completion to Jerrel Jernigan was exactly what this offense needs, and this play-action deep ball to Cruz was Manning in his element...
Credit: NFL Game Pass
But plays like those are being heavily weighed down by the bad, just like last year. And it has little to do with those shorter drops or rearranged schemes. 
Yes, the Giants have to do a better job running the football and get more consistency out of their backs and linemen. New guard Geoff Schwartz has been a train wreck, and left tackle Will Beatty is still coming back from injury. These problems extend beyond No. 10. 
And naturally, Manning isn't saying he's worried. 
"No, I don't worry too much," he said this week, via Ralph Vacchiano of the New York Daily News. "Obviously you want to go out there and you want to play well. You feel like you should be able to find completions and do things well. But you can't get worried at this point in time."
But while Coughlin and Manning have both pointed to the fact this team has traditionally struggled in the preseason, we've never seen anything quite like this, which explains why Coughlin is threatening to keep these guys on the field for extra snaps between now and the end of the preseason. 
From Paul Schwartz of the New York Post:
Tom Coughlin said something quite different Sunday when questioned whether he believes the players have the same sense of urgency he does to get this shabby offense fixed before the Sept. 8 season opener.

"They better," Coughlin said, and then issued a warning about possibly increasing the playing time for his starters in the final preseason game against the Patriots.

"It's not written in stone about what you do in the last preseason game either," Coughlin said. "The idea is to come out of this having your team prepared throughout the course of these games so that when you head into the regular season you're ready to go. We still got some work to do along those lines."
ESPNNewYork.com's Dan Graziano points out they're already shuffling the offensive line in order to find better results, and let's not forget that rookie first-round pick Odell Beckham has yet to get up to speed due to a hamstring injury. A lot can and should change between now and that Sept. 8 regular-season opener against the Detroit Lions. 
I guess what I'm getting at is the idea that the players and their lack of execution is the problem here, not the overblown idea that the new offensive system is causing growing pains.
Several teams adopt new offensive schemes every year, and very rarely do any of them encounter problems like these. Look no further than fellow NFC East squads Washington and Philadelphia, who have fared fine taking on new systems the last two summers. 
And among those players, Manning is by far and away the most important, and he's been the biggest problem thus far. He and the Giants are running out of time now, especially if the first unit plans on taking that final preseason game off.
If they can't finally take some chances and show some serious progress against the New York Jets—a team they won't face in the regular season—Friday night, then it might become safe to wonder if this team has simply lost the magic that once made it so special. 
Brad Gagnon has covered the NFC East for Bleacher Report since 2012.