Scouting Report: Will Arsenal Replace Thomas Vermaelen with Toby Alderweireld?
June 23, 2014

Matthias Hangst/Getty Images
If Thomas Vermaelen plans on running down his contract, could Arsenal replace him with Atletico Madrid's Belgian international, Toby Alderweireld? 
To cover that hypothetical, this article will grade the 25-year-old, 6'2", 176-pound defender's performance against Russia at the 2014 FIFA World Cup and provide a scouting report on his season at Atleti.
Alderweireld's Grade vs. Russia: B
Russian left attacking midfielder Maksim Kanunnikov was lively, but he failed to expose Alderweireld, who is predominantly a centre-back filling in at right-back. 

FIFA.com
Alderweireld cleared the ball five times, blocked two shots and blocked a pass, per Squawka.com.

Squawka.com
When Kanunnikov was out of position, Alderweireld advanced the ball into Russia's defensive half 10 times, per FIFA.com.

FIFA.com
Here are the reasons why Alderweireld did not receive a higher grade. 
He was 0-of-2 in crosses, per Squawka.com.
He gave away possession 41 percent of the time he attempted a pass, per FIFA.com. 
Referee Felix Brych's non-call on Alderweireld impeding 

Kanunnikov could have been interpreted by another official as a foul, which should have been a penalty for Russia. 
Belgian manager Marc Wilmots is an ardent believer in a flat back four.
This is why Wilmots started four centre-backs (Alderweireld, Daniel van Buyten, Vincent Kompany and Vermaelen).
While Alderweireld was not fantastic from an individual point of view, he chipped in for the team as Belgium registered a clean sheet in a 1-0 win over Russia.
Alderweireld's Atleti Positives
Alderweireld can match Atleti centre-back Miranda in heading prowess. 
Squawka.com
Arsenal manager Arsene Wenger's current centre-backs are low-risk tacklers. 
| | | | | |
| --- | --- | --- | --- | --- |
| League Only | Laurent Koscielny | Per Mertesacker | Thomas Vermaelen | Toby Alderweireld |
| Tackles Per Game | 1.7 | 1.2 | 1.0 | 2.3 |
| Fouls Per Game | 0.9 | 0.3 | 0.4 | 0.5 |
| Tackles Per Foul | 1.8 | 3.4 | 2.3 | 4.7 |
| Interceptions Per Game | 2.8 | 1.7 | 1.4 | 1.0 |
Alderweireld only conceded six free-kicks in 12 La Liga games and has a higher tackles-per-foul average than Koscielny, Mertesacker and Vermaelen.
Conservative in the tackle, Alderweireld nicks the ball away from Queretaro's Espanyol loanee, Jhon Cordoba, at the last moment, as opposed to diving in.
LigaBBVA.com
Villarreal substitute Moi Gomez's incisive cross was diverted away from goal by a last-ditched intervention from Alderweireld. 
LigaBBVA.com
Alderweireld's Atleti Negatives
Atleti manager Diego Simeone did not rate Alderweireld above Diego Godin and Miranda. Making frequent errors is a reason why Alderweireld is not in the class of those two.
When Espanyol left-back Fuentes delivered a cross, Alderweireld was caught out of position by Espanyol centre-forward Sergio Garcia.  
LigaBBVA.com
Alderweireld did not cover then-Real Valladolid (now Cardiff City) centre-forward Javi Guerra.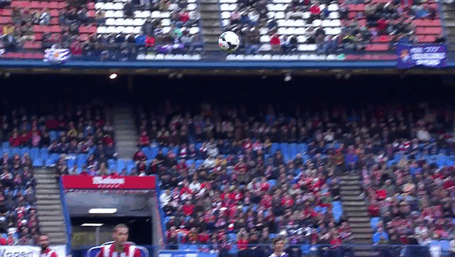 LigaBBVA.com
Alderweireld botched an attempted clearance that led to Malaga right attacking midfielder Samuel scoring.
LigaBBVA.com
Bottom Line
Vermaelen has hinted at leaving Arsenal. 
"Everybody understands my situation at Arsenal and that I have one year left," Vermaelen said, per Sky Sports. "We talk a lot when I am at Arsenal but it's not what I am going to discuss here. It is something you are going to have to ask him [Wenger]."
Alderweireld possesses the size, does not concede many free-kicks and can start at centre-back or full-back, so he is a viable replacement for Vermaelen. 
Statistics via WhoScored.com