Is Zach Ertz the NFL's Next Big Star at the Tight End Position?
June 22, 2014
Al Bello/Getty Images
Since arriving in Philadelphia, Chip Kelly has handpicked plenty of weapons that fit in nicely with his unique, fast-paced offense. But tight end Zach Ertz has a special place on the Eagles roster because he was the first offensive skill-position player drafted by the mastermind head coach. 
There were clear signs last year that the Stanford product had star potential, but he was held up at school during the team's offseason program and was too far behind to make a big impact during the first half of his rookie season. 
Now, though, the 23-year-old has been practicing fully throughout the spring, and it appears he's ready to take a huge step forward as a sophomore. 
That offense is still loaded with options for quarterback Nick Foles, but top receiver DeSean Jackson is gone, so there should be plenty of opportunities for that to happen. The question now might be how high the ceiling is for Ertz.
Can the 2013 second-round pick emerge as the next stud at that position? In this offense and with his skill set and mentality, there's little reason to doubt him. 
Versatility is the key
For starters, if Ertz is going to have a chance to break out in a big way, he'll have to remain on the field. He was in for 41 percent of the team's offensive snaps last season. That number should increase in 2014, but it'll help if he can prove to be a trustworthy run- and pass-blocker so that Kelly can use him freely in an offense that works at such a quick tempo that there's rarely enough time to change personnel on the fly. 
"I think that's the biggest thing: You can't be subbing guys in and out with the [tight] ends we have," Ertz said earlier this month, per Zach Berman of the Philadelphia Inquirer. "We're able to do that [keep tight ends on the field], whether it's in-line or out wide."
Pro Football Focus (subscription required) graded Ertz as the eighth-best tight end in the entire league last year, which is quite impressive considering that he had only 14 catches and zero touchdowns midway through the year (he picked it up with 22 receptions and four scores in the second half). But PFF still gave Ertz a negative grade as a run-blocker. 
"He's put a huge emphasis on getting better as a run-blocker," wrote Chris McPherson of PhiladelphiaEagles.com earlier this month. 
"Receiving has come more natural to me in the past," Ertz said, per Berman, "but there's an emphasis on the blocking this year."
If indeed he's improving in that area, look for Ertz to increase his snap total dramatically. In fact, there were already signs of that happening as he emerged during the second half of his rookie campaign.
Zach Ertz: Rookie production
Snap %
REC
YDS
TD
First half of season
36.2
14
201
0
Second half of season
45.3
22
268
4
Pro Football Reference/Focus
More snaps quite simply means more opportunities to shine. 
Picking up where he left off
"You saw in the second half of the season what kind of went on," Ertz said recently, according to Berman. "I was used all over the field."
As the Eagles became more comfortable with the kid later in the 2013 season, he definitely gained more looks. 
Here's what he said about getting acclimated last year, according to PhiladelphiaEagles.com: 
The game truly started to slow down towards the second half of the year. It was such a whirlwind at the beginning that I didn't really know what was going on. The playbook wasn't too hard to grasp, but just the play speed was the biggest thing to get used to. Last year, I didn't know what to expect from the offense and just being out here in Philadelphia as a whole. Obviously, this year it's going to be a lot better.
Now with a full offseason under his belt, the game should be even slower. And it also helps that, if everything goes as planned, he'll have a full season with Foles under center. The young quarterback really began to believe in Ertz during an astonishing season in relief of Michael Vick. 
Eagles quarterbacks when throwing to Zach Ertz, 2013
QB
Target %
Comp. %
TD
INT
Rating
Foles
11.7
67.6
4
0
127.0
Vick
8.5
50.0
0
0
91.0
Pro Football Reference/Focus
Foles even started looking for him in big moments, which is why Ertz had four touchdowns in his last six games, one of which came in the playoffs against New Orleans on a nifty play in which he sold a block and peeled off for the grab. 
NFL Game Pass
Which leads us to another important point...
The guy makes plays
You can't become an elite tight end in this pass-heavy era without being a top-tier playmaker. And while Ertz doesn't possess Jimmy Graham's size or Vernon Davis' speed, he's more than physical enough as a 6'5", 250-pound presence.
Plus, after running a 4.57-second 40-yard dash at Stanford's pro day, it became obvious he was a solid all-around athlete. Ertz also did an impressive 24 reps on the bench press at the combine, which bolstered the perception that he's strong like bull. 
NFL Game Pass
We also know he's got a sweet set of hands. Ertz had the league's 10th-lowest drop rate at the tight end position last year, according to PFF, letting just two passes get away on 55 targets. A few examples of Ertz the catcher:
NFL Game Pass
NFL Game Pass
NFL Game Pass
And he's not just a safety valve. Only five receivers had more yards per pass route run than Ertz in 2013, according to PFF. 
NFL Game Pass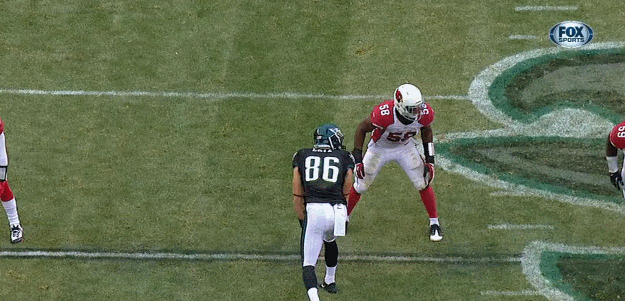 NFL Game Pass
Not that I've felt him, but in both of those areas, Ertz has the feel and the look of a Jason Witten. 
Sizing up the competition
So can Ertz be the next star tight end? Can he be the next Graham or Rob Gronkowski? The next Witten or Tony Gonzalez? 
You get the feeling he believes it. 
"I think I can make a big jump," Ertz told the Philadelphia Daily News earlier this offseason. "I mean, I'm not a predictions guy. At the end of the day, all I really care about are the wins. But at the beginning of the year, I kind of started off slow. As the season went on, I think the numbers and the plays started to pick up, and hopefully it's more of the same."
And so does his position coach. Here's what Eagles tight ends coach Ted Williams recently said of his young weapon, according to The News Journal (Wilmington, Delaware): 
He's got a lot [of tools]. He's an excellent route runner. Guys that big and run that well and have the skills and tools to be precise – body control, strength, size, leverage – I think they're different. There aren't a lot of them like that. Not at his position. You saw the Shannon Sharpes of the world, the Ozzie Newsomes of the world who can do those kinds of things. That made them premier players.
Quite the comparison.
The odds say at least one of the current crop of young tight ends will become something special, and it really is wide open. Here's a look at what every tight end 25 or under did last season:
Tight ends aged 25 or under, 2013
Tight end
Age
Starts
REC
YDS
YPC
TD
Jordan Cameron
25
14
80
917
11.5
7
Julius Thomas
25
14
65
788
12.1
12
Charles Clay
24
15
69
759
11.0
6
Coby Fleener
25
12
52
608
11.7
4
Tim Wright
23
8
54
571
10.6
5
Jordan Reed
23
4
45
499
11.1
3
Zach Ertz
23
2
36
469
13.0
4
Rob Housler
25
10
39
454
11.6
1
Tyler Eifert
23
15
39
445
11.4
2
Mychal Rivera
23
3
38
407
10.7
4
Pro Football Reference
Ertz was the only tight end to average 13 yards per reception, and his cumulative stats were right there despite the fact he started just two games. 
If someone here is going to become elite in the near future, your best bet might be on this guy.