Why Ryan Tannehill Is the Best Franchise Quarterback Nobody Is Talking About
June 15, 2014

Mike Ehrmann/Getty Images
Miami Dolphins quarterback Ryan Tannehill has had a relatively quiet career to this point.
Tannehill was the third quarterback selected in the 2012 draft, six spots after Robert Griffin III and seven behind Andrew Luck. With Russell Wilson also entering the NFL that year, it's easy to understand why Tannehill has conceded the spotlight during his career so far.
The 25-year-old has started two seasons for the Miami Dolphins, putting up unspectacular individual statistics without any real team success. His bland media persona helps to keep him hidden in the background of the stage play that is NFL media coverage.
On the onset, Tannehill is just another starting quarterback in the NFL—not an insufficient starter, but not spectacular either.
However, shallow analysis of the quarterback position is regularly negligible because it doesn't truly give us a picture of what the player has done. Team success and raw statistics don't tell us about all of the factors that truly affect the quarterback position on the field.
For Tannehill, those factors are vitally important.
During last season, the Richie Incognito-Jonathan Martin scandal highlighted the problems in the Dolphins locker room. While those issues were obviously more important than what was happening on the field, they overshadowed just how poor the Dolphins were when playing last year.
More specifically, how poor the pieces around Tannehill were.

Phelan M. Ebenhack/Associated Press
During the 2012 season, his rookie year, the former Texas A&M signal-caller played behind an adequate offensive line with very poor receiving options and a below-average running game. The offense ranked 22nd overall in DVOA (Defense-Adjusted Value over Average), 23rd in rushing and 23rd in passing.
Tannehill consistently showed flashes, but there was little he could do to compensate for the lack of explosion around him on offense.
Furthermore, Luck, Griffin III and Wilson were all starring elsewhere before Colin Kaepernick established himself late in the year. The Dolphins recognized that Tannehill didn't have enough pieces around him after his rookie season.
Even though the front office added Brandon Gibson, Mike Wallace and Dustin Keller, Tannehill still didn't have sufficient receivers to throw to.

Michael Conroy/Associated Press
Gibson was proving to be a valuable member of the offense as a third receiver, but he tore his ACL after seven games. Keller, a veteran who was expected to be valuable as a possession option, never played a snap as he suffered a horrible knee injury during the preseason.
That left Wallace—a receiver the Dolphins must have known they were overpaying when they signed him, but one who they would have still expected a lot more from.
Wallace brought the explosion the Dolphins offense so desperately needed, but his route running proved to be even sloppier than it had been in previous years, and he wasn't a reliable pass-catcher. Overall, Tannehill's receiving options were slightly better, but that didn't offset the decline in the rest of the offense.
Even before Incognito and Martin left the team, the Dolphins were having major problems protecting the quarterback, and the running game proved to be below average again.
As a second-year starter, Tannehill's supporting cast was only slightly better than Luck's in Indianapolis and nowhere near as good as any of the other young starting quarterbacks in the NFL. Even Cam Newton in Carolina had more weapons despite the decline of Steve Smith.

Nell Redmond/Associated Press
To worsen matters, the perception of younger quarterbacks had been altered by Luck, Wilson and Griffin's success.
Tannehill had heightened expectations to meet in a situation that was simply asking him to do too much. He didn't have a Reggie Wayne, an Alfred Morris or a Marshawn Lynch to rely on. He had to immediately step in as the team's starter and carry the offense by hiding pass-protection mistakes, throwing in bad down-and-distance situations and consistently finding receivers who couldn't create separation.
Did he handle all of this perfectly? No. Did he match what Luck had done in Indianapolis during his rookie season or what Wilson did in Seattle during his second season? No. Does that mean he is not a franchise quarterback? No.
Tannehill still has consistency issues. He still makes too many bad decisions during games, and his ball placement costs his receivers yardage at times.
These aren't uncommon issues for younger, less experienced quarterbacks.
Tannehill is still only entering his third season in the league. Even though Wilson and Luck have accelerated the expectations within the development process, the Dolphins quarterback should actually be considered ahead of schedule at this point.
Arm Talent

J Pat Carter/Associated Press
Too often we simplify arm talent and mistake it with arm strength. Arm strength refers to how far a player can throw the ball and how well those throws sustain velocity. Arm talent is a little more complicated, as it looks at how the player controls the trajectory of his passes as well as his arm strength.
Being able to control the trajectory of your passes allows you to fit the ball into tighter windows and generally makes it easier for receivers to catch the ball.
In terms of sheer arm strength, Tannehill can throw the ball down the field, and he has impressive velocity. He isn't on the same level as Matthew Stafford or Joe Flacco in terms of sheer arm strength, but he does offer much more when you consider arm talent.
There may not be another quarterback in the NFL who can boast the range in trajectory and velocity that Tannehill does.
He can loft touch passes high or low. He can put a slight arc on high-velocity passes that perfectly travel down the seam. He can throw fastballs down the sideline that beat defenders to spots even when he is late to recognize his receiver coming open.
Tannehill's arm talent stands out most when he throws over the middle of the field.
Throwing touch passes over the middle of the field can be dangerous if you're not very good at it. That is because regularly, there are linebackers lurking underneath and safeties waiting over the top. Instead of arcing passes over the middle, most quarterbacks prefer to rifle passes through tight windows by trusting their arm strength.
Tannehill is able to do that, but his more impressive plays come when he manipulates the trajectory.

NFL.com
Against the Indianapolis Colts in Week 2, the Dolphins were driving to set up a field goal late in the second quarter. The Colts come out in a Cover 2 look, with man-coverage alignments underneath and two safeties deep.

NFL.com
In the slot, Charles Clay badly beats the defender who is trying to press him at the line of scrimmage. Clay's release sends him free into space, but at this point in the play, Tannehill is still in his drop-back. He needs to be wary of the recovering defender cutting underneath his pass and the linebacker in the middle coming across the field.
It would have been easy for Tannehill to panic and force a fastball between the two defenders, but instead he showed excellent poise and patience.

NFL.com
When Tannehill gets to the top of his drop, the throwing window is rapidly closing and not clean. The inside linebacker is trailing the underneath running back, so he figures to arrive exactly where Tannehill needs to throw the ball to get it to Clay. Similarly, the position of the referee is proving problematic.

NFL.com
To avoid the crowded patch of the field, Tannehill lofts the ball over the underneath linebacker without altering the direction of his pass. In Cover 2, this should be a somewhat dangerous throw because there are safeties behind the play waiting to react to an overthrow.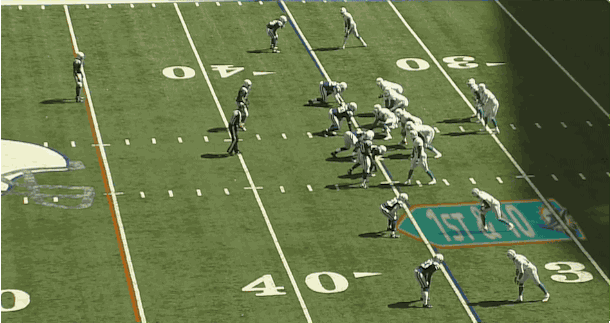 NFL.com
However, Tannehill is able to control the initial loft to keep the trajectory low. The result gives Clay an easy reception.
While his arm talent was on display throughout the 16 games of the regular season, the consistency appeared to be better earlier in the year than it was later on. Protection could have played a role in that, as it appeared Tannehill was rushing his throwing motion often as a result of the constant pressure and beating he had to deal with.
Presuming that Tannehill gets better protection in 2014, we should expect to see many more of these kinds of plays:
NFL.com
On this play, Tannehill hangs in the pocket and is actually hit as he releases the ball, but he still delivers a perfect pass to Wallace down the sideline. The arm strength and body strength to complete this pass under duress is impressive.
NFL.com
Seam routes for Tannehill are a major strength. He has a rare ability to slightly arc passes without losing velocity. This allows him to throw over underneath defenders and get the ball to his receivers before the safety can arrive.
NFL.com
Aaron Rodgers has promoted the beauty of the back-shoulder throw more than any quarterback in recent years. Rodgers throws these passes better than any quarterback because of his accuracy and arm talent. These throws need to be flighted properly to allow the receiver to adjust while the defensive back keeps moving down the field.
Tannehill clearly isn't on Rodgers' level, but he does have the ability to be an effective back-shoulder thrower.

NFL.com
This may be the most difficult throw that a quarterback can be asked to attempt, but as this play shows, it's also an indefensible pass when properly executed. Tannehill has the talent to consistently make this pass; he just needs the opportunity.
That should be a focus of his third season in the league.
NFL.com
On this play-action bootleg, Tannehill is forced to backpedal because the backside defender is waiting for him. Brian Hartline is running a crossing route, and he is Tannehill's only option. Hartline is perfectly covered underneath, with a safety arriving behind him.
There is no way that Tannehill should be able to control the flight of the football and perfectly place it where only Hartline can catch it.
Even if the quarterback was standing tall in a completely clean pocket, he would have a tough time throwing the ball as accurately as he did. Tannehill was able to throw his receiver open while backpedaling because of his phenomenal arm talent.

NFL.com
Of course, Hartline dropped the ball. 
NFL.com
NFL.com
When you don't have receivers who can consistently create separation or a scheme that creates easy throws, your quarterback needs to consistently make difficult throws. That is something Tannehill couldn't have done without impressive arm talent. 
Pocket Presence
Tannehill was officially sacked 58 times last season. That was 10 more than the second-most sacked quarterback and 21 more than the 16th-most sacked QB.
It's clear that Tannehill played behind an awful offensive line, probably the worst in the NFL. He had only four games when he was sacked two times or fewer, and in those games he threw six of his 17 total interceptions.
What wasn't clear last year was how much Tannehill could realistically have avoided being sacked so often.
By going through each sack and assigning a primary reason for the result of the play, it became clear that Tannehill wasn't the primary problem. Of the team's 58 sacks, the offensive line accounted for a mammoth 47. That would have been the second most in the NFL on its own last year.
Ryan Tannehill
Offensive Line
Wide Receivers
QB-C Exchange
6
47
4
1
Analysis through NFL.com.
In order to better understand this chart, here are two examples of sacks that would have occurred no matter who was playing quarterback. These sacks were part of the 47 that the offensive line was blamed for.
NFL.com
NFL.com
When you take out the quick throws from Tannehill's season, you find a quarterback who rarely ever got time to settle in the pocket and survey the whole field.
The Dolphins scheme didn't help, as there were many elongated play-action plays and deeper drops that the offensive line simply couldn't block for. With wide receivers who couldn't consistently get open quickly, Tannehill was always going to be facing a tough task in 2013.
Because he is a former wide receiver, Tannehill is an impressive athlete, and that helped him to escape from pressure at times. However, more important than his athleticism was his pocket presence.
He made mistakes managing the pocket, but for the most part Tannehill showed poise and awareness that allowed him to be as effective as possible in such a tough situation.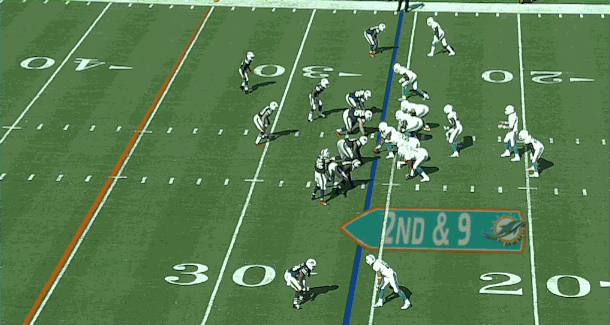 NFL.com
Initially, this play doesn't look spectacular, but that is because Tannehill is proactive in his actions. Hartline, the receiver he throws the ball to, hasn't even entered his break when Tannehill lets the ball go. Throwing with anticipation is something he does regularly, but that alone isn't what stands out on this play.
Tannehill throws this pass early because he is able to and due to the impending pressure.

NFL.com
Most young quarterbacks won't throw the ball before they can clearly see where their intended target is and whether that player is open. By throwing the ball early, you not only give your receiver a better chance of being open, but you also negate free rushers. On this play, Tannehill threw with two incoming free rushers.

NFL.com
If Tannehill held the ball for a split second more—in other words long enough for Hartline to run through his route—then the left rusher would have had a chance to create a fumble, while the right rusher would have had a chance to bat down the pass.
Tannehill was regularly toeing this line, where if he didn't get rid of the ball early, he would be throwing while being hit.
Because he was regularly throwing from collapsing, unclean pockets, Tannehill rarely had opportunities to show off his movement in the pocket. He consistently made slight adjustments, but mostly he was altering his body position to throw under pressure opposed to moving his feet to slide sideways or step forward.
When he did get opportunities to show off his pocket movement, he was somewhat inconsistent, but the ability was evident.
NFL.com
Reading/Manipulating Coverage
During his rookie season, Tannehill threw 13 official interceptions. Six of them came when he made bad decisions. In 2013, he threw 17 interceptions, with five coming on plays when he made bad decisions.
He should have been intercepted two or three more times because of bad decisions, but within the context of his role on the Dolphins offense, that number isn't overwhelming.
Primary Reasons for Tannehill's 2013 Interceptions
WR Bad Route/Tipped Pass
Hit as Thrown
Hail Mary
Underthrow
Bad Decision
3
4
3
2
5
Analysis through NFL.com.
Tannehill's turnovers reflect how much of the offense he carried opposed to his inability to play the position. He was asked to read the defense before and after the snap for the Dolphins, and he consistently did it.
As a second-year starter, these are the areas that are still most likely to be developing. If Tannehill was turning the ball over all the time because he couldn't complete simple passes, there would be a real problem to worry about moving forward.
Instead he is making tough reads behind a bad offensive line with a limited receiving corps. Turnovers and sacks at this stage of his career are inevitable regardless of how well he plays.

NFL.com
Even from the first week of the season, Tannehill was reading through his progression quickly. While we don't know exactly what each quarterback's progression is, we can differentiate between those who stare down one receiver and those who move their eyes around the field.

NFL.com
At the snap, Tannehill looks to the bottom of the screen where Hartline is running a shallow slant route. The outside linebacker to that side of the field is dropping underneath the route, so Tannehill has no passing window to find Hartline.
He immediately recognizes this and turns away from that side of the field.

NFL.com
That outside linebacker dropping not only told Tannehill that Hartline wasn't available, but it also suggested that the defense was in zone coverage. With that in mind, it appears that the quarterback's second read is the deep safety as he stares down the center of the field.

NFL.com
Tannehill lets the ball go early, while under pressure, but he leads his receiver crossing the middle of the field to space. If he tried to throw it straight to where the receiver was at the time he released the ball, then it would likely have been an easy interception for D'Qwell Jackson underneath.
The young quarterback throws a perfect pass to space, but the receiver drops it.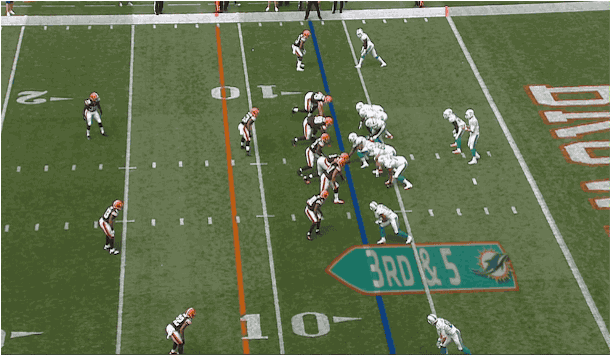 NFL.com
A greater examination of Tannehill's decision-making will be made next year, when he is in his third season and he plays behind what should be a competent offensive line. A greater examination of his anticipation throwing isn't something that is needed, though.
As previously noted, Tannehill consistently lets the ball go early. However, more important than that, he consistently lets the ball go early without significantly affecting his accuracy. This is something that stands out on intermediate throws, the types of plays the Dolphins should build their offense around in 2014.
The next step in Tannehill's development process is understanding how to manipulate the defense.
This is something he did at times last year, but because of his limited pass protection and relative inexperience, it wasn't something he did consistently. Not every starting quarterback in the NFL is able to manipulate the defense consistently, so it's not a prerequisite to being a starter.

NFL.com
Against the Colts, the Dolphins spread the offense out with five receiving options for Tannehill. The Colts responded by threatening to blitz, while leaving a single-high safety on the back end. The Colts were known for playing man coverage last year, and that's what they did on this play.

NFL.com
At the snap, Tannehill stares down the middle of the field. He's either looking directly at the deep safety or watching his receiver who is running down the seam. Either way, it has the same effect on the deep safety who stays in the middle of the field.

NFL.com
As the pocket closes in around him, Tannehill switches his shoulders so that he is facing the outside receivers. At this point, the deep safety is committed to the receiver running down the middle of the field, so the seam receiver is running into space.

NFL.com
Tannehill finds the receiver with a perfect pass. 
NFL.com
Athleticism
Tannehill isn't thought of as a running quarterback, even though he has 449 rushing yards on 89 attempts for three touchdowns in his career so far. Because of his large frame and well-rounded athleticism, he is similar to Cam Newton in how he plays the game, but a much less effective running threat.
The Dolphins quarterback lacks the agility of Newton, but he has good enough footwork to extend plays in and out of the pocket, run for big gains on read-option plays and comfortably execute bootleg play-action.
NFL.com
NFL.com
NFL.com
Although he doesn't have the athleticism that would allow you to use him like Kaepernick or Newton, Tannehill is one of the more athletic quarterbacks currently playing in the NFL. 
His athleticism offers the staff in Miami more flexibility in what they want to do on offense, and it also makes him difficult to game-plan for from the defense's perspective.
A somewhat forgotten player at this point in his career, Tannehill will need the Dolphins to be better as a whole if he is going to get the recognition he deserves in 2014. He may not currently be as good as some of his peers, but he is most definitely on course to be a franchise quarterback.