Phil Mickelson at Masters 2014: Daily Scores and Leaderboard Updates
April 10, 2014

Andrew Redington/Getty Images
After 16 consecutive made cuts, second only to Tiger Woods, Phil Mickelson is headed home early from Augusta after a brutal two-day stretch highlighted by a triple bogey in each round.
Mickelson stumbled into Friday and never recovered to finish with a five-over 149 through 36 holes of action. Both of his triple bogeys came without penalty strokes.
Take a look at the live leaderboard followed by a recap of the action. 
Round 2 Recap
Phil Mickelson's Round 2 Scorecard
Hole
1
2
3
4
5
6
7
8
9
Total
Par
4
5
4
3
4
3
4
5
4
36
Score
4
5
4
3
4
3
4
4
5
39
Hole
10
11
12
13
14
15
16
17
18
Total
Par
4
4
3
5
4
5
3
4
4
72
Score
4
4
6
5
3
4
4
3
4
76
PGATour.com
Mickelson never recovered form on Friday, although at times he had the looks of a veteran who could make a comeback. He posted a bogey on No. 9 directly after a birdie to close out the front nine.
The back is what doomed Lefty. A triple bogey on No. 12, his second in as many days, ended all hope he could recover and get above the cut line. Even three birdies in the next seven holes did little to help him get back in the thick of things.
As ESPN's Justin Ray points out, Mickelson was in rare form—the bad kind—this year at Augusta:
Thursday saw Mickelson post a seven on No. 7, but Friday on No. 2 was even worse. He found the bunker on the opening tee shot, hit over the green into another bunker and again crossed the green back into the another bunker to get slapped with a six.
Interestingly enough, speculation of an injury for Lefty is false, as he confirmed when he spoke to the media, via ESPN's Bob Harig:
"Physically I feel great," he said. "I haven't had any problems. I've been able to play healthy. I haven't had to think about it. But I'm not really sharp."
Mickelson faithful can take solace in the fact he's far from the only big name to take an early bow off the stage. In fact, he's one of 14 of the world's top 30 players to miss the cut in what has quickly become a who's-who list in the world of golf.
While disappointed, Mickelson sounds as if he's still going to tune in and see what happens the rest of the way, per Rex Hoggard of the Golf Channel:
While doing so, Mickelson has a chance to get his mind right in preparation for the rest of the season. Odds are he won't make the same mistakes next year.
Round 1 Recap

USA TODAY Sports
Mickelson got on the course late. In a star-studded group, he teed off with Ernie Els and Justin Rose. The three major winners were the second-to-last group on the course.
Lefty was only about an hour into his round when Bill Haas finished as the clubhouse leader at four under. 
Phil Mickelson's Round 1 Scorecard
Hole
1
2
3
4
5
6
7
8
9
Total
Par
4
5
4
3
4
3
4
5
4
36
Score
4
5
4
3
4
3
7
5
4
39
Hole
10
11
12
13
14
15
16
17
18
Total
Par
4
4
3
5
4
5
3
4
4
72
Score
3
4
3
4
5
7
3
4
4
76
PGATour.com
A slight wind kept scores down in the early portion of play, but even though the wind tailed off, scoring conditions were tougher in the afternoon. The course firmed up, and this always makes life hard at Augusta. 
Bubba Watson was the only player in the afternoon group to break 70. 
Mickelson was rock solid to begin his day in straight-forward fashion. He parred his first six holes, and eight of nine on the front. 
On the par-four seventh, however, he struggled. Mickelson's approach shot settled on the back fringe by the lip of a bunker. It left him with an awkward stance at the ball, and he struck his chip much too firm. The ball slowly but surely rolled off the opposite side of the green, and he ended up with a triple bogey.
At the par-five eighth, Mickelson teed off with an iron. The Albany Times Union's Pete Dougherty passed along that this led to the CBS announcers speculating on a possible re-injury of an abdominal muscle he pulled a couple weeks ago at the Texas Open. 
Luckily for golf fans, Mickelson went with his driver several times following this hole and showed no signs of injury. He finished the front with two pars. 
Lefty got his back nine off to a roaring start by drilling this bending putt for birdie: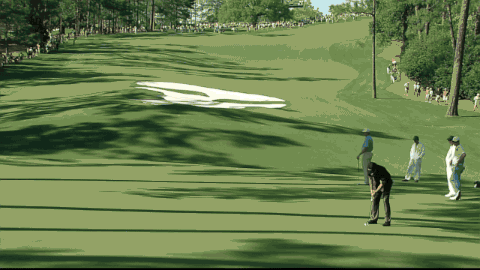 GIF Credit: Bleacher Report
Forsyth County News' Vince Johnson passed along Lefty's thoughts on his effort: 
He kept his hot hand rolling by getting to just one over with a birdie on the par-five 13th, but that momentum was quickly stalled with a bogey on the following hole after he missed a makeable par putt. 
The par-five 15th went worse for Lefty. After laying up, Mickelson landed his third shot on the front edge of the green, and like so many shots have before it, it rolled back into the water. 
Mickelson wound up with a double bogey, and suddenly the three-time Masters champ was back at four over. With three pars to finish his day, that is where he finished. 
If Weather.com's report holds up, scoring conditions are only going to get trickier. With no rain, some breeze and temperatures in the 80s predicted, the greens will be blazing by Sunday. This should play to Mickelson's benefit. 
With his high-lofted approaches and experience on these greens, he can handle the fast conditions as well as anyone. He will have to if he wants to overcome his poor opening round. Lefty has a lot of ground to make up, but he has the abilities and experience to turn things around if he get off to a quick start on Friday.