Could Iago Falque Be a Breakout Star for Tottenham Hotspur Next Season?
March 11, 2014

Manu Fernandez/Associated Press
Remember Iago Falque? Well, he is still on the books of Tottenham Hotspur, so here is a summary of his season on loan at Rayo Vallecano so far.
Positives
Falque is a technician: possesses top-end ball control, has an immaculate first-touch, is a smooth dribbler, can accelerate and decelerate instantly.
He was Lionel Messi-like in scoring two solo goals of high quality in Rayo's 4-1 win over Malaga.
Falque dinked past Malaga defender Vitorino Antunes, nutmegged centre-back Flavio Ferreira, before placing the ball past goalkeeper Willy Caballero.
Source: LigaBBVA.com
The second solo goal started via a backheel from Rayo centre-forward Joaquin Larrivey.
Falque took the ball in stride and surged forward before nutmegging Malaga right-back Marcos Angeleri to get through on goal and score again.
Source: LigaBBVA.com
Falque can also send in crosses which are difficult to defend against, like in Rayo's 2-2 draw against Real Valladolid.
Falque charged down the left flank and delivered an accurate cross before then-Valladolid right-attacking midfielder Patrick Ebert (now with Spartak Moscow) could get in a tackle.
From an ability standpoint, Falque is world-class, which explains why he has previously been a member of Barcelona and Juventus.
Negatives
In a play against Valladolid, Falque shot-faked twice and failed to release the ball immediately to Rayo central midfielder Roberto Trashorras, who averages more key passes per game (2.5; pass that leads to a shot) than Barcelona's Xavi (1.8).
Why? Falque spent 2.6 seconds dribbling blind and, since he was looking at his feet, he did not see a wide-open Trashorras (Falque would eventually pass the ball to Trashorras).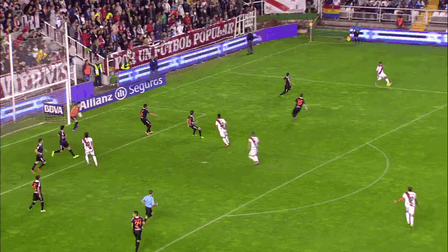 Source: LigaBBVA.com
It was an Andros Townsend-esque play, a problem he and Falque struggle with: indecisiveness and ineffectiveness.
| | | |
| --- | --- | --- |
| League Only | Falque | Townsend  |
|   |   |   |
| Goals | 2 | 1 |
| Shots | 20 | 54 |
| Shots Per Goal | 10 | 54 |
| Assists | 0 | 0 |
| Key Passes Per Game | 1.1 | 1.3 |
| Dribbles Per Game | 0.5 | 3.2 |
|   |   |   |
Townsend fails to convert 97.2 percent of goalscoring opportunities, per Squawka, compared to Falque's 84.6, per Squawka, a slight improvement, but still flagrantly wasteful.

Source: Squawka
In Defence Of Falque
Falque started this season with the Spurs' reserve side before being offloaded on loan to Rayo, a team led by a firebrand idealist in Paco Jemez, who takes umbrage when Rayo do not win the possession battle (Rayo average 59.3 percent of possession per game; the third-best in La Liga).
Source: LigaBBVA.com
With no pre-season, it was a tough sell for Falque to not only take in but enact Paco's pass-first philosophy on a modest team with the goal of out-passing every team in La Liga (Rayo had 54 percent of possession in a 4-0 defeat to Barcelona).
Falque's progress at Rayo was further hindered by a torn adductor muscle, per Sky Sports, so not only did he need to adjust his mindset, but he had to deal with the emotional and physical strain of being injured.
Paco has tried Falque in a deep-lying forward role in a 4-2-3-1, but the Spurs loanee is generally a left winger.

Source: Marca
However, some of Falque's best moments have been when he has switched to the right flank and operated as an left-footed inverted winger who cuts in.
While Rayo do average the fifth-most shots per game (14), Falque is still unsure of what to do: pass the ball or go himself?
By being safe and playing as if he is filling Nabil Bentaleb's role, Falque is not being true to himself, which is to be a showman and a dribbler. 
When Falque plays his natural brand of football, a high-risk, high-reward style, he is challenging Paco's game plan of controlling the game and meticulously breaking down the opposing team. 
With Falque's tendency to take on players, he risks turning over the ball, which gives away possession and you do not want to incur the wrath of Paco.
Paco rips into anyone, including Trashorras, a former Barca player, who is the talisman, the heartbeat, the most valuable player and the captain of Rayo.
This is the first time a manager at top-flight level has instilled trust into Falque, so you can understand why he is afraid to go against Paco.
Source: LigaBBVA.com
Falque has not been able to replicate his runs against Malaga week in, week out, so he passes and moves, which is why his offensive output is so meagre. 
Falque has star potential, but at 24 years of age, he needs to be playing in an environment that suits his style—Rayo is good for playing time, but not a long-term solution to Falque fulfilling his talent. 
When moving permanently, his career decisions thus far seem to have been status over suitability (Barcelona, Juventus and Spurs are all nameable clubs to casual fans).
If Spurs are not the right fit for Falque, he needs to choose a smaller club, which will serve as a stepping stone back into the big-time.
Statistics via WhoScored