Auburn Puts LB Rashaan Evans on School's Website, 5-Star Recruit Picks Alabama
February 5, 2014

via @martinrickman
The SEC had a rough day in terms of jumping the gun. Sure, the conference got plenty of recruits on national signing day. However, there were a few mistakes made online by schools.
Auburn and Alabama battled for Rashaan Evans, whom 247Sports lists as a 5-star linebacker. When national signing day arrived, the Tigers were apparently confident the star recruit would pick them.
Sports Illustrated's Martin Rickman found something interesting on the school's website:
That turned out to be an embarrassing mistake, AS Evans picked Auburn's archrival, Alabama: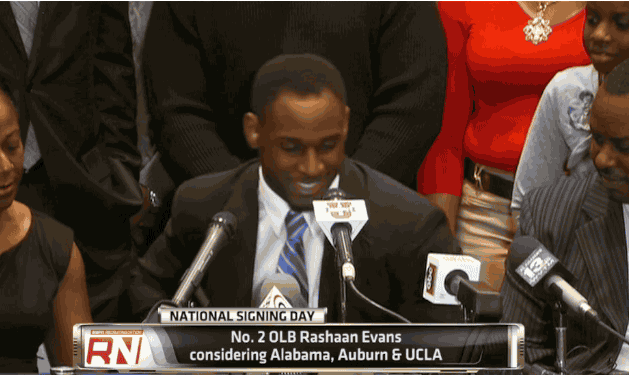 Bleacher Report
Well, that's awkward.
The LSU Tigers also decided that they were going to post a bio before the recruit made his decision.
LSU was among those hoping to land 5-star defensive back, via 247Sports.com, Adoree' Jackson. They even felt confident enough to put his bio on the team's website, via 247Sports.com's Thomas Goldkamp:
Jackson actually committed to USC.
Both Tigers teams learned a valuable lesson on this day.