Joe Namath Wears Fur Coat, Manages Super Bowl 2014 Coin Toss Fail
February 3, 2014

Elsa/Getty Images
New year, same Joe Namath.
Donning one of his trademark fur coats, the Hall of Fame quarterback was on hand to flip the coin at the onset of Super Bowl XLVIII. It's typically a simple and boring part of the pregame ritual, but with Broadway Joe on hand, it was anything but.
The ceremony started with handshakes and greetings between the Denver Broncos and Seattle Seahawks captains, but things took an odd turn when head official Terry McAulay brought Namath into the picture.
Introducing the former New York Jets quarterback, McAulay handed Namath the large silver coin and stepped back to deliver further instructions. Before McAulay could designate which team was represented by each side of the coin, however, Fur Coat Joe (as I will now call him) hauled off and flipped the coin into the night sky.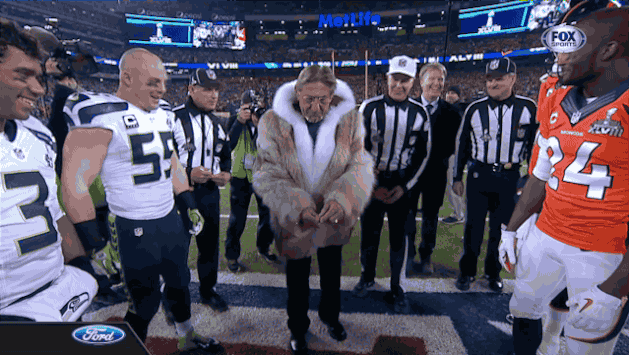 GIF via B/R
Fortunately for all, McAulay darted forward and caught the coin before it hit the ground, to many laughs.
Of course, this is just the latest in a string of odd incidents with Fur Coat Joe at their center.
Namath also had a memorable speech at the 2013 NFL draft, which included a seemingly unrelated allusion to the game being played today.
Ever the vocal one, Namath appeared as though he might have been spiced by a few cans of high-quality hops.
Keep a look out for more classic Joe Namath moments. The man and his fur coat are going for broke tonight.
Join me on Twitter for more breaking Super Bowl news.