Scouting Report: Is Clement Grenier Newcastle's Successor to Yohan Cabaye?
January 28, 2014

David Rogers/Getty Images
Lyon midfielder Clement Grenier is viewed by Newcastle United management as the successor to Yohan Cabaye, per Danny Griffiths at the Metro, so here is a scouting report on Grenier, a French international.
Why Grenier Is Brilliant 

Source: L'Equipe
"He [Grenier] is a very technical player, more of a No. 10 than a centre midfielder," former Lyon and Newcastle footballer Olivier Bernard said, per talkSPORT's Hawksbee and Jacobs.
"You probably will forget [about] Yohan if you get Clement because the player is very good."
When you watch Grenier, you are enthralled by his mastery of the ball from a set-piece situation.
Every time Grenier takes a free-kick, he is emulating Lyon legend Juninho Pernambucano, a pioneer of knuckle-ball free-kicks.
"Strike the centre of the ball, connecting with the bottom and driving up through it. This will cause [the ball] to dip viciously, confusing the keeper," Juninho said as he explained his free-kick routine, per FourFourTwo. "This effect is called knuckleball."
Juninho rates Grenier's free-kick prowess highly.
"[Lyon goalkeeping coach] Joel Bats told me that Clement Grenier practises free-kicks a huge amount," Juninho said, per RMC (h/t Ian Holyman at ESPN FC). "I took a lot longer than him [Grenier] to get to that level."
Source: Ligue1.com
Source: Ligue1.com
Grenier has accumulated four goals from free-kicks since May 2013.
His technique is flawless and he can strike the ball perfectly.
Another positive in Grenier's game is his propensity to extend plays.
In a 3-1 win over Bastia, rather than cross first time, he was given space, he took advantage, surged forward and clipped an accurate ball for teammate Yassine Benzia to head home.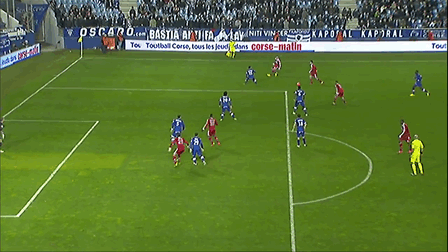 Source: Ligue1.com
Benzia profited again from Grenier's creativity in a 3-1 win over Sochaux.
Grenier dribbled deep into Sochaux territory.
He noticed right-back Sebastien Corchia and centre-back Mathieu Peybernes were out of position, picked out Benzia with an incisive pass and he converted his chance.
Source: Ligue1.com
Not only is Grenier a free-kick specialist with vision, but he is also two-footed.
He can pass left and right without any discrepancy.
Montpellier's Benjamin Stambouli found out the hard way that Grenier, naturally right-footed, can cross with his left foot.
It was a consummate cross to then-Lyon centre-forward Lisandro Lopez who headed past Montpellier keeper Geoffrey Jourdren.
Source: Ligue1.com
Comparing Grenier To Cabaye
Rather than use Cabaye's Newcastle form, it is more appropriate to compare and contrast Cabaye's last season for Lille (2010-11) to Grenier's current form for Lyon. 
Yohan Cabaye vs. Clement Grenier
Cabaye (2010-11)
Grenier (2013-14)
Goals
2
4 ✓
Shots Per Goal
46
12.8 ✓
Passes Per Game
60.5 ✓
52.7
Assists
8 ✓
4
Chances Created Per Game
1.6
1.7 ✓
Pass Success %
82.5 ✓
77.8
Long Pass Success %
69.4
70.4 ✓
Tackles Per Game
3 ✓
2
Interceptions Per Game
3 ✓
0.8
Fouls Per Game
1.9
1.6 ✓
WhoScored
Cabaye completed 108 tackles and intercepted 107 passes during the 2010-11 season, numbers Grenier may never accumulate because he is generally always charging forward. 
This is why he is out of position regularly, which has contributed to a tackle success percentage of 50. 
Source: Squawka
By the time Cabaye, then 25 years old, signed with Newcastle, he had played 253 games for Lille and was a pivotal member of a Ligue 1 championship side.  
His playing style was more refined, he played to his strengths and minimised his weaknesses.
Whereas Grenier, who has yet to start 30 Ligue 1 games in a season, is still learning from his mistakes. 

Lyon manager Remi Garde told Grenier to "simplify his play," per French Football Weekly's 2012 version of Le 50, yet two years later that message still has not resonated in Grenier's passing. 
He is high risk as 63.7 percent of his passes are aimed upfield and at times he overextends his passing range. 
This was exemplified in a 2-1 win over Saint-Etienne when 44 percent of his passes either went out of play or were intercepted.
Source: Squawka
That said, Cabaye's pass completion percentage in league play has ranged from 76.5 to 82.5 since the 2009-10 season.  
Grenier's current pass completion percentage is 77.8, so as long as he does not replicate his display against Saint-Etienne on a regular basis, there should be no problems.
Transfer Situation
Newcastle will sell Cabaye to Paris Saint-Germain for £20 million, per Louise Taylor at the Guardian, which would lead to a £15.7 million profit, having signed him from Lille for £4.3 million in 2011.
With Cabaye saying au revoir, it is only logical for Newcastle to replace him with Grenier.
However, Grenier does not want to leave Lyon this season, per RMC (h/t Sky Sports):
I have no idea what can be said or done at this time. At one point, the president [Jean-Michel Aulas] said that if a good offer is made for me this winter, he would look at it.

I have goals with Olympique Lyonnais for the end of the season, in the short term. I focus on it.

The [FIFA] World Cup is one of my goals. It is in a small corner of my mind. Is it better for me to stay in Lyon? For the moment, yes. There are still many goals for me with Lyon.
According to French football expert Jonathan Johnson, the "chances of [Yoann] Gourcuff leaving [Lyon] are much greater" than Grenier, per Wayne Brown at Vavel.com. 
One of Lyon's transfer trends is to sell in the summer.
Lyon Summer Transfers
Player
Buyer
Fee
Window/Year
1. Karim Benzema
Real Madrid
£30M
Summer/2009
2. Michael Essien
Chelsea
£24.4M
Summer/2005
3. Mahamadou Diarra
Real Madrid
£22M
Summer/2006
4. Florent Malouda
Chelsea
£13M
Summer/2007
5. Steve Marlet
Fulham
£11.5M
Summer/2001
BBC, CNN, ESPN, the Guardian, the Telegraph, Transfermarkt
Newcastle should re-invest a significant portion of the Cabaye transfer fee into Grenier which could prompt Aulas to say yes to the deal.
Then Newcastle have to persuade Grenier to sign with them in this window. 

Should Newcastle fail, they will lose out on a two-footed 23-year-old 6'2" free-kick specialist who is able to play as a No. 8 or a No. 10 and can conjure up moments of world-class play.
The concern for Newcastle is that by the summer transfer window, Grenier may have elevated his game to a level which will attract the attention of Europe's wealthier clubs. 
At this present moment, he is still a project, but his potential for greatness is worth the calculated gamble for Newcastle. 
Statistics via WhoScored, FFT Stats Zone, Squawka and Transfermarkt.