How Will the Patriots Defend Broncos' Julius Thomas?
January 18, 2014

Jack Dempsey/Associated Press
As if covering Demaryius Thomas, Eric Decker and Wes Welker won't be difficult enough for the New England Patriots secondary in the AFC Championship Game, they'll have to deal with 6'5'', 250-pound tight end Julius Thomas, who might be the biggest matchup nightmare in the Denver Broncos receiving corps.
The former Portland State basketball player who was selected in the fourth round of the 2011 draft had only one NFL reception before the 2013 campaign.
But fully healthy this year, he erupted with 65 catches, 788 yards and 13 touchdowns in the highest-scoring offense in league history.
In the AFC Championships Game, he'll be up against the Patriots secondary—a respectable group that allowed the 15th-fewest passing yards per drive during the regular season, according to Football Outsiders. 
But who will cover him? 
Usually a defense's most fluid linebacker or most physically imposing safety will be given the responsibility of locking onto the opponent's best pass-catching tight end. 

Al Bello/Getty Images
In all likelihood, Bill Belichick will throw rookie outside linebacker Jamie Collins on Thomas for at least a good portion of the game. 
An injury caused the highly productive tight end to miss the Week 12 showdown between these two teams, which resulted in a 34-31 comeback victory for New England in overtime. 
After jumping out to a 24-0 lead following three turnovers on the Patriots' first three possessions, Peyton Manning didn't throw it often, and he finished with a mere 150 yards passing. 
That won't be the case this time around. 
Thomas has seen at least five targets and made three or more receptions in every game he's played in since the Week 10 win over the San Diego Chargers. 
In the divisional-round victory, he caught six passes on seven targets for 76 yards. 
The 6'3'', 250-pound Collins, who ran a 4.64 in the 40-yard dash, flashed a vertical leap of 41.5 inches at the 2013 combine and began his Southern Mississippi career at safety, was a pass-coverage force against the Indianapolis Colts. 
According to Pro Football Focus (subscription required), Andrew Luck threw at Collins five times, completed two passes for only 12 yards and was intercepted once. 
That equated to a passer rating of 8.3. 
Here's a look at Collins' pick, which came on a seam pass intended for tight end Coby Fleener: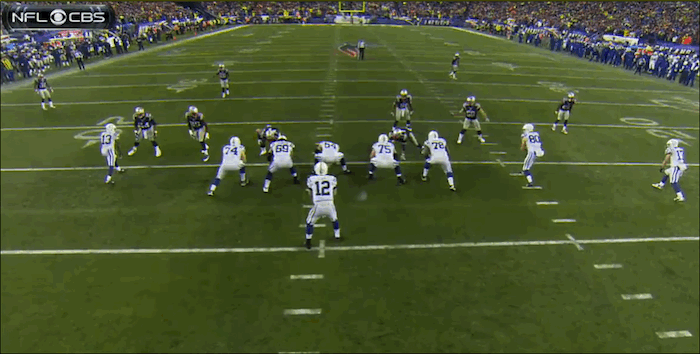 NFL Game Rewind
Collins ran with the nimble Fleener quite easily, turned his back to the line of scrimmage to locate the tight end as he bent into the middle of the field and whipped his head around just before the pass arrived.
Because of his athleticism and keen awareness, he was able to reel in the impressive interception. 
At 6'6'' and approximately 245 pounds with speed in the 4.5 range, Fleener may actually be just as difficult of a matchup as Thomas is, although the Broncos tight end is more physical and uses his body as a way to shield defenders much better. 
While Denver will likely try to move Thomas around to exploit smaller or slower defenders, don't be surprised if the Patriots use Collins on the mismatch-creating tight end for most of the game. 
With good size, speed, inherent coverage ability and recognition skills, he will likely be responsible for Thomas in the AFC Championship Game. 
It will be one of the more intriguing and pivotal matchups to watch.