Scouting Report: Will Nemanja Matic Be Chelsea's Answer to Yaya Toure?
January 15, 2014

Warren Little/Getty Images
Chelsea will re-sign Nemanja Matic from Benfica for £22 million (as per Dominic Fifield at The Guardian), who has a chance to reach Yaya Toure's level for Manchester City. 
Here is a scouting report on Matic, a 25-year-old Serbian international, who was on Chelsea's books from 2009-11.
"Benfica will forever be in my heart. I want to thank all the people at the club and all the supporters," Matic said, per A Bola (h/t Charles Reynolds at The Independent). "I want to improve, I want to go to a better league and I want to go to Chelsea, the club which I also love."
The Matic-Toure Comparisons
Since the 2009-10 season, Toure's tackles per league game have been hovering from 1.2 to 1.7, so it is a misconception to say he is a prolific ball-winner.
Matic can enforce in midfield, but, like Toure, he excels when afforded more freedom. 
Chelsea defender Branislav Ivanovic noted how Matic made a significant improvement in his defending when he moved to Benfica (per ChelseaFC.com), which is a testament to Benfica manager Jorge Jesus. 
Source: Benfica TV
One example was when Matic robbed the ball from Braga's Mauro and proceeded to score, a play that sums up how complete a footballer Matic is.
He is amazing with the ball at his feet. 
Source: Eredivisie.nl
Case in point: When he nonchalantly strode deep into Groningen territory, dragged several of their players out of position and had the vision to chip the ball to teammate Marcus Pedersen, who exquisitely volleyed past Groningen goalkeeper Luciano Jose.
Source: Eredivisie.nl
Matic once took then-Roda player Ruud Vormer for a spin around, accelerated to the byline and hit an accurate cross to Dalibor Stevanovic. While Stevanovic had his shot saved, Julian Jenner would score from the rebound.
The way Matic effortlessly takes on players is Toure-esque.
Source: Eredivisie.nl
What Is Matic's Best Position?

Source: Eredivisie.nl

Source: Eredivisie.nl

Source: UEFA.com
Matic's tactical flexibility—having played in a 4-3-3, a 4-2-3-1 and a 4-4-2—is a trait Chelsea manager Jose Mourinho will appreciate.
Matic is a perfect box-to-box midfielder in a 4-3-3: He can head the ball, shield the back four, intercept passes, launch counterattacks, create and score, and he has the ability to add a physical presence in midfield. 
Can he be Chelsea's version of Toure? Matic has the potential to be.
While on trial for Arsenal in 2003, Toure disagreed with Arsenal manager Arsene Wenger regarding the position he would succeed most in, as per Sky Sports:
Arsene Wenger told me: 'I can't see you as a defensive midfielder.'

I replied: 'I want to be like Patrick Vieira.'

He [Wenger] finally told me: 'You would be much more at ease to support a forward.'

He told me staying in the midfield would be a mess. But I was convinced a bit back then that I could blossom.

Probably because it would allow me to be just like Patrick Vieira, my idol.
That conversation is remarkable in Wenger foreshadowing Toure's dominance in a free-roaming midfield role.
This season for City, Toure, 30, has reached the 10-goal barrier for the first time in his career. (There are 17 games left, so he may even score 20 goals.) 
Imagine if Toure played in this manner throughout his career. 
Matic's 11 league goals in eight seasons is not special, but if given the green light to charge forward like Toure does for City, Matic can be a regular goalscorer for Chelsea.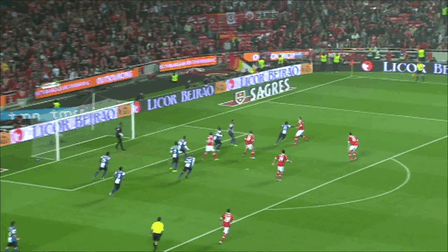 Source: FIFATV
Revisiting The Matic Mistake
Benfica viewed Matic as a world-class prospect: He was a tactically versatile 6'4" midfielder who had superb physical and technical attributes. 
Meanwhile, Chelsea saw Matic as a deal-clincher to ensure the £21.3 million transfer of then-Benfica defender David Luiz did not collapse.
According to Jason Burt at The Telegraph, Chelsea valued Matic "as the €5 million makeweight in the transfer," so that converts to £4.2 million. 
Benfica now stand to make £17.8 million in profit if they sell Chelsea a former Chelsea player in Matic for £21 million. 
It also means Luiz is valued at £43.3 million, which is absurd considering that he has been moved upfield again (hopefully he can transition into an elite box-to-box midfielder). 
It is a grovelling admission from Chelsea that they were wrong to throw away Matic three years ago.
Something Suspicious Going On... 
While transfer mishaps have been a characteristic of Roman Abramovich's Chelsea, Benfica relinquishing Matic would be bizarre.

You need to understand that Benfica made a push to sign his compatriots in Filip Djuricic, Filip Markovic, Lazar Markovic, Ljubomir Fejsa, Miralem Sulejmani, Stefan Mitrovic and Uros Matic (Nemanja's younger brother).
If Matic was not a Benfica player, most, if not all, of the aforementioned Serbians would not be at the club. 
What happens to the Serbian players, and why sell Matic now?
What's the catch? 
In 2012, Benfica sold Axel Witsel to FC Zenit for £32 million. 
Therefore Matic, the reigning Portuguese Primeira Liga Player of the Year, being sold for £10 million less than Witsel is out of character in terms of how Benfica do business. 
Then there is Chelsea's original £21 million valuation of Matic being well below his £37 million release clause (as per Jason Burt at The Telegraph). 
A Bola and O Jogo (h/t a tweet via Portuguese journalist Goncalo Lopes) are reporting that Benfica are requesting €26.3 [£22] million plus two Chelsea players, one being Gael Kakuta.
Kakuta? He has yet to start an Eredivisie game on loan at Vitesse this season. 
Benfica are not that stupid. 
If you are a Chelsea supporter, what you dread is Benfica taking, say, Bertrand Traore and Lucas Piazon, plus £22 million. 
At 19 years of age, Piazon is already one of the best players in the Eredivisie, scoring 11 goals and creating eight, while Traore's upside is limitless.
If the Portuguese club asks for Traore, Piazon and £22 million for Matic, it should be a dealbreaker. 
Statistics via WhoScored, FFT Stats Zone, Squawka and Transfermarkt.