49ers' Colin Kaepernick Outduels Aaron Rodgers in Epic Cold Weather Battle
January 6, 2014

Getty Images
GREEN BAY, Wis. — The two men fought under a frigid blanket of jet-streamed air, producing a game that would metastasize into a Wild Card classic. Not even the polar vortex of Lambeau Field could stop a heated battle between quarterbacks Aaron Rodgers and Colin Kaepernick.
Rodgers is the better player, but Kaepernick demonstrated why he is so formidable and why he was the superior quarterback on this night. Kap wore short sleeves and an I-don't-give-a-damn attitude in below-zero wind-chill temperatures. He ran and slung, and slung and ran, the football while zipping through the night cold with great velocity. It was a remarkable display of guts and intellect in nasty conditions.

Jeff Hanisch-USA TODAY Sports
The 49ers won this game, 23-20, on a 33-yard field goal from kicker Phil Dawson with no time on the clock. The biggest story to emerge is how Kaepernick beat two opponents: Rodgers and the weather.
Each Rodgers punch was met with a counter from Kaepernick. While the stadium, city and state of Wisconsin were layered and injecting hot chocolate 200 CCs at a time, Rodgers and Kaepernick were on fire, putting on an even better show than Andrew Luck and Alex Smith just a day earlier, because this game wasn't played in a punk-ass dome. It was played in the the miserable, stinging cold.
"We were one play away," said Green Bay head coach Mike McCarthy.
That is partially true, but not completely. It was all about Kaepernick. No one was stopping him on this night.
While Kaepernick struggled for chunks of this season with his accuracy and production, he did not against Green Bay. In fact, the 49ers have beaten Green Bay three times in a year, and that's because the Packers have failed to find a way to slow down Kaepernick. He's a Packer destroyer.
Kaepernick starts vs. the Packers
Date
Result
Com-Att-TD
Pass Yds
Rush-Yds-TD
1-12-2013
49ers, 45-31
17-31-2
263
16-181-2
9-8-2013
49ers, 34-28
27-39-3
412
7-22-0
1-5-2014
49ers, 23-20
16-30-1
227
7-98-0
Pro Football Reference
How good was Kaepernick? He had 98 yards rushing against Green Bay, which led all rushers from the Wild Card Weekend. Against Green Bay, he accounted for a staggering 325 of the 49ers' 381 total yards.
Kaepernick had 227 passing yards, but it's the totality of what he did that crushed Green Bay. Because he was so balanced in running and passing, he kept the Packers constantly guessing. He'd break contain in the pocket, start to run, then suddenly stop and throw. Or he'd set up in the pocket like he was going to throw and burst from it for a huge run. It was typical Kaepernick fare, only better.
Maybe the best play was Kaepernick's 11-yard scramble that set up the game-winning field goal. The Packers played it perfectly. McCarthy said every gap was filled and the Packers had contained Kaepernick, but as he will do, he shattered containment. Because there really is no controlling Kaepernick, unless you encase him in carbonite.
That's usually what we say about Rodgers. In many ways, though the statistics don't show it, he was almost as brilliant. Rodgers started slow but picked up momentum and went back and forth with Kaepernick. Rodgers had just 177 passing yards—fewest in his postseason career. He was also sacked a season-high four times. But a play he made late in the game was maybe the best in the playoffs thus far.
At the beginning of the fourth quarter, with Green Bay trailing 13-10, Rodgers faced a 4th-and-2 at the San Francisco 30. After Rodgers dropped back to pass, the pocket collapsed around him quickly and violently, with 49ers defenders grabbing at both him and football.
Rodgers said he felt a player swiping at the football, so he moved to the right and threw to Randall Cobb. He makes it sound so simple, but he was literally encircled, did some juke moves and, as no quarterback in football can do better, threw accurately and deep on the run.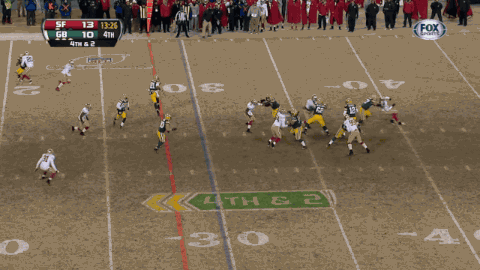 Bleacher Report
The pass hit Cobb for a 26-yard gain. John Kuhn scored soon after that and gave Green Bay a 17-13 lead with about 12 minutes left. You would think that Rodgers, with a late lead, at home, in frigid conditions, against a West Coast team that's never played in weather this cold, would win.
On the next possession, however, we saw the throwing Kaepernick. He threw a gorgeous 28-yard strike to Vernon Davis for a touchdown and a 20-17 lead. The Packers tied it with a field goal, and then came Kaepernick's run.
Bleacher Report
"Colin Kaepernick, I think we can all agree," 49ers coach Jim Harbaugh said, "is a clutch performer."
So say we all.
Rodgers said afterwards he felt like the Packers were primed for a playoff run. They would have possibly had just that, except Kaepernick stood in the way.
In the 49ers' postgame locker room meeting, Harbaugh was giddy, saying that he has never seen a quarterback accelerate as quickly as Kaepernick. I could name a few that easily could—Randall Cunningham, Steve Young, Mike Vick in his prime, just to name a few. Not even sure he can do that better than contemporaries like Cam Newton. Yet, there is no question Kaepernick's smarts, running power and throwing ability make him a formidable weapon.
The fact he was able to do this while his bones creaked from the cold is even more impressive. When asked about going sleeveless, he responded: "I've played in cold weather games before, and I feel like it's more mental than anything."
That cold settled over Lambeau like an alien invader. Everyone tried to hide from it. There were the usual acts of bravado and mind-over-matter tricks like shirtless fans or the way several 49ers linemen sported shorts and T-shirts in pregame warmups. But mostly, the cold was a draining presence. Clusters of players from both teams huddled near giant heaters on the sideline. The field itself transformed into a brown, splotched patchwork of frozen divots.

Benny Sieu-USA TODAY Sports
It was five degrees at kickoff, making this the coldest game at Lambeau since December of 2008. The wind-chill made it feel like minus-nine, according to the National Weather Service. By 6 p.m., the temperature had fallen to a wind-chill of minus-16. 
One of the more obvious victims of the cold was Harbaugh. It caused him to dress in so many layers that he resembled a parade float.
It was so cold that when Kuhn attempted the traditional Lambeau Leap, he slipped and crashed into the barrier. He never made it into the grasps of fans.
It was cold for everyone but Kaepernick, who beat the elements and Rodgers.
Yet again.