Patriots vs. Panthers: Score, Grades and Analysis
November 19, 2013

Getty Images
The Carolina Panthers fortified their legitimacy as a force to be reckoned with Monday night, beating the New England Patriots, 24-20, in Week 11's MNF showcase at Bank of America Stadium. 
In an amazing back-and-forth battle between quarterbacks Cam Newton and Tom Brady, the Panthers signal-caller emerged victorious. Newton completed 19 of 28 passes for 209 yards and three touchdowns while scampering for a game-high 62 yards.
B/R's Matt Miller believes the virtuoso performance merits MVP talk:
From the second drive of the game on, it was clear the home team would not back down from the prolific Patriots.
Steve Smith beat New England cornerback Aquib Talib on a deep, 42-yard reception to give his side a spark. And when Smith made another reception two plays later, Talib clutched the receiver's leg and wouldn't let go.
That cost Talib a 15-yard penalty for unnecessary roughness, leading to a skirmish between the two midway through the first quarter.
Shortly thereafter, Newton rifled a nine-yard strike to Brandon LaFell to successfully complete the nine-play, 90-yard drive and give Carolina an early 7-0 lead.
The Panthers had only allowed eight points in the first quarter all season entering the game, and that number didn't change.
Brady couldn't guide his offense into the end zone in the entire first half, although a huge fumble from running back Stevan Ridley at the Panthers' 13-yard line early in the second quarter didn't help.

Streeter Lecka/Getty Images
Brady did drive New England down the field for a Stephen Gostkowski field goal with 1:09 left in the first half to cut the lead to 10-3 at the intermission.
From there, the two star signal-callers did incredible work.
The Patriots got the ball to start the second half and came out firing. All-Pro tight end Rob Gronkowski dragged multiple defenders into the end zone on a nine-yard catch from Brady to cap an eight-play, 80 yard drive.
It was the younger, 24-year-old QB's turn to dazzle in the very next drive, as Newton did on two incredible third downs that defined the long touchdown drive.
First, Newton had this sensational scramble to keep things alive for the offense, and the ball away from Brady: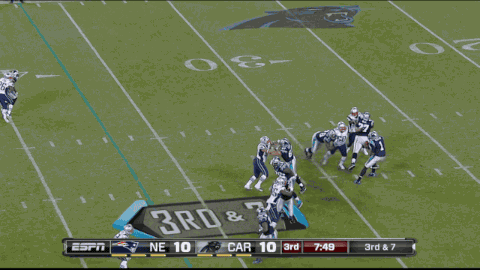 GIF courtesy of Bleacher Report
Then the third-year stud slung this pass to tight end Greg Olsen to give the Panthers a 17-10 advantage:
Tommy Terrific responded by living up to his nickname, finding Kenbrell Thompkins for a big 37-yard gain before Ridley ran in a redemptive one-yard plunge to knot the game at 17 two-and-a-half minutes into the fourth.
The two quarterbacks would combine to complete 16 consecutive passes in the second half before a Newton incompletion in the fourth:
Brady then guided the Patriots to a field goal-scoring drive that made it 20-17 at the 6:32 mark of the quarter, though Gostkowski made it much more dramatic than it needed to be by barely squeezing the 26-yard kick inside the left upright.
From there, it was up to Newton to respond. Did he ever. Pats corner Kyle Arrington missed a tackle on Ted Ginn Jr. on a hitch route after Newton drove the Panthers down the field, and Ginn raced into the end zone for a 25-yard score with just 59 seconds left.
ESPN's Bomani Jones noted the significance of the moment for Ginn—primarily a return specialist who had been ineffective in that regard before his first and only reception of the game:
Known for his late-game heroics, Brady hit Gronkowski on a 23-yard connection on 4th-and-10 from his own 20. However, he couldn't pull off the magic this time against the Panthers defense despite driving all the way down to Carolina's 18. 
Brady's last-ditch pass was intercepted by Robert Lester, as Luke Kuechly bear-hugged Gronkowski in the end zone. A flag was initially thrown, but it was picked up, leading to some late-game controversy.
After the game coach Bill Belichick was asked about the final play of the game (via the Associated Press): "There was no explanation given to me. Officials ran off the field. I didn't see anything. It was the last play of the game. There was a flag thrown and then the game was over."
Brady explained his point of view (via the AP): "He (Gronkowski) was kind of weaving in and out of there. I didn't really want to throw it over his head and out of bounds, so I was a little indecisive. It wasn't a great throw. No excuses. Should have been a better throw."
Carolina improved to 7-3 to remain just a game behind the New Orleans Saints in the NFC South, while New England dropped to 7-3 with the loss.
On Tuesday, Nov. 19, the league stood by the call that ended the game (via Dan Hanzus of NFL.com):
Dean Blandino, the NFL's vice president of officiating, told NFL Media's Amber Theo-Harris on "Around The League Live" that officials made a "tight judgment call" on the final play of Carolina's 24-20 win. Blandino said that linebacker Luke Kuechly's "restriction" of tight end Rob Gronkowski occurred simultaneously to the ball being intercepted by safety Robert Lester

For that reason, no penalty should have been enforced. Blandino said the officials will not receive a negative grade for their handling of the play.

"They have to make this call, they used proper mechanics," Blandino explained. "They got together after the play to determine that, in their judgment, that the contact occurred simultaneous with the ball being intercepted and that's what the officials did."
Brady later discussed the call on WEEI Radio on Tuesday, Nov. 19, courtesy of Kevin Patra of NFL.com:
When asked Tuesday on WEEI Radio if he'd ever seen a pass called uncatchable because it was too low, Brady said it was a new experience.

"No I haven't," he said. "I'm sure there is a first time for everything. We get our fair share of calls and we don't. Referees never want to be in that position either....I guess being in the NFL for as long as I've been in you see kinda everything. It happened and we're gonna have to move on. You don't have long to grieve in the NFL."
Grades
Cam Newton, QB, Carolina Panthers: A

The pressure continues to intensify, and expectations are perpetually rising for the former No. 1 overall pick. But Newton continues to answer the bell.
Newton went toe-to-toe with one of the greatest quarterbacks in history—and that was without the support of a three-deep backfield that didn't produce against a bad rush defense.
The fact that Newton also ran for more yards than anyone in the game pushes him over the top, as if his TD drives (and avoidance of turnovers) wasn't good enough in leading Carolina to its sixth straight victory.
Tom Brady, QB, New England Patriots: A


Streeter Lecka/Getty Images
No blame can really fall on Brady for this one, as he more than carried his weight against what may be the best all-around defense in the league.
The veteran proved that the recent 55-point eruption against the Pittsburgh Steelers was less of an aberration and more a sign of things to come.
Brady (29-of-40, 296 yards, 1 TD, 1 INT) gave his team a shot to win at the end, but it just wasn't meant to be on this evening. 
Luke Kuechly, LB, Carolina Panthers: A-
Rob Gronkowski had five catches for 59 yards, but a 23-yard chunk came on the fourth-down conversion on the final drive. A big reason for that was Kuechly, who helped take Gronk out of the game early.
Kuechly accumulated 12 total tackles and, along with Thomas Davis (17 tackles), keyed the front seven's efforts to mitigate Brady's damage and heroics.
The questionable play on Gronkowski at the end was controversial and scary, but Kuechly and the Panthers escaped.
Stevan Ridley, RB, New England Patriots: B
Fumbling issues have plagued Ridley in his young career, but he is undeniably explosive when he can manage to get a handle on the ball.
Although the early fumble wound up being a critical error, Ridley could have sulked and felt sorry for himself. Instead, head coach Bill Belichick invested in a little bit of hope and called his number in a critical situation early in the fourth. Ridley came through.
The final numbers of 13 carries and 48 yards aren't pretty. But, of course, this is the vaunted Carolina defense we're talking about.
What's Next?
A road trip looms for the Panthers, as they try to maintain their winning streak in facing another AFC East team in the Miami Dolphins.
New England faces an epic Week 12 matchup with the Denver Broncos in Sunday night's prime-time feature. It will be a QB duel for the ages between Tom Brady and Peyton Manning.