Panthers' Steve Smith and Patriots' Aqib Talib Get into Scuffle on the Field
November 19, 2013

via ESPN broadcast
There has been a lot of hype surrounding this week's Monday Night Football game involving the New England Patriots and the Carolina Panthers. Well, emotions ran high on the field between Patriots corner Aqib Talib and Panthers receiver Steve Smith.
After Smith picked up a first down, he tried to walk away. However, Talib wouldn't let go. It quickly escalated after that: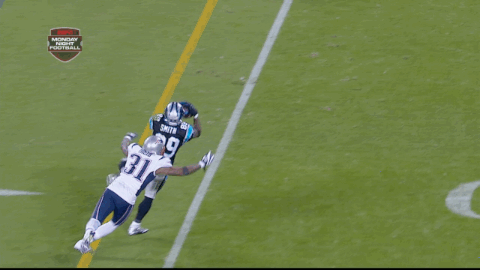 via ESPN broadcast
Talib was flagged 15 yards for unnecessary roughness on the play.
Things didn't stop there. The two got into it later in the drive:
I guess this was to be expected after what Talib said earlier in the week, via Erik Scalavino: 
#Patriots Talib told media the other day, "I say a few words," when asked if he trash talks. He's filled his quota already in the 1st Q.

— Erik Scalavino (@E_Scal) November 19, 2013