Kirk Herbstreit Draws Blood from Lee Corso After Sword Fight on 'GameDay' Set
November 16, 2013

ESPN
In keeping with tradition, Lee Corso donned a Trojans costume as he picked USC to upset No. 4 Stanford on ESPN's College GameDay.
Corso busted out a helmet, armor and sword, and Kirk Herbstreit playfully started sword fighting with him. 

Little did they know things would get serious. Herbstreit and Corso jousted for a bit, and Corso was wounded in the fracas.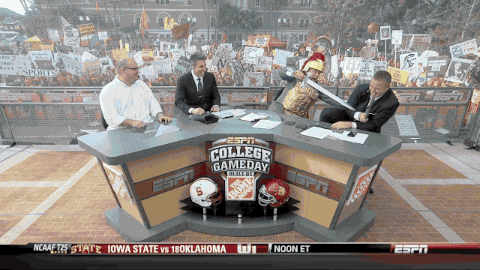 Bleacher Report
When Herbstreit noticed the blood, he reacted as only a true friend would, reaching over and wiping the blood from Corso's face.