Seahawks' Golden Tate Taunts Rams Defenders During 80-Yard TD
October 29, 2013

Bleacher Report
Seattle Seahawks receiver Golden Tate made a nice play on an 80-yard touchdown to give his team a 14-6 lead after the St. Louis Rams had just cut the deficit to one. However, his taunting of Rams safety Rodney McLeod overshadowed his touchdown.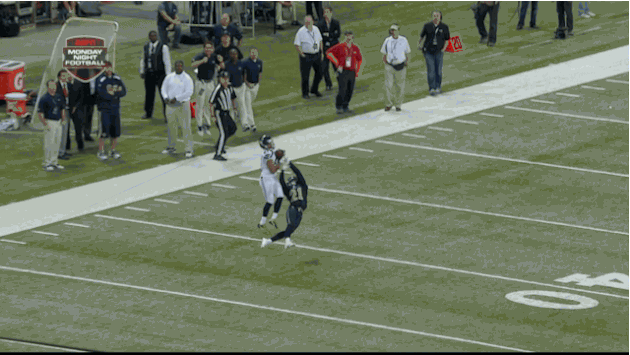 Tate was flagged on the play. Here's the NFL on ESPN's reaction to Tate's actions:
Golden Tate: Touchdown run and catch --- Good. Taunting on the touchdown run --- Not Good.

— NFL on ESPN (@ESPNNFL) October 29, 2013
Many people on Twitter were not pleased with Tate's actions, including Jay Glazer.
Please someone punch Golden Tate in the face for that

— Jay Glazer (@JayGlazer) October 29, 2013
He gave his team some breathing room, but the Rams in turn had good starting field position on the ensuing kickoff.
Coach Pete Carroll was not pleased with the play.
Carroll on Tate's taunting penalty: "That's not our kind of football. He feels bad about it and apologized to the team." #SEAvsSTL #MNF

— Seattle Seahawks (@Seahawks) October 29, 2013
Tate later went on to admit he shouldn't have taunted the Rams team.
Golden Tate: "I have to represent this team better, act like I've been there before."

— Mike Garafolo (@MikeGarafolo) October 29, 2013