Is Geno Smith for Real?
October 20, 2013

Ed Mulholland-USA TODAY Sports
The Jets have been quick to anoint franchise quarterbacks in recent history. After all, Mark Sanchez was dubbed "the Sanchize" before he played through a full season.
As a result, the Jets (and their fans) have been cautious to put both feet on the Geno Smith bandwagon, straddling the line between anointing him as the future and looking for more convincing options at the position, reserving judgment for when Smith proved that he had both the mental and physical ability to beat the likes of Tom Brady.

The Star-Ledger-USA TODAY Sports
Now, after outplaying a living legend in front of a home crowd, the reality that Geno Smith can be the long-term answer for the Jets is starting to come into focus.
Yes, Smith threw an ugly pick-six to put the Jets in a hole early in the game. But as he showed in the loud Georgia Dome against Matt Ryan and in the waning seconds against a stingy Buccaneers defense, there is nothing that can rattle the West Virginia product. 
After throwing three interceptions in a preseason game against the Giants, it was all but a fact that Smith was not ready to be the Jets' starter. All he has done since then was drive the Jets to a winning record seven games into the season—a season in which the "experts" predicted the Jets would underperform every other team in the NFL.
Smith's accuracy and arm strength have been beyond impressive at times, but a quality of his that stands out the most is how situationally aware he is. While he is not much of a runner, he knows exactly when to use his legs and when to take chances to get into the end zone: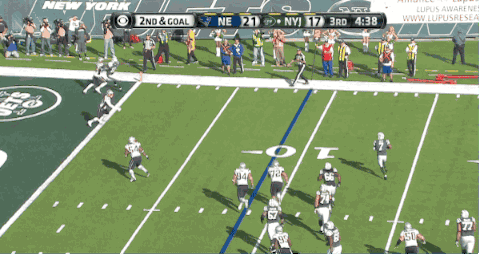 The fact that Smith was able to get the Jets their first win over the Patriots since the 2010 playoffs is impressive enough. However, how the former second-round pick has been able to win has been more important than the fact that the Jets have been winning at all.
When Mark Sanchez was piloting the Jets during their playoff runs, Sanchez was more of a puzzle piece than a driving force of their success. Still, determined to make Sanchez their modern version of Joe Namath, fans labeled him a "winner" and said that he had "it."
The Jets had to manufacture Mark Sanchez's status as a viable franchise quarterback. That won't be necessary for Geno Smith.
Unlike 2009 and 2010, the 2013 Jets are winning high-scoring games behind the arm of Geno Smith.

Ed Mulholland-USA TODAY Sports
Heading into this week, Geno Smith had 190 passing attempts—more than Russell Wilson, Andrew Luck, Aaron Rodgers and Colin Kaepernick (according to ESPN.com).
While it may be unconventional, the Jets have good reason to ride the right arm of their rookie quarterback. The upgrade of velocity and accuracy over Mark Sanchez has been overwhelming, shown on this touchdown pass to Jeremy Kerley:
The Jets are not squeezing out wins in spite of their rookie quarterback. They're staying relevant because of their rookie quarterback.
Geno Smith is not just an impressive, mentally strong man on the field. In the span of a few weeks, he has earned the respect of his teammates because he has taken full accountability for his mistakes. After his sloppy four-turnover performance against the Titans, he personally apologized to every member to the defense, recognizing that his mistakes cost his team a win.
Smith will never say it, but he knows that he will start every game this season as long as he is healthy because of where he was drafted. When he does make mistakes, he has a built-in excuse for his rookie status—but he refuses to utilize it. Just like every other member of the Jets, Geno refuses to accept the fact that the Jets are not "supposed" to compete for a championship this year.
There is still plenty to be written in the saga of Geno Smith's career as a New York Jet, and things can turn very ugly in a New York minute with a few bad games in a row. 
Nonetheless, the Jets have to be confident that they have themselves a budding star in the making at the game's most important position—something they have not enjoyed in quite some time.