BCS Rankings 2013: Complete Week 9 Standings Released
October 21, 2013

The initial 2013 BCS Rankings have arrived, and there is no surprise that two-time reigning national champion Alabama is at No. 1.
Every year these standings are a source of controversy, but it's difficult to debate what the very top looks like through Week 8 of the college football season:
BCS Rankings
Ranking
Team
BCS Avg.
1
Alabama
.984
2
Florida State
.935
3
Oregon
.932
4
Ohio State
.855
5
Missouri
.822
6
Stanford
.741
7
Miami (FL)
.720
8
Baylor
.712
9
Clemson
.625
10
Texas Tech
.622
11
Auburn
.506
12
UCLA
.481
13
LSU
.455
14
Virginia Tech
.441
15
Oklahoma
.420
16
Texas A&M
.367
17
Fresno State
.338
18
Northern Illinois
.303
19
Oklahoma State
.269
20
Louisville
.256
21
South Carolina
.216
22
Michigan
.164
23
UCF
.139
24
Nebraska
.135
25
Oregon State
.104
Source: BCS
Alabama trounced SEC rival Arkansas, 52-0, on Saturday, which marked the Tide's second shutout in four games. And in the past five contests, they have not let up more than seven points.
Granted, the opposition wasn't of top quality, but there wasn't anything noteworthy to knock Alabama off its pedestal.  
However, the statement of the week belonged to now-No. 2 Florida State, who went into Death Valley and dismantled the Clemson Tigers, 51-14.
It wasn't so much about Clemson laying an egg on the big stage as it was FSU's dominance, as ESPN's Jemele Hill and Scott Van Pelt concurred:
In a highly anticipated quarterback duel between Seminoles freshman phenom Jameis Winston and seasoned senior counterpart Tajh Boyd, the younger star shined far brighter in the prime-time clash.
Winston threw for a whopping 444 yards and three touchdowns and rushed for another score, while Boyd was 17-of-37 for a mere 156 yards, a touchdown, two interceptions and a lost fumble that was returned for a touchdown.
That puts Winston in firm position to challenge Marcus Mariota for the Heisman Trophy, college football's most coveted individual award, and the Seminoles within striking distance of No. 1 Alabama.
This GIF of Florida State tight end Nick O'Leary rumbling for a big gain, courtesy of Bleacher Report, summed up the entire game for both sides: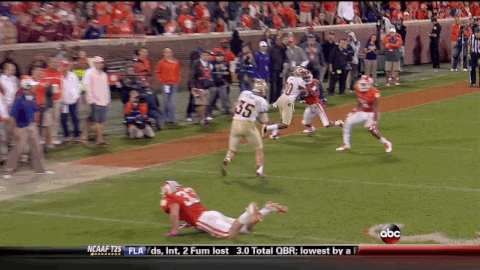 Oregon remains another major adversary to the Tide, and the No. 3 Ducks at least did their part in preserving an undefeated record by winning 62-38 at home versus Pac-12 foe Washington State.
Mariota kept his Heisman campaign going strong by running for 67 yards (including a 57-yard touchdown for the first score of the game), and also threw for 327 yards and two touchdowns.
It's difficult to project how the Top Three will look as the rest of the season progresses. The biggest win for Alabama was a road triumph over Texas A&M, but the Aggies just lost their second game of the 2013 season to Auburn.
Texas A&M's defense is awful, and despite the Heisman-esque efforts of the trophy's reigning winner in QB Johnny Manziel, there is no hope in College Station to keep an opponent off the scoreboard.
An upset loss to Auburn despite 502 total yards from Manziel—which puts his total offense yardage at 1,064 in the team's two losses—caused the Aggies to fall in the first BCS release. It also indirectly put at least a small dent in Alabama's stock in the process.
The SEC in general seems in a bit of disarray, with LSU, South Carolina, Georgia and Florida all having lost multiple games now. Few would have tabbed Missouri as the highest-ranked team from said group at this juncture of the season.
A pesky Iowa team was hoping to upset the Ohio State Buckeyes in Ohio Stadium, but that all changed once the Buckeyes deemed it time to ride the Carlos Hyde Express.
Hyde put Ohio State out in front for good with a brilliant touchdown run in the fourth quarter of Saturday's 34-24 win.
As impressive as the Buckeyes' 19-game winning streak is, they seem like a very distant fourth in the BCS.
But winning at least keeps OSU in earshot of the national championship picture, and the same was the case for the Miami Hurricanes, who survived a road trip 27-23 against North Carolina in the ACC on Thursday.
Stephen Morris threw four interceptions and must play better under center moving forward if the 'Canes are meant to mount a legitimate BCS push.
Several other prominent programs had their national title aspirations dashed in this week's slew of upsets.
The Louisville Cardinals were topped, 38-35, by Central Florida on Friday. That ends Cardinals signal-caller Teddy Bridgewater's hopes of capturing the Coaches' Trophy.
A Top 10 battle in the Pac-12 featured Stanford getting back on track after a loss to Utah, beating previous AP No. 9 UCLA, 24-10. It was aided by a sensational TD catch from Cardinal receiver Kodi Whitfield:
Two teams capable of shaking up the BCS in a big way are Texas Tech and Fresno State, both of which are undefeated.
The Red Raiders are thriving under first-year head coach Kliff Kingsbury, who used to quarterback the team's pass-heavy attack.
Fourteen unanswered points in the fourth quarter allowed Texas Tech to stay perfect in a 37-27 win over West Virginia. A road trip to Norman to take on Big 12 foe Oklahoma looms, though.
Derek Carr, the brother of former NFL No. 1 overall pick David Carr, is writing his own legacy at Fresno State, most recently throwing for 412 yards and four touchdowns in Saturday's 38-14 romp over UNLV.
With their senior leader having thrown 23 touchdowns to just four interceptions and wins over marquee teams such as Rutgers and Boise State, the Mountain West Conference's Bulldogs have all the makings of wreaking havoc in the coming weeks.