Texas Beats Kansas State to (Temporarily) Stop Mack Brown's Bleeding
September 22, 2013

Even through all the turmoil of the past two weeks, Texas coach Mack Brown held firm on one thing, per Daniel Uthman and Jesse Yomtov of USA Today: A Big 12 championship was still within reach. 
It remains to be seen if the Longhorns can actually make good on that, but they took a big first step Saturday night by beating Kansas State 31-21. It was a win that exorcised two demons at once: It stopped a two-game losing skid by the 'Horns, and it marked the first time in 10 years that they had defeated the Wildcats. 
None of it could have come at a better time, especially with rumors swirling that Texas regents had previously spoken with Nick Saban's agent about the possibility of coaching the Longhorns, per The Associated Press' Jim Vertuno. 
Winning silences all that conjecture. 
Make no mistake: Brown isn't suddenly in the clear. Texas probably has to win the remainder of its games this season for Brown to fully shake off the hot seat chatter—at least for the offseason. Brown is, unfortunately for him, at a point in his career where any loss, whether it's one game from now or 10, will reboot the conversation about his future.
And it will stay that way up until the point he's no longer the coach at Texas, whenever that is. 

Jim Cowsert-USA TODAY Sports
There's still a lot of room to improve if Texas is going to win the Big 12. While the defense looked much better Saturday, the basis of comparison was 84 points and over 1,100 yards in the past two weeks. The secondary had no answer for Wildcats receiver Tyler Lockett, who was an assassin with 237 yards receiving on 13 catches. 
Where the 'Horns did improve significantly this week was stopping the run—and specifically, the option. The Wildcats averaged just three yards a carry on 38 attempts among running back John Hubert and quarterbacks Daniel Sams and Jake Waters. 
Part of the reason for that struggle was K-State didn't even attempt a pass with Sams in the lineup. There was no threat of a passing game at all with the sophomore QB. And, save for a couple early big runs by Sams, UT did well when K-State tried designed quarterback runs instead of a zone read. 
By the fourth quarter, the run game had been all but officially abandoned by Kansas State. Texas deserves credit for that. Tackling improved and the assignment defense was generally solid.
So yeah, Greg Robinson, let it all out: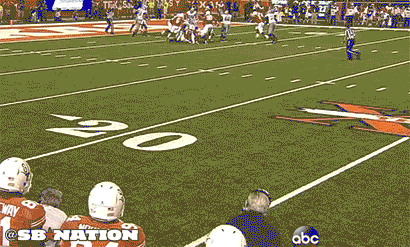 That's what Texas did, after all. The Longhorns played with a purpose Saturday, and running back Johnathan Gray (28 carries, 141 yards and two touchdowns) and defensive end Jackson Jeffcoat (five tackles, two sacks) both stepped up to make key plays when needed. Before he was ejected for targeting, linebacker Steve Edmond had 11 tackles, a sack and a pass breakup. 
That kind of leadership and accountability (minus the targeting) was one of the things that was so desperately needed before. 
Gray and Jeffcoat may be called upon to continue those leadership roles. Quarterback David Ash once again had to leave the game with what is currently being reported by the AP (via ESPN Dallas) as a head injury, and linebacker Jordan Hicks was carted off the field in the second half with an ankle injury. 
Their availability going forward is in question, and that's on top of the injuries to wide receivers Daje Johnson and Mike Davis, among others. 
For as good as this win must feel for Brown and Co., this Texas team is banged up pretty bad. For Ash, it's natural to start wondering what the rest of his season is going to look like. The junior appeared fine coming back from a concussion he suffered two weeks ago against BYU, but this is a recurring problem. His safety should—and surely will be—a top priority. 
What Brown does if Ash is sidelined further is unclear. Case McCoy did fine, as he usually does, in a reliever-type role against K-State, but can he carry the team if need be? There's also the possibility of playing touted freshman Tyrone Swoopes. 
But Brown isn't thinking about that yet. And, considering how unimaginably stressful the past couple weeks have been, he probably deserves just one night where he doesn't have to. 
Ben Kercheval is the lead writer for Big 12 football. Quotes obtained firsthand unless noted otherwise. You can follow Ben on Twitter @BenKercheval.