Jamaal Charles Threw a Monster Block Versus the Eagles Thursday Night
September 20, 2013

When you're "on," you're on. 
Jamaal Charles was more than on against the Philadelphia Eagles on Thursday Night Football. He rushed, caught passes and pass protected like a man possessed. 
While fantasy owners will love his monstrous offensive output for the game, what doesn't show up in the box score is the huge block Charles laid on Eagles safety Earl Wolff. 
The hit left viewers at home either leaping for joy or gasping for air, and Pro Football Focus' Sam Monson made a beautiful little GIF of the occasion.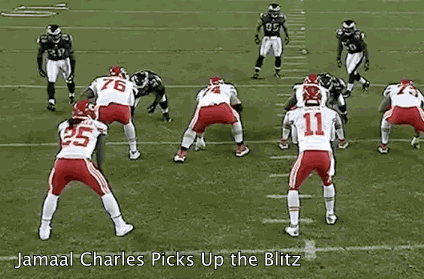 Wolff ran into the backfield as part of an all-out blitz called by the Eagles but was sent flying through the air before he could get anywhere near Kansas City quarterback Alex Smith.  
That's how you pick up the blitz, young running backs. Look inside and make the safety think you don't notice him. After that, all that's left to do is get low, set your feet and uncork a world of pain when he attempts to bullrush you in the backfield. 
On top of the block, Charles finished the game with 92 yards rushing on 20 carries and a touchdown. He also had seven receptions for 80 yards and helped the Chiefs go to 3-0 on the season.
The Eagles, on the other hand, fell to 1-2. After a scintillating start to the season against the Washington Redskins, Chip Kelly's supercharged offense was derailed early and often Thursday.
Vick threw a pick-six in the first quarter and bobbled bad snaps. He flashed moments of greatness, but a sloppy start to the game and inconsistency ultimately doomed the Eagles' chances to win at home. 
Time to pick up the sticks, Eagles. Keeps your heads up—or else you're going to get knocked out.
Mama said knock you out.