When Is the Perfect Time to Hold Your Fantasy Football Draft?
June 26, 2013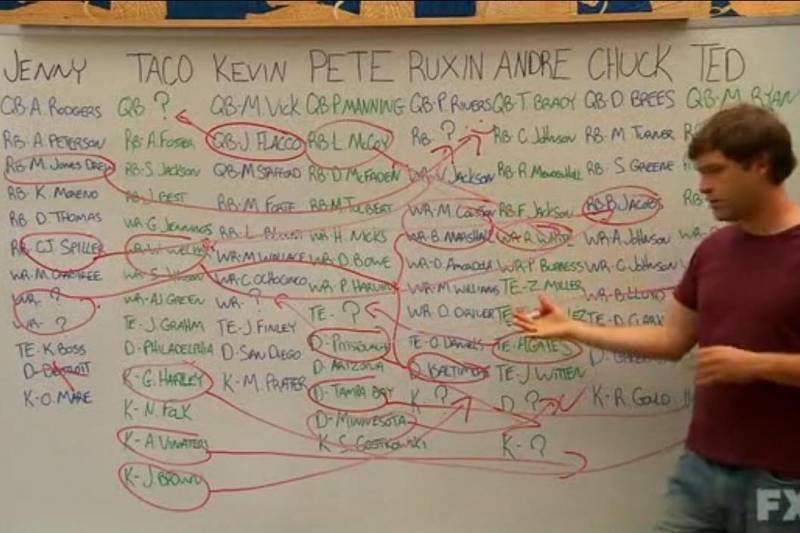 With summer upon us, an age-old question is once again raised which has plagued mankind for many years.
"When are we having our fantasy football draft?"
There are a ton of things to consider when trying to decide when to hold your draft
Of course, at the most basic level you need to think about when people are available, potential locations and when they can be used, as well as making sure the rules for your league are ready to go and that everyone is clear on them.
The last thing you want is for someone to take issue with a rule or scoring method at the draft. So make sure all the owners in your league understand how the league runs and bring up any issues they have well ahead of time.
By the way, just because your league has been around for a few years, don't think a little reminder of how things get done isn't be necessary. A refresher is always helpful.
Plus, it's always good to get a sense of how people are feeling about the scoring and rules and see if anyone has some ideas for improvements.
Once all that is done, you have to figure out the "when" of your draft.
I've already been in one draft and will be starting a "slow" auction just after the Fourth of July.
I have found this to be pretty early for most leagues, though I do see the attraction of it. A super-early draft really puts your knowledge of the NFL to the test. You had better be up on OTAs, minicamps and all the offseason moves, as well as what they mean.
The issue with having a draft so early is very simple. You add an extra element of luck to a game which already can be filled with it.
So many injuries, surprise cuts and sudden roster reversals happen during training camp and preseason games that even the most informed fantasy player can get caught short.
On of the most recent examples of this would be Matt Flynn losing the Seattle Seahawks starting quarterback job to Russell Wilson. Most thought that Flynn, who had signed a big contract with Seattle that offseason, would walk into the job, but that was not to be.
Early-drafting fantasy owners got quite a bit of a shock when they discovered Flynn was a wasted pick.
Of course, the challenge is to have a deep enough roster to survive such an event, but it can be unnecessarily hard for newer players or casual fans.
Meanwhile, some people like what I term the "very last minute fantasy draft." These drafts take place right before the first game, sometimes the same day as and in a few cases, after that first game. I have never seen the attraction of that last option, but some people seem to find it a lot of fun.
The upside for this is that you have every shred of information on every player and can make a tremendously informed pick with no surprises.
The downside of this, though, is not having any time for owners to make any trades or work the waiver wire before the first game.
For me, the sweet spot is the last two weeks of August.
Why? Well, you get the benefit of having all of training camp over with, so you know who has a starting job, who is healthy and who isn't. Sure, you can get suckered into drafting a player who got hot in camp or the preseason and then won't show up on Sundays, but that's part of the challenge.
Knowing the difference between a hot camp player and a soon-to-be-successful starter is part of managing a successful fantasy team.
By the end of August, you also have seen some preseason action.
This is both good and bad. As with camp, preseason games can lie to you as teams run very vanilla plays both offensively and defensively, which makes it hard to get the true measure of either.
However, there is still information to be gleaned from those games and a late August start to your league allows you time to see the first two or three preseason matches, which is where you can still get a ton of information.
You can see who is still dealing with injury or how a player is adjusting to an offense. You can see which young players might be seeing more time on the field, which can give you some ideas for a late round "flier".
A late August draft also has some advantages from a purely logistical standpoint as well.
You have plenty of time to plan, lots of time to make sure everyone is on the same page and plenty of time to deal with anyone who has to drop out.
There is also the advantage of giving your league some time to work the waiver wire or make trades.
If you have the draft too close to the start of the season, there's no time for those things before the year kicks off. Sure, you can still do all that during the season, but I've always felt it's more fun to have a little time for trading and maneuvering before the first kickoff.
In the end, the right time for your fantasy draft is likely to be a little different than another league's. You need to find out what works best for your group and go with it.
There really is no right or wrong time.
Unless you do it differently than I do it, in which case you're probably wrong.
Andrew Garda is the former NFC North lead writer and a current NFL analyst and video personality for Bleacher Report. He is also a member of the fantasy football staff at Footballguys and the NFL writer at CheeseheadTV.com. You can follow him at @andrew_garda on Twitter.