Kevin O'Connell: New England's REAL Future
March 28, 2009
When it comes to Kevin O'Connell, Coach Bill Belichick is excited about the young quarterback's future with the Patriots, and in the NFL.
"He shows great poise, good arm strength and good accuracy with excellent mobility," said Belichick.
Playing at the underachieving San Diego State University, he was not highly recruited coming out of college even though he set multiple records in SDSU's passing records, and rushing records.
However, O'Connell shined at the NFL combine last year, and it earned him an early-round draft pick with the New England Patriots.
For O'Connell he couldn't have been put in a better situation. Not only was he on a winning team that could compete for Super Bowl's every year, he was going to be mentored by arguably one of the best quarterbacks in the game; Tom Brady.
With Tom Brady's injury, Matt Cassel became the starter and took his team to an 11-5 record. It also got him a starting job with the Kansas City Chiefs.
That leaves O' Connell to be the second quarterback on the depth chart right behind future Hall of Famer Tom Brady.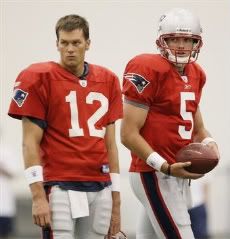 If Brady goes down again O' Connell is the guy and the Patriots organization has full confidence in his ability to lead this team.
I honestly do not see Brady taking his career past the year 2013. That leaves O' Connell enough time to learn the game thoroughly, and the quarterback position in the NFL.
What will really set him apart from other quarterbacks when he becomes a starter is his speed and mobility.
He reminds me off a Jeff Gracia type of quarterback. Just with better overall qualities and a better skill set.
O'Connell has the potential to be a elite quarterback in this league, and with Bill Belichick in charge I doubt that he wont make it to that level.
The shotgun offense is an offense that will play into O'connell's hands. He has experience as SDSU predominately ran a shotgun offense.
Everything is falling into place for the young quarterback. He just needs to step up to the plate and play like we all know he can and will.
As a Patriot fan I can finally be relieved and not have to freight about the quarterback position when Brady leaves.
Patriot fans be prepared to win a lot more Super Bowls in the future. And to Kevin O'Connell, welcome to the NFL (even though you are not a rookie anymore).