Why Jeff Gordon's New Paint Scheme Hits Close to Home
March 8, 2009
When I first heard that Jeff Gordon Was running a National Guard paint scheme, I was stoked to see what the final result would be.
Just from seeing some of Gordon's paint schemes from the past, I knew this would be a special one.
Little did I know that his paint scheme would literally cause my eyes to swell and water up with tears while watching practice for the KOBALT Tools 500 at Atlanta.
Seeing what was on the hood of his car brought back memories of an experience that would change my life forever, and get me on the path to success.
What is it about the paint scheme that brought me to tears you ask?
The National Guard Youth ChalleNGe program logo on the hood.
As a young misguided and troubled teenager, I was becoming a heartache to the family and at times a disgrace. I was constantly ditching class my sophomore year in high school, and even did my fair share of Marijuana.
I was what you called a failure, and probably a future high school drop out. My parents had tried everything, from counseling to even anger management problems (even though I didn't have an anger problem).
They were all out of options. One day my mother, who lived in San Luis Obispo, Cal., found out about a program called Grizzly Youth Academy, also known as The National Guard Youth Challenge Program.
It was located at Camp SLO, a military base located no more then 15 miles away from where my mother lived.
I was admitted to G.Y.A in July, and lived there until graduation day for the academy, which was December 15.
The first two weeks was a phase that tested your mental strength. Our cadre was doing just about everything, other then kicking our butt's (even though I probably needed it at the time). It was a big challenge as far as physical exercising.
An easy way to sum up the first two weeks: like hell.
If we were mentally tough enough and physically tough enough to endure the first two weeks, we would move on to a phase called the residential phase in which we would live there for five very long months.
During the course of the academy we had three times when we were able to see our family. One was when they came to the academy and see us, and the other times we got to go home for a total of three days.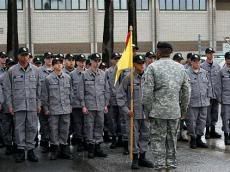 Through out my stay at G.Y.A, I learned very valuable lessons in life, made friends, went to school, and really got to know cadre personally. Behind all the no tolerance attitudes, they were normal people like us.
Over the months they opened up to us more and more, and pretty soon we felt as if we had known these people for years. They became more to us then our cadre. They became life long friends.
I graduated that glorious day at Cal Poly College. We performed marching routines for our parents, and then afterwards we had a graduation ceremony where we were presented with our certificates of completion from a five-star general.
Just over that five months, I went from a 1.9 GPA in school, to very respectable 3.5.
I graduated high school with an overall GPA of 3.3, all league honors in baseball and football, and newly found confidence and determination that I didn't know was in me
I was a new person, someone who looked forward to his future and the endless possibilities to make my life something that I could enjoy.
I now live only 30 minutes away from the camp, after recently moving from my home town of San Diego. Living in San Luis Obispo is a constant reminder of the life changes I have made and the memories I will never forget.
As I watched that No. 24 DuPont/National Guard Youth ChalleNGe Chevy Impala race around the track in the third practice, it was even bigger reminder to the camp and the military branch that changed my life and set me on the right path.
I am thrilled to see someone such as Gordon represent all of the troubled teenagers that attended Grizzly Youth Academy and graduated. For us, it's just another boost of confidence knowing that there are people out there who care.
To Gordon, The National Guard, my cadre, the military, and my parents: I salute you.
May the best man win the KOBALT 500 at Atlanta Motor Speedway.