Ranking the Cincinnati Bengals Rookies by Immediate Impact
July 5, 2012

Joe Robbins/Getty Images
The Cincinnati Bengals had what many considered to be a stellar draft this past April, and it is the main reason that so many are looking at the boys in stripes as one of the sleeper teams of 2012.
But where do those draft picks and college free agents fit into the puzzle for this season? While some will undoubtedly become starters and maybe even Pro Bowlers, history tells us that several of them—no matter how highly thought of right now—will flame out and drift away after a few seasons.
What follows is my ranking of this year's crop of rookies based upon immediate impact this season. This list is not intended to determine the kind of career a player will have, but rather what their place will be on the 2012 Cincinnati Bengals.
The massive guard from Wisconsin will not only start from Day 1, but he should instantly improve an offensive line that was solid, but not spectacular, in 2011.
Vontaze Burfict, LB
Many felt that Burfict was the best linebacker in the draft last year, but he went undrafted after questions about his work ethic surfaced. With Rey Maualuga possibly facing suspension for offseason issues, Burfict may find himself starting at middle backer.
Dre Kirkpatrick, CB
Kirkpatrick was the Bengals' top draft pick, and all indications are that he will be a good one. But corner is the hardest position for rookies to master, and chances are he will start the season as either the nickel or dimeback.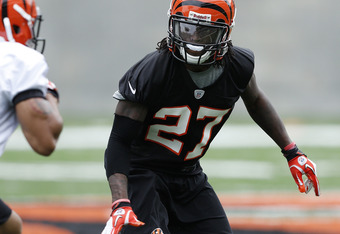 Joe Robbins/Getty Images
Mohamed Sanu, WR
A.J. Green will start on the outside and Jordan Shipley, if he's healthy, will start in the slot. Who starts on the other side?
It's starting to look like either Brandon Tate or Armon Binns may get the spot, but don't count out Sanu, who could end up starting by the end of the season.
Devon Still, DT
The Big 10 Defensive Player of the Year probably won't start on the line, but expect him to get his fair share of playing time. The Bengals won last year thanks to a deep d-line rotation, and Still will help keep that tradition alive.
Marvin Jones, WR
The Cal product was taken in the fifth round, but he could end up being the steal of the draft. Like Sanu, he could eventually work his way into the starting lineup but will more than likely be at the end of the depth chart this year.
Orson Charles, TE
Jermaine Gresham is an emerging star, and veteran Donald Lee will play because of his versatility. There are many who feel Charles will be a star, but his touches may be limited in his rookie season.
Brandon Thompson, DT
The only member of the Bengals 2012 draft class yet to be signed, Thompson could have an impact once he joins the team. Like Still, he could help with the team's depth on the line.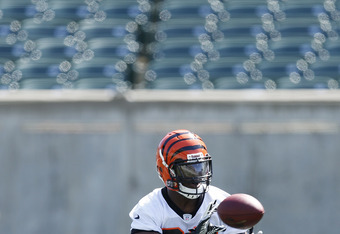 Joe Robbins/Getty Images
George Iloka, S
It doesn't say much for the sad state of the Bengals safety position that a fifth-round rookie could end up starting. Iloka is in the mix to start but will probably end up coming off the bench.
Shaun Prater, CB
Prater could end up being a very good player, but he has little chance of breaking into a very crowded cornerback field this season. Still, the Bengals like him, and he may get a chance.
Daniel Herron, RB
The Bengals are not deep at running back, but the sixth-rounder probably still will not play much. Chances are he will end up on the practice squad.
Emmanuel Lamur, LB
Lamur went undrafted but has flashed during the minicamps and could work his way into playing time.
Jourdan Brooks, RB/FB; Bryce Davis, LS; Tony Dye, S; Tyler Hansen, QB; Justin Hilton, WR; Grant Hunter, LB; Brandon Joiner, LB; Vaughn Meatoga, DT; Kashif Moore, WR; Trevor Robinson, G/C; Taveon Rogers, WR
Everybody on this list will either head to the practice squad or be cut outright.
There are several players of note. Hansen, the former Colorado quarterback, could work his way into the third QB position. Joiner was recently sentenced to three years in prison on two counts of aggravated robbery and one count of felony drug possession, yet the Bengals say they are standing behind him. Some things never change.