Celtics Going Forward with a Familiar Core as Jason Terry Signing Looms
July 3, 2012

Christian Petersen/Getty Images
At season's end, this summer seemed likely to be the end of a brilliant era of Celtics basketball. Kevin Garnett and Ray Allen both stood as unrestricted free agents, and with Boston's core only trending toward ineffectiveness, the time to change gears and add new, young talent seemed to have finally arrived.
The C's had put up a valiant effort, but time was working against them, and this summer offered the franchise a rare bit of financial flexibility.
But Danny Ainge's offseason has gone according to a very different script. Garnett and the Celtics agreed to terms on a three-year, $34 million deal, Allen is reportedly considering returning and, according to Marc Spears of Yahoo! Sports, Ainge and the Celtics are close to coming to an agreement with former Dallas Mavericks guard—and former Sixth Man of the Year winner—Jason Terry:
Celtics are in final discussions on terms of a multi-year deal with Mavericks free agent guard Jason Terry, sources tells Yahoo! Sports.

— Marc J. Spears (@SpearsNBAYahoo) July 3, 2012
The Big Three era in Boston is hardly over, to say the least. Aging though Garnett, Allen and Paul Pierce may be, Rondo is still coming into his own as a player, defensive standout Avery Bradley will be back in the lineup, and if Terry ends up in Boston, they will have a tremendous offensive addition to balance out their world-class defense.
It's clear by now that Garnett could anchor an elite defense in his sleep with minimal help. And the foundation of last year's team—flawed though it was—still came incredibly close to upsetting the Miami Heat in the Eastern Conference Finals.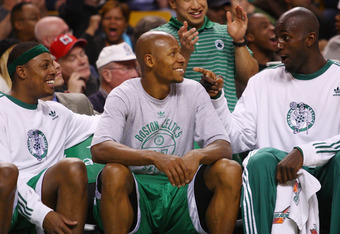 Elsa/Getty Images
All Ainge needs is to bring back Allen, come to terms with Terry and again get creative in his efforts to fill out the rest of Doc Rivers' rotation. Boston did a fantastic job of cobbling together a roster last season on the fly. Though potentially losing Brandon Bass in free agency could put a lot of pressure on Ainge to dig up quality, rotation-caliber bigs on the cheap, I would hardly put the feat past him.
That said, even Terry's offensive punch doesn't make this a perfect signing for Boston—a team still in need of a legitimate backup for Pierce, even on top of their possible lack of size.
The Celtics don't have all that many avenues to work with in terms of player acquisition. If Terry's deal is even remotely sizable, that could essentially lock up Boston's considerable salary options going forward this offseason.
It's a nice get, but considering that the Celtics need to find minutes for Rondo, Bradley and potentially Allen, did Ainge allocate his resources correctly in—official contract signing assumed—nabbing Terry?