Leafs: Analyzing Their Forward Core Going into Next Year (Post Free Agency)
July 3, 2012

Bruce Bennett/Getty Images
General Manager Brian Burke of the Toronto Maple Leafs made huge steps towards solidifying the bottom six of the forward core with his free agency moves this past weekend.
After seeing Travis Moen re-sign with the Montreal Canadiens and Brandon Prust join him on the Habs, the quality available of bottom six forwards were steadily decreasing. Burke quickly scooped up one of the few remaining high-caliber grinders, signing former Colorado Avalanche and St.Louis Blue Jay McClement to a two-year deal. Burke also retained restricted free agent Matt Frattin, signing him to a two-year deal.
I have heard many criticize the lack of moves that Burke made this past weekend. However, I for one am actually impressed with the moves that he made. He openly stated that the big holes on the roster would likely be filled by trades as opposed to free agents, so the addition of McClement was a pleasant surprise.
In McClement, he has an extremely defensive center who thrives on the penalty kill. He led the Colorado Avalanche in short-handed ice time and was third in the entire NHL for forwards in that regard. He has also shown the ability to chip in on the scoreboard, averaging 10 goals per season over the past four years.
The addition of McClement provides the Leafs with two bona fide PK centers in both him and David Steckel. With a penalty kill that allowed 55 goals and ranked 28th in the league, the ability to throw out two lines that both possess quality defensive centres is a huge step forward. McClement also gives the Leafs a glut of players down the middle with Tyler Bozak, Michail Grabovski, Tim Connolly, Matthew Lombardi, McClement and Steckel all listed as centres. This will give Burke a little bit of extra ammunition should he decide to pull the trigger on a big trade.
While Frattin was a Maple Leaf last year, he took huge strides toward being a full time NHLer with the Toronto Marlies during their playoff run. He led the team with 10 goals and 13 points in 13 games before going down with an injury. He was as dynamic a player as you could find in the AHL during the Calder Cup playoffs, and once he returns from his injury next season, he should be able to be an impact player for the Leafs.
I recently wrote an article outlining the Leaf's forward core entering free agency. You can see the article here.
If you read the article, you'll see that five spots in the top six are already taken, barring a trade for a top center. When Frattin returns from his injury, I expect that he will fill the final spot on the second line alongside Van Riemsdyk and Grabovski.
However, the addition of McClement makes things a bit more interesting in the bottom six. McClement fits in as the Leaf's third line center, as they will likely go with Bozak, Grabovski, McClement, and Steckel down the middle. These four all ranked in the top 45 in Faceoff percentage last year in the NHL, which will therefore increase the Leaf's opportunities, and in chance, limit that of their opponents. This makes Tim Connolly expendable and likely trade bait.
MacArthur is signed for another season and will likely fill the third line/left wing spot. Kulemin is a restricted free agent, but it is highly unlikely he isn't retained. Despite his step backward last season on the offensive end, he is a very reliable, hard-working forward who contributes greatly on the defensive end. For this reason, I expect him to fill the third line wing spot opposite MacArthur.
The fourth line will include two holdovers from last season in Mike Brown and Steckel. Brown has become a fan favorite over the past few years for his go-hard attitude and energetic play. He meshes well with Steckel, the hulking defensive centre who has been known around the NHL for his faceoff dominance (sixth in NHL last season). While I expected the last spot on the fourth line to go to Lombardi, a former Leaf draft pick has been making waves at the Maple Leaf prospect camp.
Leo Komarov, drafted 180th overall in 2006, has reportedly really impressed Jim Hughes, the Leaf's Director of Player Development. Here's what he had to say about Komarov (via The Star):
"He is a man amongst boys," said Jim Hughes, the Leafs Director of Player Development who is running the four-day camp. "But the most evident thing you could see out here was the velocity of how he passes the puck. He passes like a pro. Most of the guys pass it like amateurs. He's got a little pepper to his passes, he zings it around. He's in a different class than the other guys around here."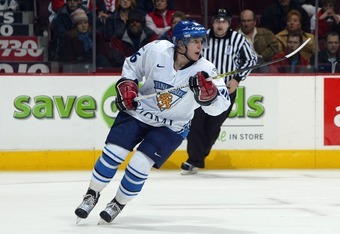 Dave Sandford/Getty Images
High praise for a player who has only been playing in North America for a few months. While Komarov will likely need time to get used to the smaller rinks of the NHL, he has surprised thus far and could make the transition in time for next season.
Komarov has recently drawn comparisons to Jarkko Ruutu, with slightly more offensive ability. He is quick and dynamic as a skater, finishing second in the Fastest Skater Event at the 2011 KHL Skills Competition, and has shown an eye for the net, finishing second in goals and third in points on his KHL Champion Dynamo Moscow team this season. It may be too early to determine, but don't be surprised to see Komarov challenge for the spot opposite Brown next season.
All in all, my prediction for next season's forward lines are as follows:
Lupul-Bozak-Kessel
Van Riemsdyk-Grabovski-Frattin
MacArthur-McClement-Kulemin
Brown-Steckel-Komarov