Fact or Fiction: Dallas Cowboys Pre-Camp Edition
July 3, 2012
Tom Pennington/Getty Images
We'll spend the next few days breaking down popular scenarios for each NFC East team in order to determine whether they'll prove to be fact or fiction. Earlier, we looked at the Philadelphia Eagles. Now, it's the Dallas Cowboys' turn.
Scenario: Tony Romo puts it all together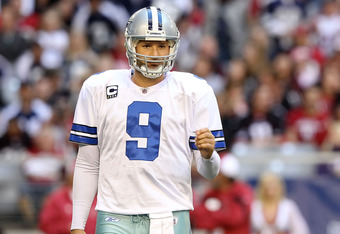 Christian Petersen/Getty Images
You could argue that Romo actually put it all together last year with a completion percentage of 66.3, a 31-to-10 touchdown-to-interception ratio and the league's fourth-highest passer rating at 102.5. But as he remains in his prime, Romo's numbers could improve significantly yet again as the weapons around him continue to get better.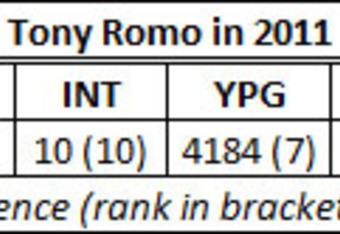 Dez Bryant looks primed to have a breakout season, Miles Austin is back on track and healthy again, DeMarco Murray is the starting back from the outset, Tyron Smith should keep improving and the defense should also be better. 
Romo also seemed to get better as the 2011 season progressed, which bodes well for 2012 while also flying in the face of a stigma affixed to him in years past. The 31-year-old threw eight touchdown passes and zero interceptions in December, posting a 119.1 passer rating in the season's final full month.
With that in mind, this might be the year in which Romo finally starts winning in January. 
VERDICT: Fact
Scenario: Tyron Smith becomes an elite left tackle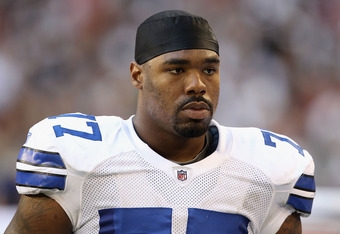 Christian Petersen/Getty Images
The No. 9 overall pick had a stellar rookie campaign on the right side, but he still gave up eight sacks according to Pro Football Focus. So while it's probably not unsafe to assume that he'll improve with his first full offseason under his belt in 2012, don't be surprised if Smith struggles more than expected in his first year protecting Romo's blind side.
Smith has spent the offseason on the left side after making the switch with veteran Doug Free, and although it's easy to peg him as the league's next elite left tackle, I'm beginning to believe it'll take a year for Smith to fully adjust.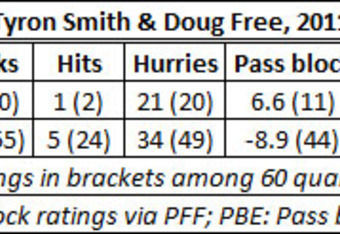 While I believe he probably will eventually become elite (whatever that means), let's keep in mind that he's only 21 years old. 
By no means am I suggesting that Romo's in trouble. Hell, I listed Smith above as a reason why the quarterback would become even better in 2012. That's because Free struggled quite a lot last season, giving up 10 sacks and ranking 57th among 76 eligible tackles in pass protection by PFF.
Smith will almost certainly help, and Free might be better off on the right side anyway. That's where he started his career. Just try not to get your hopes up early with Smith.
VERDICT: Fiction
Scenario: Formerly a weakness, the secondary becomes a strength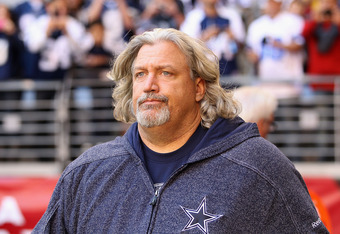 Christian Petersen/Getty Images
I'm just going to spoil the drama surrounding the verdict here and state that there are several reasons why this will be a factual scenario.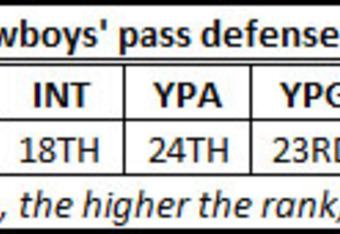 First, they're trending in that direction. Rob Ryan helped Dallas improve from 31st to 23rd against the pass in his first year as defensive coordinator and should benefit greatly from having a full offseason to properly implement his complex system.
Second, they've added some serious talent. Free-agent acquisition Brandon Carr is a true No. 1 corner who has perennial Pro Bowl potential. And while I'm not ready to gush over top pick Morris Claiborne until he's able to suit up for an actual practice or game, there's almost no ceiling there. If Mike Jenkins isn't traded, he'll be the most talented backup cornerback in football. And Orlando Scandrick ain't half bad in the nickel spot.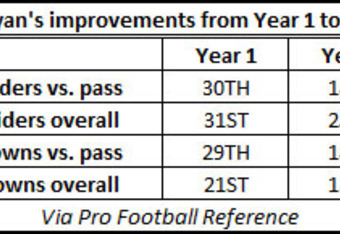 Don't underestimate how important Jenkins is to this team. This is a guy who has proven he can be a top corner, and he prevailed like a champ despite being hampered by a slew of injuries in 2011. You can never have too many quality corners, especially in this division.
If Brodney Pool can deliver and provide an upgrade over Abram Elam, and if Gerald Sensabaugh can return to his 2010 form, this'll be one of the strongest secondaries in football. 
VERDICT: Fact
Scenario: DeMarcus Ware is again the team's defensive MVP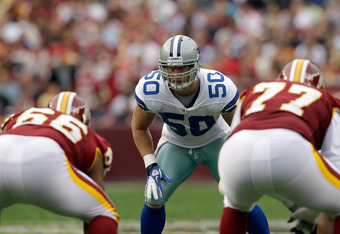 Rob Carr/Getty Images
Ware single-handedly accounted for nearly half the team's sacks last season. The man is consistently one of the most effective edge rushers in the NFL—he's never missed a game in his seven-year career and was probably the team's most valuable defensive player in at least five of those seasons.
But Ware will be on the wrong side of 30 in 2012, and he's been hampered by neck issues of late. Of course, that didn't slow him down much as he racked up 19.5 sacks last year, but it's still an indication that Ware could experience somewhat of a dip in production at some point soon.
Yet even if that doesn't happen this season, there's a chance Ware will start to enjoy a boost from the stellar players surrounding him on defense. Inside linebacker Sean Lee looked like an emerging star last season and could become an All-Pro-type defender in his third year. Plus, maybe this is the year Anthony Spencer finally starts finishing and sees his sack total skyrocket. 
And then there's Carr and Claiborne, both of whom are expected to play very important roles in the secondary from the get-go. 
I'm going to go out on a limb and suggest that this is the year in which someone else on that defense finally becomes as special and as crucial as Ware. I'm thinking specifically about Lee, but any of the aforementioned candidates could achieve star status in 2012. 
VERDICT: Fiction