Greenbrier Classic 2012: Tiger Woods and Golfers Who Must Roll into British Open
July 4, 2012

Patrick McDermott/Getty Images
With the Open Championship just two weeks away, many of the world's top golfers will be using this week's Greenbrier Classic as a final tuneup for what many consider to be golf's biggest major.
The U.S. Open proved that parity is at an all-time high in the sport as tons of players were in contention, so several stars will look to separate themselves from the pack this week.
Success at The Old White TPC Course in White Sulfur Springs, W.Va. doesn't guarantee anything, but momentum can mean a lot heading into a major.
This tournament will likely be about golfers perfecting their respective games in anticipation of the British Open, so the result won't be as important as how the players feel.
Here are three golfers that must have respectable showings in the Greenbrier Classic in order to be confident leading up to the Open Championship.
Tiger Woods may have had a hiccup in the third round of the U.S. Open that prevented him from being a factor, but it's safe to say that he is officially back on track.
Woods won the Memorial Tournament prior to the U.S. Open, and now he is coming off an impressive victory at the AT&T National as well. Woods continues to look to add to his major total, but continuing to win and perform well in other tournaments will only help him in the long run.
For a long time it seemed as though Woods had lost the confidence needed to win. That is no longer the case, however, as he already has three wins on the season.
Over the first two rounds of the U.S. Open, Woods proved that he was still capable of performing at a high level in majors. He simply needs to put it all together, and riding consecutive wins into the Open Championship will put him in position to do just that.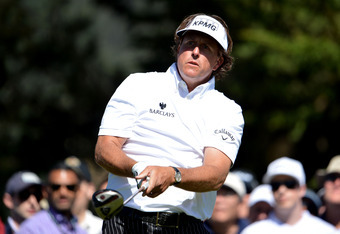 Stuart Franklin/Getty Images
There is no question that this has been a very difficult season for Phil Mickelson. Lefty hasn't been very competitive in many of the tournaments he has entered, and that has been especially true as of late.
Mickelson withdrew from the Memorial Tournament prior to the U.S. Open after shooting a 79 in the first round and things didn't get any easier at Olympic Club. Mickelson made the U.S. Open cut, but he was never a factor as he finished in 65th place.
Mickelson, along with Woods, has long been one of the most talented golfers on tour, but a lack of confidence has plagued him at times. He appears to be battling that very issue right now as the poor finishes continue to mount.
Mickelson is in a position where he doesn't necessarily need to win at the Greenbrier Classic, but he needs to compete and perhaps finish in the top 10 in order to feel good about himself heading into the British Open. 
Jim Furyk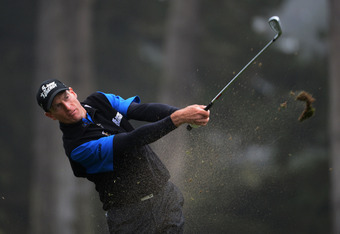 Harry How/Getty Images
Jim Furyk appeared to be in excellent position to win the U.S. Open as he entered the final round with a lead. He played quite steadily on Sunday until a late collapse caused him to drop a few strokes and leave the door open for eventual winner, Webb Simpson.
Furyk took the loss pretty hard since he knows that he may not have many more golden opportunities such as that one, but he has to put it behind him and get ready for the Open Championship.
Furyk didn't bounce back very well at the AT&T National as he finished in 34th place, but he will have another chance before the season's third major.
Furyk was playing very solid golf before his failure at the U.S. Open, so if he can recapture that spark at the Greenbrier Classic, he will be very dangerous across the pond in the Open Championship.
Follow @MikeChiari on Twitter