Clemson Football: Breaking Down Importance of Tigers' O-Line Production
July 3, 2012

Streeter Lecka/Getty Images
To win the ACC title and still have fans shaking their heads at the end of the season is a precarious outcome for what should have been regarded as a strong season.
After opening with two unimpressive victories against no-names Troy and Wofford, expectations for Clemson football were widely uncertain for the remainder of the season. The Tigers shocked the college football world when quarterback Tajh Boyd (who threw for 386 yards and four TD) and receiver Sammy Watkins picked the Auburn secondary apart, snapping the defending national champions' 17-game win streak. They followed their victory up five straight victories, including a three-game win streak over ranked opponents.
Their season reached its zenith against North Carolina, in which the Tigers pummeled the Tar Heels 59-38, where quarterback Boyd threw for a school-record five TD passes, three in the third quarter alone. Clemson sat atop the ACC with an 8-0 record, ranked No. 5 nationally, and was even mentioned in BCS championship discussions.
However, things changed rather dramatically as Clemson dropped three of its final four games by sizable margins. In fact, their record-setting 70-point embarrassment to West Virginia in the Discover Orange Bowl almost made the school's 18th conference title feel irrelevant.
With six months of an unswallowable bitter taste lingering in the Tigers' mouths, the 2012 season calls for redemption.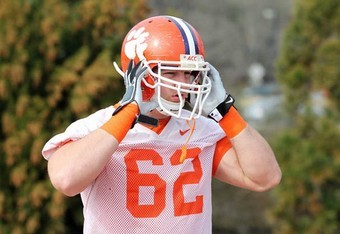 One thing preseason-ranked No. 16 Clemson doesn't lack is offensive talent. Both WR Watkins and QB Boyd are early-season candidates for the Heisman, and Boyd is "the engine that makes Clemson's offense hum," connecting for 3,828 passing yards and 33 TD with a staggering QB rating of 141.2 in 2011.
Of course, no team can over look WR DeAndre Hopkins and RB Andre Ellington.
Clemson's season success will be determined at the line of scrimmage. If the big fellows in the trenches can bide time for Boyd and open holes for Ellington, the Tigers offense will run all over opposing teams.
The biggest concern is experience. Clemson is only returning senior center Dalton Freeman and junior left tackle Brandon Thomas. Sophomores Gifford Timothy (RT) and Kalon Davis (LG) both have fewer than 40 snaps in their brief college careers.
At right guard is converted defensive lineman Tyler Shatley, who, offensive coordinator Chad Morris claims, gives the offense "instant credibility."
Shatley is O-line coach Robbie Caldwell's newest project. In 2011 he converted a walk on tight end, Phillip Price, into an All-ACC tackle and Clemson's "biggest surprise" (h/t The Post and Courier). The once-anonymous defensive backup has emerged as a line leader so far this offseason.
Clemson beat writer Greg Wallace describes his performance thus far as excellent: "Although Shatley has yet to play a single regular-season snap on offense, he has already earned his new linemates' respect, and will be a cog in the group that protects Tajh Boyd and fuels what hopes to be a potent offense."
Despite the optimism at Death Valley, Orange and White Clemson Blogger Brandon Rink projects Clemson's O-line to be only the eighth best of 12 in the ACC, saying, "Caldwell should shape the unit to be around what they've been—not best in the ACC but not the worst either, which will be enough to keep the Chad Morris offense moving."
While an average season for this O-line might be enough to allow the exemplary offensive threats to shine, if it finds a way to excel it wouldn't be unreasonable to look for the Tigers to walk away from the ACC as repeat champions.