NHL Trade Speculation: Rick Nash in Detroit, Why This Is the Move to Make
July 3, 2012

Claus Andersen/Getty Images
As all 30 NHL teams head into the third day of unrestricted free agency, the two biggest prizes remain on the market, and so does the biggest fish on the trading block.
All-Stars Ryan Suter and Zach Parise appear to be mulling over the various offers they've received from virtually all corners of the league, while Columbus has been waiting patiently, weighing the trade proposals that have been sent their way with regards to captain and franchise player Rick Nash.  
So far, according to Greg Wyshynski of Yahoo!'s Puck Daddy, the front-runners in the Nash sweepstakes are the Detroit Red Wings and New York Rangers, which isn't all that surprising.  
The Rangers have long been considered the most obvious and likely destination for the 28-year-old sniper, primarily because not only does general manager Glen Sather have the assets needed to reel in the superstar, but New York appears to be on the cusp of greatness, and Nash could be that final piece the team needs to complete their Stanley Cup puzzle.  
However, Nash's talents would be better suited in Detroit, for a couple of reasons.  
First of all, Nash played arguably his best hockey under Detroit's Mike Babcock, when the two worked together as members of Team Canada at the 2010 Olympics. Generally regarded as a pure goal scorer, Nash took on a more defensive role at the Olympics, and was instrumental in shutting down Russia's Alex Ovechkin and Slovakia's Marian Gaborik during the medal round.  
In addition, the Wings' puck-possession style suits Nash's game perfectly, and one can only wonder what kind of numbers the former Rocket Richard winner would put up skating alongside Pavel Datsyuk or Henrik Zetterberg.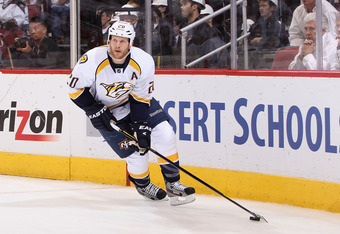 Christian Petersen/Getty Images
In order to acquire the services of possibly the most sought-after name on the trade market of the last five years, the Wings would need to part ways with some attractive prospects, as well as at least two roster players, which are obviously not easy to replace.  
That being said, there are still some intriguing names on the free agent market, and once the Wings complete the deal with Nash, why wouldn't Ken Holland make another splash to compensate for whatever the team gives up in return for Nash? 
If Holland and Columbus' Scott Howson can come to terms on a trade before Ryan Suter determines whether he'll join Nashville or accept the Wings' offer, which is (according to SBNation.com), a 12-year deal worth $90 million, maybe Suter would realize that heading to Motown would represent his best shot at winning a Stanley Cup.  
For the Wings, the additions of Nash and Suter would more than offset the losses of Nick Lidstrom and Jiri Hudler, as well as inject some much-needed younger blood into the team's core.  
All that remains to be seen is whether Columbus really wants to deal the only superstar in franchise history to a division opponent, and whether Suter is really willing to leave the only team he's ever known to join a hated rival.  
If Holland manages to put together a package attractive enough for Howson's liking though, it'll go a long way toward turning what had been a nightmare summer for Wings fans into a dream-like couple of days.