Washington Redskins: Mike Shanahan & Robert Griffin Vital to Each Other's Future
July 3, 2012

The Mike Shanahan tenure in Washington may have begun in 2010 on paper, but for all intents and purposes the clock starts now! The first two seasons under Coach Shanahan yielded a combined record of 11-21, with little to show for it on offense. It didn't take a Redskins fan who sat through the torrential Steve Spurrier days to realize change was needed.
Thankfully, what the league took from us in the 2011 regular season, they gave back to us in the offseason. The Redskins 5-11 record was poor enough to earn the sixth overall draft slot. After agreeing to part ways with this year's second round pick, and first round picks in the next two drafts, the Redskins were able to draft that needed change: Robert Griffin III
The addition of RG3 allows Coach Shanahan to reset the timer on expectations, but it comes with a price. Shanahan and Griffin will now be linked together, and will need to depend on each other to deliver the most success possible.
The head coach tying his fate to a rookie quarterback is not a new theme in the NFL. This story has been played out many times, with some notable failures (i.e. Brad Childress with Tavaris Jackson). If Coach Shanahan is to learn anything from prior stories, it is to give your rookie QB every opportunity to succeed.
Too often coaches will tie themselves to a player and then get cold feet or have a change of heart. Brad Childress has this happen on countless occasions and was always looking for a way to unhitch himself from Jackson (i.e. bringing back Brett Favre). In the end, Childress would have been better suited to give Jackson as many chances to succeed as possible because the two would always be linked in Minnesota; so too is the case in Washington now.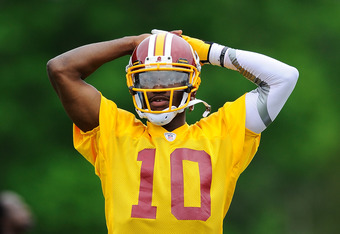 Patrick McDermott/Getty Images
Now, it may be early, but I believe it is relatively safe to say that Griffin is world's better than Jackson, and a much safer bet at quarterback. With that said, we still have not seen Griffin play an NFL snap, and coaches will do almost anything to prevent a loosing season. If things begin shakier than expected, Coach Shanahan needs to remain calm and most of all committed to Griffin.
At the same time that Shanahan is relying on Griffin, Griffin needs to rely on Shanahan. RG3 may be the Heisman Trophy winner, and one of the best athletes to ever come out of college football, but he still has yet to take a snap in the NFL. Coach Shanahan is a respected and proven coach that can guide a franchise to Super Bowl victories.
Griffin will need to be willing to reshape his game and play much more under center than he was asked to at Baylor. RG3 will need to be willing to let Mike and Kyle Shanahan break down parts of his game, in order to build it back up. If Griffin resists or is not as flexible, there could be all too familiar problems for Redskins' fans. 
If Griffin and Shanahan fail to gel property, and the Redskins post two more loosing seasons it will be the end of the road for Coach Shanahan. However, this separation will also set Griffin back as a new head coach and offensive coordinator will be brought in, and the learning process will start over again. 
Ask any Redskins fan who watched Jason Campbell be drafted in the first round, and then completely mishandled, what it was like. A quarterback who is forced to change head coach and offensive system several times is doomed for failure. To this day, I still believe Campbell had the talent to be a quality quarterback in the NFL (we just never developed him properly). 
In the end, I believe these two will be able to rely on each other and transform the Redskins into a playoff caliber team. That was not hyperbole earlier, Griffin is one of the best athletes to have ever played college football (Olympic quality sprinter with a cannon arm, and impressive accuracy), and he's ours. 
In Coach Shanahan's final years with the Denver Broncos, he drafted a quarterback named Jay Cutler for his pocket mobility and rocket arm. Now Shanahan has a quarterback with a rocket arm, better wheels, and completely different (and yes better) attitude/personality. 
I truly believe Shanahan and Griffin can be the start of ten or more years worth of success for the Washington Redskins. However, the two must not forget to rely on each other day in and day out. Each one holds the other's success and failure in their hands, and ultimately the entire team's.