Kentucky Basketball: Anthony Davis, Darius Miller Are Perfect Fit in New Orleans
July 3, 2012

Chris Graythen/Getty Images
Anthony Davis and Darius Miller have been teammates for a year and will be for the foreseeable future. The New Orleans Hornets selected Davis with the first pick and Miller with the 46th in the 2012 NBA draft.
Miller is an ideal selection alongside Davis for multiple reasons. Familiarity is a given, as is Miller's leadership and toughness that should translate immediately to a young NBA team.
The Hornets aren't just young—they're rebuilding. Miller knows all about that, going from the NIT to NCAA champion in his four years as a collegiate player. Davis is the larger piece to the rebuilding puzzle, but Miller's influence should not be understated.
When you first remember the 2011-12 national champion Kentucky Wildcats, chances are you won't think of Miller as the "leader" of the team. You'll think of Davis, who was clearly the most dominant player on the team, or Michael Kidd-Gilchrist, the player that led by example.
But Miller showcased his leadership throughout the season, his first act being when he took a seat for the younger Kidd-Gilchrist. As a senior, Miller could have forced his way into the starting lineup, but he accepted his role coming off of the bench. 
For four seasons at Kentucky, Miller was a role player. He was never a star, nor will he be in the NBA. But that role is a perfect fit with Davis, who is destined to become a star in the league. 
The most important aspect of this union of Kentucky Wildcats in the Big Easy is familiarity. Hornets fans should get used to alley-oops like this (via WildcatWorld.com—scroll to 0:45 to see Miller's oop).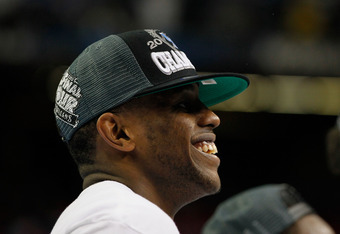 Kevin C. Cox/Getty Images
On such a young team, familiarity is a valuable commodity. Davis and Miller have a proven cohesiveness, forged through one of the most successful seasons in college basketball history.
Davis clearly fits in New Orleans. His pick was unquestionable. But with the 46th selection, the New Orleans Hornets proved that they were committed to Davis. Multiple options were on the board, from a point guard selection like Scott Machado to a "stash" pick like Kostas Papanikolaou of Greece. 
But no, the Hornets went with Miller, a selection that provides Davis with a teammate that he is accustomed to having. Familiarity cannot be understated, especially in a rebuilding situation.
Perfect selections are hard to come by in the NBA draft. New Orleans had two.