Eric Wright's Arrest Adds to Tampa Bay's Offseason Legal Headaches
July 2, 2012

Gregory Shamus/Getty Images
It just can't be easy for the members of the Tampa Bay Buccaneers' secondary this offseason.
When corner Aqib Talib's felony charges were dropped on June 18 in a Texas courtroom, the Bucs seemed to have dodged a nasty roster situation. But now, the mostly-quiet calm period between minicamp and training camp has been agitated.
Newly-signed corner Eric Wright was arrested near downtown Los Angeles on Monday under suspicion of felony driving under the influence, according to the Los Angeles Times. Wright's car and a truck were involved in an incident just after midnight.
Wright elected not to submit to a Breathalyzer of a field sobriety test, and the driver of the truck refused medical treatment. But because there was an injury involved, Wright was booked under a felony and taken to the LAPD's downtown Metropolitan Detention Center.
Talib, who has been working hard with new head coach Greg Schiano to mend fences with the organization and clean up his image, still may face disciplinary action from the NFL. But the matter was out of the hands of the court.
In two weeks time, though, Wright has thrust the Buccaneers back into worry mode about the legal system and one of the members of its secondary.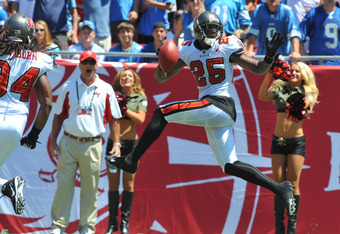 Al Messerschmidt/Getty Images
Wright, who started all 16 games last year for the Detroit Lions, signed with the Buccaneers on March 14 for $37.5 million over five years. He was slated to start opposite of Talib and either play on the outside or in the slot when the team moved to a five-DB set.
Now, and for the foreseeable future, Tampa Bay is going to have to worry about the status of another starter on defense.
Schiano already had to dance around some undisclosed "non-football related health thing" involving Wright during training camp, and this new incident brings more of a cloud to Wright's brief stay with the Buccaneers.
The Los Angeles Times article also brings up some of Wright's rough and rowdy past while at the University of Southern California:
The former USC starter transferred to the University of Nevada Las Vegas in 2005 amid possible disciplinary action by the school after an arrest on suspicion of rape. Police said they later found 136 Ecstasy pills in his apartment.
After cutting ties with safety Tanard Jackson and trading tight end Kellen Winslow, Schiano showed that he was unwilling to deal with distractions that were terribly detrimental to the team.
Talib's situation was managed, likely because of his willingness to work with Schiano and his openness on the matter. Will Schiano have the same wait-and-see mentality with Wright? Or are Wright's days numbered in Tampa Bay?
It's too early to tell, and it should be noted that Wright's arrest was just that—not a conviction at all. Wright's sobriety will likely come into play, as will the health of the driver of the truck involved in the accident. This situation could work itself out relatively painlessly, or it could get ugly.
Keep an eye on events as they unfold to see if Tampa Bay has another grave situation in the secondary on its hands. You know the Bucs will be watching intently.