Bruce Carter vs. Dan Connor: Who Starts at Linebacker for the Dallas Cowboys?
July 2, 2012
Christian Petersen/Getty Images
There's still quite a lot of uncertainty regarding who's going to get how many reps at all three defensive line spots, but the only real obvious mano-a-mano training camp battle involving the Dallas Cowboys defense will take place at inside linebacker, where veteran Dan Connor is taking on 2011 second-round draft pick Bruce Carter.
Connor, who was signed away from the Panthers in March after recording a career-high 75 tackles in 15 games in 2011, is more than just an insurance policy. The Cowboys said goodbye to Keith Brooking and Bradie James in the offseason, gambling on Carter, who missed all of his first training camp and a large chunk of his rookie campaign due to a knee injury.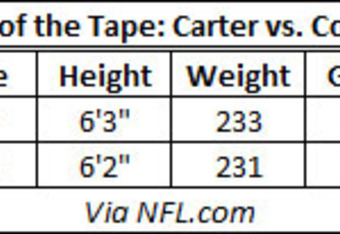 But Connor is getting paid over $3 million per year in Dallas, so Jerry Jones and Co. don't have a clear-cut horse in the race. Carter's contract is cheap, but if he doesn't pan out, Dallas looks bad for using a second-round pick on an injured, undersized linebacker in the second round. 
If Connor—who's also undersized and comes with his own injury baggage—fails to deliver, then it's a bigger waste of Jones' money.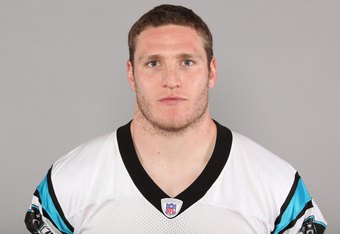 NFL Photos/Getty Images
Politics aside, it would probably be better for the Cowboys if Carter won the job. He's two and half years younger and has more upside. He also has the obvious advantage right now because he's been practicing—and drawing positive reviews—while Connor recovers from surgery to repair his labrum.
Yet it's Connor who is the safer option early. If his shoulder is good to go in time for training camp, he'll begin the preseason as a starter alongside Sean Lee. Both will surely get plenty of reps in August, and even during the regular season, we'll likely see a lot of Connor on early downs and a lot of Carter in nickel packages. 
That doesn't mean this battle isn't crucial. Internal competition breeds external success. 
I think I'm in the minority here, but I believe Carter can and will earn the starting spot from the get-go this time. Not only is he healthy now, but he's a first-round-caliber player who was also burdened with having to learn a new position in 2011 (he was an outside linebacker at North Carolina). 
I definitely expect to see a lot of Connor throughout the year, especially since he, Lee and Carter are the only inside 'backers expected to play roles in Dallas this season. Yet I'm taking queues from defensive coordinator Rob Ryan, who had this to say in a radio interview last month (via the Fort Worth Star Telegram):
"Bruce is going to be a mainstay for us, regardless of whether he starts or not, in our dime defense and playing that nickel linebacker. He's going to be a handful. One of the things that has really stuck out in this camp is what a great coverage guy he is. ... He's the guy we thought he was when we drafted him. Obviously, it takes a little while, especially playing inside linebacker in this league, with all of the work he did on the outside in college. It's been a long transition, but he's learning every day, and we're real excited about his progress."
Who would you prefer to see start the season next to Lee? What does your gut tell you? Get in on the conversation. Training camp is only four weeks away, so the speculation period is nearing its conclusion.