USA Olympic Basketball Team: How Anthony Davis Ankle Injury Affects Squad
July 2, 2012
Chris Graythen/Getty Images
It's a good thing the USA Men's Basketball Team has talent, because it certainly doesn't have depth.
Dwight Howard, LaMarcus Aldridge and Chris Bosh have all been ruled out of the London Olympics, and now it appears Anthony Davis is going to be added to that list (via Yahoo! Sports' Adrian Wojnarowski):
Anthony Davis suffered a severely sprained ankle in a Hornets workout and almost assuredly is unable to play for Team USA, sources tell Y!

— Adrian Wojnarowski (@WojYahooNBA) July 2, 2012
The severity of the injury is a bit of an unknown, but according to Jimmy Smith at nola.com, at the very least the No. 1 pick will be out one to two weeks. It could be more severe, however. 
Also, the AP's Brian Mahoney adds this nugget:
For those wondering, seriously or not, no chance USA is adding anyone else no matter how many get hurt. Already got their extension.

— Brian Mahoney (@briancmahoney) July 2, 2012
Let's take a look at what this means for 2012's version of the Dream Team.
Frontcourt Depth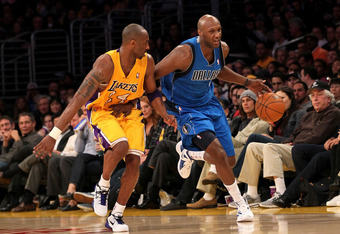 Stephen Dunn/Getty Images
In a word, it's atrocious. Without Howard, Aldridge, Bosh and potentially Davis, the pickens are slim for Team USA when it comes to big men. 
Tyson Chandler and Kevin Love are now virtual locks to make the team, but the only options after those two are Blake Griffin and Lamar Odom. 
Griffin, of course, is an electric player, but he had knee troubles near the end of the season and isn't necessarily the prototypical post player.
Neither is Lamar Odom, who is coming off the worst season of his career with the Dallas Mavericks. 
Nonetheless, considering the Americans will eventually have to face Spain, a team that boasts a trio of Marc Gasol, Pau Gasol and Serge Ibaka, frontcourt depth is a necessity. 
Since Tyson Chandler is the only available true center, it's completely possible all four of the available big guys make it.
Say it with me: Lamar Odom, who averaged 6.6 points and 4.1 rebounds per game, has a good shot at being an Olympian. 
Is Christian Laettner still available? 
USA's New Gold Medal Chances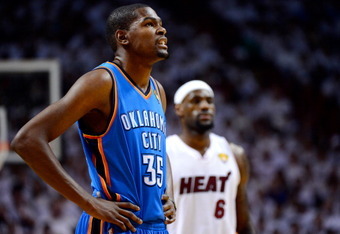 Ronald Martinez/Getty Images
Honestly, this doesn't change much except for USA's likely battle with Spain and, to a lesser extent, Brazil, a team that is led by Tiago Splitter, Nene and Anderson Varejao. 
For a large part of the Olympics, the Americans will be able to go small. That means LeBron James at power forward, Kevin Durant at small forward, Kobe Bryant at shooting guard and one of Chris Paul, Russell Westbrook or Deron Williams at point guard.
You could put Tim Keeney at center on that team, and it would still destroy almost any competitor. 
The lack of frontcourt depth for the US will certainly give Spain a larger glimmer of hope, but I still have the Americans as the big favorite.