St Louis Rams: Monday's Rams News and Notes at Noon
July 2, 2012

Dilip Vishwanat/Getty Images
Welcome to Monday's St. Louis Rams "News and Notes at Noon", the go to source for all major Rams headlines and updates with brief commentary and analysis, a place where we rack up more hits than Rams' Hall of Fame defensive end Deacon Jones.  
NFL.COM Ranks New 2012 Head Coaches 
Marc Sessler of nfl.com recently ranked the NFL's new group of head coaches in this piece.  Seven head coaching changes have taken place heading into the 2012 season, including, of course, the Rams and their addition of veteran head coach Jeff Fisher. 
Mike Mularkey of the Jacksonville Jaguars checked in at No. 7.  The Kansas City Chiefs' Romeo Crennel came in strong at No. 2.
Where, however, did the head man in St. Louis rank?
Not surprisingly, Fisher headed the list, locking down the top spot. Sessler shared these thoughts regarding the Rams head honcho: 
"Fisher isn't just the best of this bunch; he's among the league's finest coaches. As bad as the Rams have been, Fisher understands how to build a consistent, winning program. This was a franchise-altering hire."
I could not agree more with Sessler's assessment of Fisher and his potential impact on St. Louis. 
After hiring two first-time head coaches in Scott Linehan and Steve Spagnuolo, the Rams made the right choice in going with proven winner Jeff Fisher.  Fisher and his veteran coaching staff are, unquestionably, a significant upgrade over the two aforementioned regimes.  
Rob Carr/Getty Images
For more of my thoughts on Fisher, feel free to check this recent piece. 
NFL Commissioner Roger Goodell Sends Memo to Teams Regarding Potential L.A. Relocation
Several media sources have revealed details of NFL Commissioner Roger Goodell's memo to NFL teams regarding potential relocation to Los Angeles, California. 
In this piece, nfl.com cites this from Sam Farmer of the Los Angeles Times as the first to reveal details regarding the aforementioned memo. 
Several items from the memo are notable; however, one thing that many reports focused on was the fact that the NFL, not individual teams, will control the relocation process. 
ESPN also shared a report on Goodell's explanation, an explanation of a detailed process that went to each of the NFL's 32 teams. 
Other things that stood out include the fact that any team wishing to relocate in 2013 would have to do so between January 1 and February 15 of next year. The San Diego Chargers would be the only team in position to apply for a move in 2013 due to their year to year lease situation, which will put them in the position of being free to move during that aforementioned time frame. 
The relocation-obsessed Mike Florio of Pro Football Talk, who clearly realizes that fear sells, shared his take on possible league relocation next year here.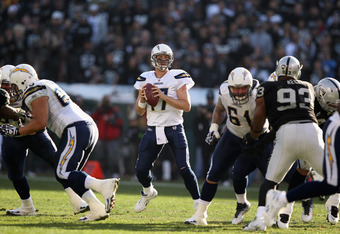 Ezra Shaw/Getty Images
For any team to even begin pursuing a move, they would have to prove that they have exhausted all attempts at finding a stadium solution in their own home market area and consult with the league on each of those prospective sites.  
In St. Louis' case specifically, that would obviously include the Edward Jones Dome and then sites north of the EJD, across the river in Illinois (who got involved in the Cardinals stadium process) and possible suburban sites such as Fenton (who threw their hat in the ring), Chesterfield, or even Earth City (where the Rams headquarters stand.) 
A team would also need approval of 24 NFL owners, among other things, before any move could occur. 
Locally, there have been several published pieces responding to the league's view of potential future relocation and/or expansion. 
Bryan Burwell of the St. Louis Post-Dispatch shared a very interesting column here in regard to Goodell's memo. 
Burwell suggested in the above-linked submission that the St. Louis Convention and Visitors Commission should view this memo as a wake-up call and a reassurance that L.A. could indeed be a viable option for the Rams (or any team) at some point in the future, and thus, Burwell insists, the CVC should look to secure the Rams sooner rather than later. 
According to the above-linked Burwell piece, he says he is told the following in regard to St. Louis and the CVC and ongoing lease negotiations with the Rams, a process that is currently in arbitration: 
I keep being told by people that everyone on the city's side of the table wants to keep the Rams and understands the value in regarding pro and amateur sports as a viable industry. I keep hearing that they understand how to get this deal done. I keep being told that intelligent people with vision are running the show.
Ryan Van Bibber of Turf Show Times has had a very balanced approach towards lease negotiations throughout the process, often acknowledging that L.A. could indeed become an option, at least theoretically at some point, for the Rams. 
In this piece, Van Bibber analyzes the situation and rightfully points out that the city and CVC could take this into 2014, right to the brink, just as the folks in Minnesota recently did.  
Van Bibber also accurately states that the Chargers (year to year lease) and Raiders (out of lease after 2013 season) could move before the Rams could have a chance (if so inclined.)  
I might add, as many of you know, that the Buffalo Bills will go to the highest bidder at the point that Buffalo Bills owner Ralph Wilson passes.
The Jacksonville Jaguars have a strong lease but could move if they show three years of losses. There is also a buyout clause in there for new owner Shahid Khan that would be in effect if the Jaguars were to move before 2017.
Van Bibber writes that he was convinced recently, during the Rams recent trip to Joplin to help build three homes in the tornado ravaged city, that the Rams have made roots here.  
He acknowledges, of course, that a move is possible, but he, along with others including myself, have heard enough to feel very confident that the franchise is not looking for an out but instead desires and fully intends to remain in the Gateway City.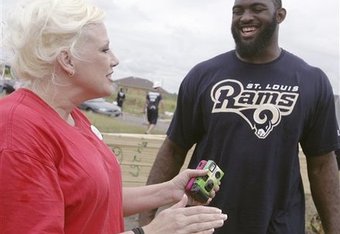 Finally, Mike Sando of ESPN summed up the situation in this piece. Sando succinctly pointed out that the Commissioner's memo does not directly impact the Rams in any manner, short term. 
At the very least, the Rams, as Sando points out, are bound to the STL area until at least March of 2015.
Depending on the outcome of arbitration (which is binding for the Rams), the organization could begin playing at the EJD on a year to year lease in 2015 if an agreement is not reached in relation to arbritration, move to another location within the region or potentially exit the region for another city, such as L.A., at that time. 
Where Do the St. Louis Rams Cornerbacks Rank? 
Ryan Van Bibber of TST posted a piece at sbnation.com ranking the Rams' and all 32 NFL teams' cornerback situations.
The Jets secondary, led by Darrell Revis, checked in at the top of the mountain. The Baltimore Ravens came in just behind the Jets at No. 2.  
The Rams, by all accounts, should have a much improved stable of corners after adding free agent acquisition Cortland Finnegan of the Tennessee Titans, Janoris Jenkins in round two of the 2012 NFL Draft and Trumaine Johnson in round three.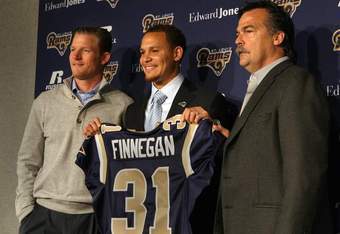 Furthermore, they are returning a solid starter in Bradley Fletcher and a guy who could fit in very well in this defense: the tough, hard-hitting Jerome Murphy.  St. Louis also returns a surprisingly strong performer from last season, Josh Gordy. 
After enduring a season where ten corners were lost for the year to injury, better health alone would equate to a much improved secondary. However, when you also consider that St. Louis has both added and are returning a terrific group of talented players (as mentioned above), the position should be much improved over last year. 
How improved does Van Bibber expect the St. Louis cornerback position to be this Fall? You will need to click the above-linked piece for the answer to that. 
NFL Easing Blackout Rules 
According to this report from the Wall Street Journal, the NFL will be easing its' blackout policy this year while simultaneously looking to provide more incentive to get people into the seats around the league, as league-wide attendance, in recent years, has dropped by 4.5 percent. 
The article above details the changes the NFL will be implementing, including hopes of adding wireless internet at venues across the league, more extensive use of video replays and the allowance for public address announcers to solicit fan response before an opponent faces a big third down. 
The report also mentions that, someday, in-game fans could be able to hear conversations between referees during disputed calls that go to the replay booth.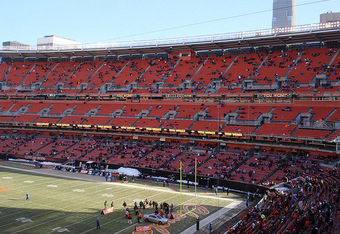 The report also points to diminished season ticket demands around much of the league, including Indianapolis after the departure of legend Peyton Manning and a rough 2011 season. 
As for the backed-off blackout rules, the league owners have passed a resolution allowing games to air in local markets when as few as 85 percent of seats are sold. 
A report from Kevin Noble of thephininsider.com shares that the Dolphins were only at 81 percent capacity in 2011, and that Florida saw plenty of blackouts with the Tampa Bay Buccaneers and Jacksonville Jagaurs fans both enduring blackouts. 
The Rams themselves were only at 85.4 percent capacity during the disaster that was last season's 2-14 season. 
Terrific Profile of Rookie Cornerback Trumaine Johnson 
Douglas M. shared a very detailed profile at turfshowtimes.com on former University of Montana cornerback Trumaine Johnson, a third round pick of the Rams. 
Johnson brings great size to the position, at 6'2' and 204 pounds, and could eventually be a candidate to switch to safety, although the plan is to keep him at defensive back, at least for now. 
Rather than breaking down the outstanding and lengthy piece, I would urge each of you to check it out via the link above.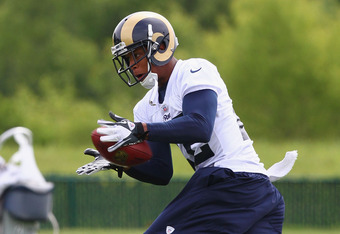 Dilip Vishwanat/Getty Images
As touched on previously in this column, the Rams should have some exceptional depth at DB in 2012, and Johnson figures prominently into that mix, most likely in a backup role. 
Johnson played with Jeff Fisher's son, by the way, at Montana. Fisher's son is on staff with St. Louis as an assistant in the secondary.
Will Brian Schottenheimer Succeed in St. Louis? 
My friend, Tevin Broner of Turf Show Times, shared a nice look at offensive coordinator Brian Schottenheimer and his prospects for success as the orchestrator of the St. Louis offense. 
Broner was not a huge fan of the Schottenheimer hire and points to reasons why in the above-linked piece. He does, however, admit that things could be better than he expects with the OC under the tutelage of Jeff Fisher. 
Several Rams players, including Steven Jackson and Sam Bradford, have pointed to similarities in this offense and towards the offense directed by Pat Shurmur in 2010.  
I look for Schottenheimer to do well in his run with St. Louis. He was hand-picked by Fisher and should be able to implement the offense in a way that is desired by the head coach.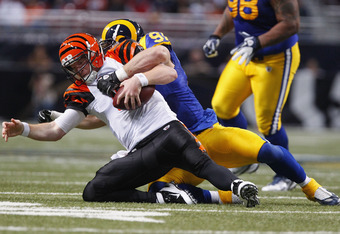 Whitney Curtis/Getty Images
Ranking the 50 Best Defensive Players in the League 
For a nice look and analysis from Adam Lazarus of Bleacher Report regarding his slotting of the best defensive players in the National Football League, please click here. 
I do not agree with all of the rankings; however, there is some solid commentary regarding the ranked players.  
Chris Long of St. Louis made an appearance in the rankings, although I would have ranked him a little bit higher than Lazarus did. 
First of Four Media Misconceptions About the St. Louis Rams: St. Louis Is a Baseball Town 
Finally, I posted the first of four reports regarding major media misconceptions regarding St. Louis and the Rams. 
In the above-linked first piece, I take a look at the support the Rams have received in the Gateway City, the faulty view that some have of St. Louis being merely a baseball town, and the head to head Rams and Cardinals television ratings and attendance figures for the Rams dating back to 1995, among many other things.
I hope many of you find the report to be interesting and informative. 
Have a great day, as always, STL Rams Nation.