2012 Summer Olympics: US Swimmer Missy Franklin Is Next Michael Phelps
July 3, 2012

Al Bello/Getty Images
I usually don't subscribe to the whole "Athlete A will be the next Athlete B" dynamic.
Most of the time when golf analysts declare someone like Rory McIlroy or Beau Hossler to be "the next Tiger," I just turn away and think, "call me when they win double-digit majors or 50 total tournaments."
Even worse is when the NBA "experts" compare anyone—LeBron James, or otherwise—to Michael Jordan. I think LBJ is nothing less than an elite, world class athlete, but nobody is MJ.
Once LeBron wins a few rings, grows bored with basketball and retires to play wide receiver for the Miami Dolphins—only to return to the hardcourt and win a few more rings—then we'll talk.
But, in this case, the swimming world just may have found the next Michael Phelps in 17-year-old female swimming phenom, Missy Franklin. She will be competing in seven events at the 2012 Summer Olympics.
The awkward part of this situation is that Phelps is still Phelps and will swim in seven events in London this summer as well.  
On the final day of the U.S. Olympic trials, Phelps decided to forgo competing in what would have been his eight event, the 200-meter freestyle, according to Beth Harris of the Associated Press, via ESPN.com.  
There was no guarantee that the former Michigan Wolverine would have even won this 200-meter free in London, as his rival Ryan Lochte—his Phil Mickelson or Vijay Singh, if you will—is the reigning world champion in that event.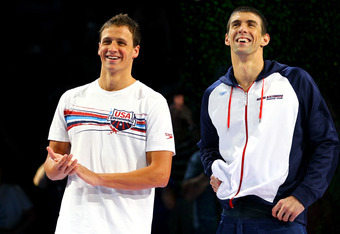 Al Bello/Getty Images
Lochte will prove to be a big part of Phelps' legacy, as most legendary athletes have a rival that pushes them to some degree.
Phelps will be challenged fervently by Lochte in London, as he will try to match the record he broke in 2008 of seven gold medals set by Mark "The Shark" Spitz at the 1972 Olympics in Munich—the one he broke in 2008.  
But if Lefty—Lochte—has anything to say about it, Phelps won't match that record. 
Eyes will still be on the Lochte-Phelps rivalry in London, but the 2012 Games will end up being known as the beginning of the Missy Franklin era in swimming. 
The Centennial, Colo., native will represent the American women in the 100- and 200-meter freestyle, the 100- and 200-meter backstroke and three relay events. If she does indeed compete in all seven events as expected, she will be the first female American swimmer to do so.  
Franklin is expected to lead a strong group of American females as they attempt to defend their spot atop international swimming after edging Australia to claim 14 medals at the 2008 Olympics.
Despite her age, Franklin certainly has the resume of a prospective Olympic champion.
At the 2011 FINA World Cup, "Missy the Missile" won gold in the 200-meter backstroke—her best event, bronze in the 50-meter back, as well as one silver and two gold medals in her three relay events—all while she was only 16 years old.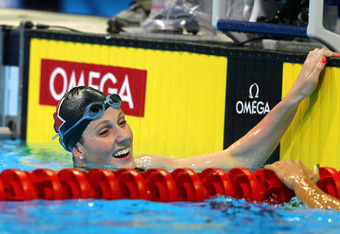 Al Bello/Getty Images
In her gold medal-winning heat at the world championships, she set the 200-meter backstroke world record.  
She was also a part of the world record-setting 4x100 freestyle relay team alongside her American teammates Natalie Coughlin, Rebecca Soni and Dana Vollmer at the 2011 Duel at the Pool (both links via SwimmingWorldMagazine.com). 
Now, one year removed from her world title, she is now set to challenge her own world records—perhaps even more.
She will head to London as one of the most talked about female swimmers in the world.
Afterward, she may come back to the U.S. as an Olympic champion adorned with medals. But, she won't even be able to vote in the November elections upon her return.
Phelps, on the other hand, was 19 when won his first Olympic medal at the 2004 Games in Athens. He took home six gold medals.
Although Franklin may never equal Phelps' ever-increasing medal total, when it's all said and done she may be the most decorated female Olympic swimmer of all time. 
Phelps is undoubtedly the greatest swimmer to ever live, and Franklin may end up as the greatest female swimmer to ever live.
Though I'm not really into the whole "next Michael Phelps idea," last time I checked, neither Rory McIlroy nor Beau Hossler—heck, not even LeBron James—held a world record at the age of 17.
Since, Franklin already has the best 200-meter backstroke time of any female swimmer ever at just 17 years old—without even making her first Olympic appearance —I'm ready to declare her the next Michael Phelps.
Hat tip to Joshua Verkerk for pointing out my mistake in saying the 2004 Games were Phelps' first Olympics. He competed at the 2000 Olympics but didn't earn a medal.