MLB All-Star Game 2012: Why R.A. Dickey Deserves to Start
July 2, 2012

Let me preface this article by admitting that I am a New York Mets fan, so there is something of a bias when I say that RA Dickey deserves to start the MLB All-Star game next week. While it isn't yet known who will be the starter, Dickey should be chosen without any hesitation. 
Let's just start off with the the raw stats, which alone give Dickey enough credibility to make the start. Dickey is 12-1 on the year, with a 2.15 ERA and 116 strikeouts. Those numbers are good for first, third and second in the NL, respectively. 
If you dig further into his stat line, the evidence is even stronger. Dickey is first in the NL in WHIP (.88), first in winning percentage (.923) and first in CG (3). He's only given up more than three earned runs in a start twice over the course of the entire season. And since May 22nd, he's had seven starts in which he's given up one run or less. 
To sum up the stats for Dickey, he's on a tear right now that you seldom see in baseball. He's the hottest pitcher in the game and quite frankly, no one has pitched better this season. What Dickey has done over the course of the first half of the season is truly special. 
Now on to the less tangible reasons for why Dickey deserves to start in the All-Star game. 
Dickey is one of the best feel-good stories to come along in any sport in quite some time. Dickey published his autobiography in the offseason, in which he told of being sexually abused as a young child, and how he's struggled to cope with it his entire life. He's even considered suicide multiple times, as recently as 2006 (per NY Daily News). 
It took a lot of courage for Dickey to publicly speak about such things. He's had a tough life with a lot of setbacks and the fact that at the age of 37 he's finally found success is remarkable. How could you not root for Dickey?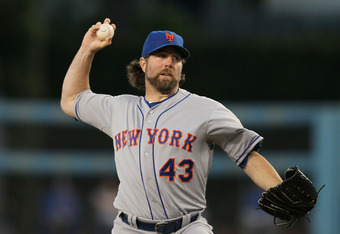 Victor Decolongon/Getty Images
In a time where baseball has struggled mightily with an image problem due to the steroid era and all the scandals it caused, Dickey is a huge positive for the game and he should be showcased on one of baseball's biggest stages. 
Let RA Dickey start the 2012 MLB All-Star game.
He's more than paid his dues, and he's earned it with his performance on the field this season.
He deserves it.   
All stats per ESPN. 
Follow me on Twitter: @rlongo924