Forget Shaun Rogers, Giants Are Just Fine with Linval Joseph, Chris Canty
July 2, 2012

I thought from the get-go that the New York Giants' decision to sign Shaun Rogers was a strange one. Expectations are/were low, and he signed for less than $1 million, but that news combined with Mike Garafolo's report that the team had been looking into signing Albert Haynesworth is enough to have me wondering why there's any concern at all regarding the current group of defensive tackles.
You can't have too much depth, and veteran experience is always a good thing. That said, guys like Rogers and Haynesworth, who have been known to have somewhat poisonous presences within locker rooms, are liable to do more harm than good.
Last month, Bart Hubbuch of the New York Post called the Rogers signing puzzling, deeming it to be a "failed experiment." Rogers missed the entire offseason program due to a somewhat mysterious injury and should be buried on the depth chart of one of the deepest defensive lines in football.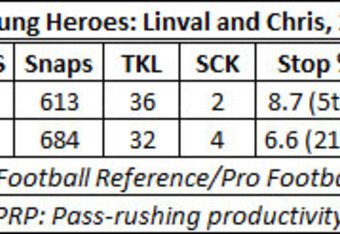 Question: Do Giants fans know what they have in Linval Joseph and Chris Canty? Again, I understand the need for depth, but when you have starters as good as Joseph and Canty, there's no need to roll the dice on questionable characters in order to provide support. 
Jason Pierre-Paul, Justin Tuck and Osi Umenyiora get so much credit that I wonder if we fail to appreciate the steady, consistent performances delivered by Joseph and Canty.
In football, one unit's strength is almost always tied to the strength of the units directly surrounding it. The pass rush is this team's strength, but it wouldn't be as effective if not for Joseph and Canty, whom I consider to be unsung heroes in New York.
I'm not suggesting that Canty's not a big name. The man makes $7 million a year and runs his mouth as much as anyone on the roster. But is his on-field production properly appreciated? He's not a big sack guy and doesn't force turnovers, but he's great as a run defender and gets considerable pressure for a 4-3 defensive tackle. 
Canty went through a bit of a rough patch early last season, but he looked like a Pro Bowler during the Giants' playoff run despite being hampered by a knee injury. It's that rehabilitating knee that could be providing the team with its motivation to bring in veteran support, but the feeling is that he'll be ready to go for the start of the season.
While we probably have a grip on where Canty's ceiling is, it's Joseph I'm most excited about heading into 2012. The 2010 second-round pick replaced Barry Cofield seamlessly in his second season, getting more push than expected and taking up space to make things a hell of a lot easier on JPP, Tuck, Umenyiora and Dave Tollefson. 
Joseph was a consistent force during New York's playoff run, causing me to believe he's on the verge of becoming a household interior defensive lineman next season. He won't turn 24 until October, so there should be plenty of room for improvement.
Rocky Bernard's also on the roster, and last year's second-round pick, Marvin Austin, should be a factor after missing his entire rookie campaign due to injury.
There's simply no need for Shaun Rogers. You get the feeling the Giants will come to grips with that fact really soon.