Robert Nkemdiche: Clemson Makes It Increasingly Difficult to Flip 5-Star DE
July 2, 2012

Clemson is doing everything it can to make sure 5-star defensive end and consensus No. 1 overall recruit Robert Nkemdiche remains committed to the program, and it may have just sealed the deal.
According to Michael Carvell of the Atlanta Journal-Constitution, the Tigers will be accepting quarterback Nick Schuessler, who played with Nkemdiche at Grayson High School, as a preferred walk-on:
The 6-foot-4, 190-pound Schuessler said he will join Clemson as a preferred walk-on.

Schuessler's decision to go to Clemson will likely strengthen the commitment of the nation's No. 1 consensus college football prospect to the Tigers.

Schuessler and Nkemdiche are longtime friends: They teamed together in Grayson's offensive backfield (with Nkemdiche playing tailback) during the state championship run. Nkemdiche has also lived with Schuessler's family at times.
This is an incredible move by Clemson, and it shows just how serious the Tigers are in regards to recruiting top prospects and building a program that can compete with the LSUs and Alabamas of the world.
Even for a 5-star prospect, the jump from high school to college is bound to have some awkward moments—both on and off the field—so by allowing Schuessler onto the team, the Tigers are essentially trying to create a more comfortable environment for their star recruit.
Consider that Clemson also was able to grab Grayson running back Wayne Gallman and defensive back David Kamara, and it's rather obvious the Tigers are trying to make their program feel a bit like home for Nkemdiche.
It may seem like a trivial point, but believe you me, this is an integral part of their recruiting process.
Nkemdiche is the most valued prospect in the nation, so they have to do everything they can to make sure that he wouldn't seriously consider flipping to an SEC team like LSU or Alabama. Don't be naive—the prestige of the SEC will always be alluring to star prospects.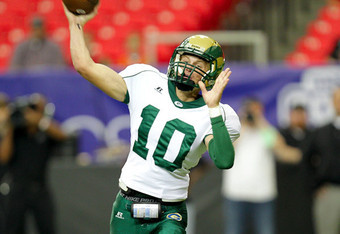 Schuessler's decision to walk on with Clemson does bring up interesting points from his perspective as well.
He was committed to Mississippi State but is choosing to instead walk on to a team that had five quarterbacks on its roster in 2011, including star signal-caller Tajh Boyd, who threw for 3,828 yards and 33 touchdowns and ran for five more. I dare say Schuessler won't be seeing the field anytime soon at Clemson, so is the power of friendship that strong?
Perhaps there's something else to be acknowledged here.
Perhaps Clemson is becoming a major recruiting destination.
That statement has national championship implications written all over it.