The Best Backup Offensive Linemen in the NFL
July 2, 2012

Rob Carr/Getty Images
In the NFL today the difference between winning and losing often isn't how good your starters are, it's how big the drop off is between them and the guys behind them on the depth chart.
Peyton Manning spent pretty much his entire career in Indianapolis with no viable backup, which was never an issue (208 consecutive starts trailed only Brett Favre all-time for a QB before his injury), until he finally suffered an injury that put him out long-term.
When that happened, the strategy of relying on Manning being an ever-present backfired spectacularly, and the Colts went from playoff contender to No. 1 pick contender overnight.
Things aren't quite so dramatic in other positions, as the quarterback is by far the most important spot on a football field, but the teams that succeed well into the season are often either the ones that remain the most healthy, or the ones that can patch their losses with depth when they have to—teams who find legitimate play from their depth players.
It may not be the glamor positions, but the offensive line falling apart is the fastest way to kill an offense that could be virtually unstoppable before the injury.
In 2005, it was the loss of Matt Birk, anchoring the middle of the Vikings' line, far more than the loss of Randy Moss (who missed half of 2004 anyway) that caused the Vikings' offense to fall to pieces. While Daunte Culpepper had found himself with all day to throw the season before, he was suddenly running for his life, and one such run eventually ended his season when a cornerback torpedoed his knee in a tackle.
Last season, the Chargers being forced to turn to Brandyn Dombrowski at left tackle nearly ended their season entirely, but they found a diamond on the scrapheap in the form of Jared Gaither, who came in and gave them Pro-Bowl quality play at the position after being cut from the Chiefs mid-way through the season.
That upgrade at left tackle also turned Philip Rivers back into the passer we all know he can be, whereas just weeks before he looked lost, incapable of making sound decisions and accurate throws. That is the difference between quality depth and not.
So with that in mind, who are some of the best backup linemen in the NFL? Which guys could step in and start without hurting the team if the players ahead of them on the depth chart went down injured?
Several of the players who would have made this list during the season last year played well enough to earn themselves starting jobs going into this season. Players like Jared Gaither, Jeremy Zuttah and Evan Mathis played their way into the lineup one way or another, but there are still more guys who haven't yet been given the opportunity.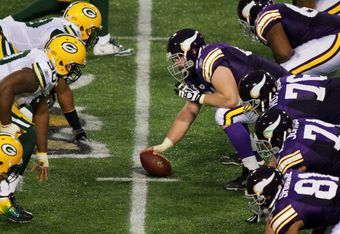 Joe Berger
There was a time when the Vikings routinely had one of the best offenses in football. In 1998 they set a record with the most points scored in a single season (since eclipsed by the 2007 Patriots), but since 2005 they have been struggling to replicate that kind of explosive production.
Part of that is the lack of a legitimate quarterback since then, part of it the lack of Randy Moss, but part of it has been the continual decline of an offensive line that was once one of the league's best. Right now it is somewhere in the middle of the pack, with the potential to become reasonably good if top draft pick Matt Kalil works out. 
The Vikings will be starting a pair of new guards this season, but one player that likely won't be amongst them is somebody that has shown well when he has had playing time since coming over from Miami—Joe Berger.
Berger has experience at both guard spots and at center, and in 2009 in Miami he looked like he could take the starting job and run with it. The next season he got that chance and didn't make the most of it.  He wasn't bad, but didn't play up to the level he did the year before in limited duty.
The Vikings brought him over the next season, and he has been a backup across the interior for them since, getting time at all three spots in relief of starters. Berger is a strong run blocker—which is ideal for a team like the Vikings, who will still be relying on their run game whether or not it rests on the shoulders of Adrian Peterson—but he's also a capable pass protector on the inside. 
The Vikings will likely slide LT Charlie Johnson to LG and allow newcomer Geoff Schwartz every opportunity to win the RG job, leaving Berger where he is as the cover man for all three interior spots, but he's a guy who could start and do well at any one of the three.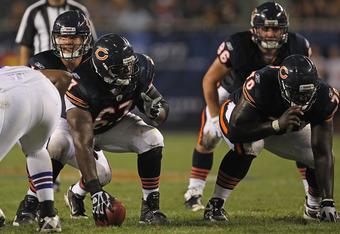 Jonathan Daniel/Getty Images
Edwin Williams
The Chicago Bears have had one of the worst offensive lines in football for a few seasons now. They have tried to address it with draft picks and free agency, and the removal of Mike Martz and his offense should make their job a lot easier schematically, but they have to eventually find better play from the players tasked with starting.
One player they never seem to give a legitimate shot to start to is Edwin Williams, who has played well whenever he has seen the field for them in relief of one of their underachieving starters.
To Chicago's credit, they recognize the ability of Williams enough to sign him to a two-year extension this offseason, but they still don't have him slated to start, electing to go with a combination of Chris Spencer and Lance Louis at the two guard spots.
What is most impressive about Williams' play is his pass protecting. Over the past two seasons the rest of the Bears' offensive line has been leaking pressure like a badly patched fishing boat, but Williams has been able to hold up whenever he has been forced into the lineup.
He also looked like a capable run blocker, especially when he was playing at right guard, and I can see little reason why the Bears wouldn't give him a shot to start at that spot, when Lance Louis has such a large amount of poor tape suggesting that he won't be the answer long-term.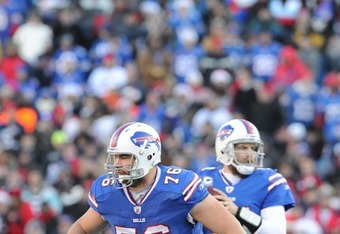 Chad Rinehart
After a while struggling to put together a legitimate offensive line, the Bills are suddenly overflowing with impressive looking linemen, if only they could keep them all healthy they would be in business.
Injuries along the interior over the past couple of seasons has allowed several players to get extended playing time and develop their play. All four of Andy Levitre, Eric Wood, Kraig Urbik and Chad Rinehart have put together some impressive tape over that period, but going into 2012 only three of them can start. 
The Bills look set to run with Levitre and Wood at left guard and center, but the question mark is at right guard, where Urbik and Rinehart will have a starting spot up for grabs. Whichever player loses that battle will be one of the best backups in the league.
Last season, Rinehart actually played more than twice as much as Urbik did, filling in at both guard spots for much of the season but then starting the final six games at right guard when Urbik was kicked inside to center, but Urbik was the starter to begin with and may remain that way. Neither player allowed a sack all season, but Rinehart was a notably better run blocker
I suspect the Bills will elect to run with Urbik again as the incumbent starter, but Rinehart gives them the flexibility to cover both guard spots in relief, and in Levitre and Urbik they have players who are also well versed in other positions along the offensive line.
Rinehart has emerged as a quality starting-caliber lineman even if he doesn't get rewarded for that with a starting job. If he doesn't, he is one of the league's best backups.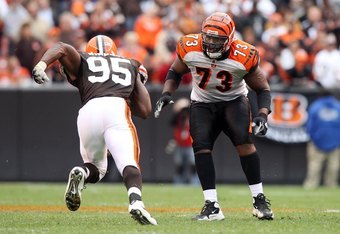 Jim McIsaac/Getty Images
Anthony Collins
Anthony Collins is a player who is unfortunately cursed with simply having less invested in him than the player ahead of him on the depth chart. He has been behind Andre Smith on the depth chart at right tackle for the past couple of seasons, as well as filling in when the Bengals use unbalanced lines and covering at left tackle behind Andrew Whitworth.
In truth over that time he has outperformed Andre Smith, but Smith was a top draft pick and the Bengals have an absolute ton of money invested in him, so they were always going to give him more and more chances to improve.
To his credit, last season Smith really took strides and solidified his position at right tackle, finally paying back some of those millions with some quality play. He may never justify the draft position or the contract he received, but at least he's not in any danger right now of losing his job, which is more bad news for Collins, because he deserves a shot to start somewhere.
Collins has impressive feet and athleticism for a tackle, and in truth could likely start at left tackle for somebody, but with Whitworth even more firmly entrenched in that spot than Smith is on the other side, Collins is left with being the swing tackle for the Bengals and getting spot duty as a sixth lineman when they run exotic packages.
There are several teams in the NFL that would be significantly upgraded with Collins in their stating lineup, but for the Bengals he remains one of the league's best backups.