Kansas City Chiefs: Tamba Hali and Eric Berry Only Players Hall of Fame-Bound?
July 2, 2012

Harry How/Getty Images
When scouring the roster of the Kansas City Chiefs, you stumble upon nothing but legit talent. Not just your regular, run-of-the-mill players earning a more-than-sufficient paycheck, but guys that are considered among the best at their positions across the entire NFL.
You may not find a more explosive running back than Jamaal Charles or a more consistent right tackle than Eric Winston. Brandon Flowers is becoming one of the more respected cornerbacks in the league, while Derrick Johnson's pure playmaking ability at middle linebacker might be second to none.
Both wide receiver Dwayne Bowe and left tackle Branden Albert are also eager to build on successful careers this season, hoping to cash in on a long-term contract. And breakout candidates—wide receiver Jon Baldwin and outside linebacker Justin Houston—are ready to be cast into the spotlight in 2012.
Whether via free agency or the draft, general manager Scott Pioli is in the midst of shaping the Chiefs roster into a very skilled unit ready to take the next step as a team. And while each and every player will play their part in making the 2012 season—and beyond—a success, only two have what it takes to go down as some of the best to ever play the game.
When factoring in age, statistical history, career trajectory and a little bit of a Nostradamus-like vision, only outside linebacker Tamba Hali and safety Eric Berry have what it takes to carve out Hall of Fame careers from the current Chiefs roster.
While certainly not discounting the talent level or overall value to the Chiefs of any of the previously mentioned players, none are in the position to continue on a path quite like Hali and Berry are.
The odds are stacked against a smallish running back like Charles to have a career long enough to garner such an individual honor. If Cris Carter and Tim Brown can't get in the Hall of Fame, Bowe virtually has no shot either.
The list of cornerbacks enshrined is small and consists of mostly players that contributed as kick returners, so Flowers is certainly behind the eight-ball as well. And there isn't enough of a track record or hype surrounding Houston to give him the nod either.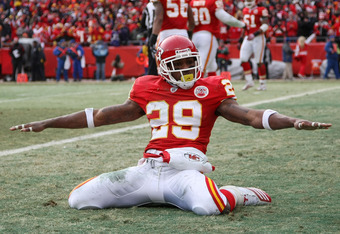 Doug Pensinger/Getty Images
Hali is only 28 years old and has accumulated 35 sacks since the Chiefs switched to the 3-4 defense prior to the 2009 season. With new head coach Romeo Crennel leading the way, Hali—in the prime of his career—is ready to be consistently talked about among the elite pass-rushers in the league. If he can continue his ascent as one of the NFL's best, Hali has an outside shot at the Hall of Fame.
Berry sat out virtually all of last season with a torn ACL, but his Pro Bowl rookie season (2010) was just a glimpse of what he is capable of on the football field. While there aren't a lot of safeties in the Hall of Fame, his playmaking ability might just earn him enough praise to have his bronze bust sitting among the best to ever play pro football.
It is no guarantee either way, but Hali and Berry both possess the intangibles and ability to end up in Canton when each of their careers are over.
Contact Jeremy at jeremy@popflyboys.com, on Twitter @KCPopFlyBoy and at popflyboys.com.