NBA Draft Grades: Why Brooklyn Nets Snagged Top Grade
July 2, 2012
Dilip Vishwanat/Getty Images
After trading away their first-round pick for Gerald Wallace in March, it appeared the Brooklyn Nets were destined to be considered losers of the 2012 NBA draft.
With only four players under contract and just the No. 57 overall selection, the Nets knew they had their work cut out for them this summer.
Oh, and did I forget to mention the Deron Williams saga, the Gerald Wallace/Kris Humphries/Brook Lopez free agencies and the Dwight Howard rumors?
There are many different ways the Brooklyn roster could look next year, and General Manager Billy King knew he had to make some moves to provide stability for the future of the organization.
As a result, King twice traded cash considerations for second-round picks, gaining the No. 41 pick from the Portland Trail Blazers and the No. 54 pick from the Philadelphia 76ers.
First, we will look at how each player fits under the best-case scenario for the Nets. This means a team that has signed Deron Williams, Gerald Wallace and another key role player and has traded for Dwight Howard, resulting in a NBA Finals contender.
Then we will look at how each player fits under the worst-case scenario for the Nets. This means that Brook Lopez is the only player they bring back, Ersan Ilyasova is their top free-agent signing and players who should be coming off the bench are pushed into starting spots.
Let's take a look individually at each player the Nets selected and how they fit in the future of the organization.
No. 41: G Tyshawn Taylor, Kansas
A New Jersey high school product, Tyshawn Taylor was a four-year starter for the Kansas Jayhawks and really broke out in his senior year.
Taylor averaged 16.6 points and 4.8 assists per game in helping lead Kansas to the National Championship game, where he dropped 19 points against first overall pick Anthony Davis and Kentucky.
Walker Beeken of Draft Express wrote that Taylor "has a solid first step, very good top speed with the ball in hands and nice lateral quickness defensively."
Throw in his 38.2 percent proficiency from three-point range and you have a second-round pick who can make an impact in Brooklyn next year.
Under the best-case scenario for Billy King and the Nets, Taylor serves as a solid bench player next year who can learn from the likes of Deron Williams and possibly Jason Kidd. Over time he becomes a starting-caliber point guard who the Nets can either trade at his highest value or keep to provide excellent depth off the bench.
Worst-case scenario is that Taylor is pushed into a prominent role as the team's primary point guard in 2012 and he struggles in his rookie year. He would take much longer to develop as a player, and while I still think he would be a good starter in the NBA, he would probably see very few winning seasons in his career with the Nets.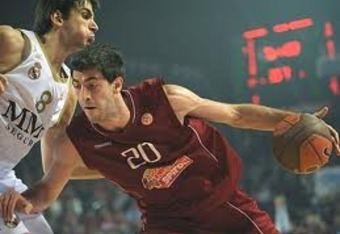 No. 54: SF/PF Tornike Shengelia, Charleroi (International)
As an relatively unknown international player, Tornike Shengelia appears to most Nets fans as a wasted pick.
However, that could not be further from the truth as King might have gotten the steal of the draft by selecting Shengelia in the second round.
A 6'9" bruising forward with excellent athleticism, Shengelia has a non-stop motor that will help him rebound against bigger NBA players.
While there were questions about his offensive game coming into the year, Shengelia has shown great improvements in his ball-handling and outside shot and was one of the best players at the Adidas EuroCamp.
Best-case scenario is that Shengelia spends another year overseas before coming over to one of the NBA's most complete teams. He would provide an exciting spark off the bench with his tenacity on the boards and would be able to open up the paint for Dwight Howard by pulling big defenders out to guard him on the perimeter.
Worst-case scenario is that Shengelia spends another year overseas developing his game while a depleted Nets squad wishes they had drafted a player from the college ranks. When he comes over he is pushed into a prominent offensive role, and the energy he spends trying to score the ball takes away from his rebounding ability. He never quite develops into his full potential and becomes a perennial bench player bouncing around the league.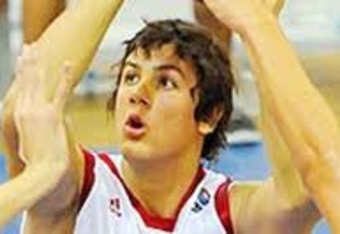 No. 57: SF Ilkan Karaman, Karsiyaka (International)
With the only pick they entered the draft with, the Nets selected another big, athletic European forward in Ilkan Karaman.
Karaman is a bruiser who, much like Shengelia, is relentless on the boards and impressed with his play at the Adidas EuroCamp.
However, Karaman doesn't quite have the offensive skill set that Shengelia possesses, although he showed improvements in his all-around game this past season.
Some scouts compared Karaman to Kenyon Martin for multiple reasons and the Nets would be ecstatic if the 22-year-old developed into a player similar to the former No. 1 overall pick.
Under the best-case scenario Karaman takes a couple of years overseas to develop his game before he comes over to Brooklyn. When he gets to the NBA he teams with Shengelia to provide the Nets with a brand of European tenacity off the bench to go along with the star power that Williams and Howard would provide.
The worst-case scenario is that he spends a couple of years overseas and provides no immediate value to the Nets. When he gets here he immediately becomes an important player on the team rather than a role player off the bench. His flaws are immediately exposed by the rest of the league and he soon is back overseas with his NBA career in the rear-view mirror.
Luckily for Nets fans, Howard seems intent on coming to Brooklyn sooner rather than later, and the best option for Williams should be re-signing with the team.
When that happens this draft, which without the trades would have been very weak, becomes an excellent source of depth for a championship-caliber team.
With stars like Williams and Howard to look up to, Taylor and Shengelia have the opportunity to develop and reach their potential as starters in the NBA while Karaman turns into a valuable role player on a winning team.
While many fans consider this draft to be a complete failure by King, considering the way they came into the draft and the roles these players have in the future of the organization, the Nets put together one of the better drafts of any team in the NBA.