N.Y. Islanders Transform Team in a Mere 2 Weeks, Pick Up Boyes and Carkner
July 2, 2012

Bruce Bennett/Getty Images
The New York Islanders decided it would be for the better if they acquired a lot more size and grit. What's different than other teams doing this is that the Islanders did it in a mere two weeks.
The Islanders realized their defense will be the main key to success next season. Last year, the team had young, inexperienced defensemen and old, slow veterans who hardly helped. Size was a main concern for this year (as was getting the puck up the ice), seeing as being a bigger team—and not having just a huge, lumbering defense—will pay huge dividends. So they decided to get big.
Starting with trading for Lubomir Visnovsky by sending a second round pick to Anaheim, the Isles immediately upped their ability to move the puck and score from the blue line. He doesn't fall into the huge defenseman category, but he is a skilled puck-moving D-man.
Then they drafted Griffin Reinhardt fourth overall in the draft. At a whopping 6'4", and coming in at over 200 pounds, Reinhardt is the definition of a big puck-moving defenseman. He can do it all: He can play shutdown defense and then come back and make the plays that help put pucks in the net. 
Only two of the next seven picks after Reinhardt were under six feet tall. The Islanders have decided to gain some size for the long run and not just a few years, which will be a huge payoff in the coming years.
Following the draft, they dismissed most of the players who were a hindrance last season—Steve Staois, Milan Jurcina, Mark Eaton and Jay Pandolfo all were not re-signed.
Then came the real bolstering. Brad Boyes was signed to a one-year, $1 million contract. Boyes is a solid 6'1" veteran who is only 30 years old. In 558 NHL games, he has 372 points. Some are thinking he may be a replacement for the now-departed P.A. Parenteau, and if Boyes can have a season like Pierre did last year, the guy will instantly be a success in terms of being an ideal free agent: an impact player at a low cost.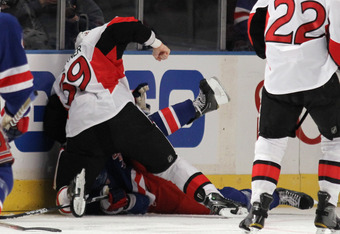 Bruce Bennett/Getty Images
Then came news that the Islanders had acquired 6'4", 240-pound Matt Carkner in a three-year $4.5 million deal. Carkner brings the type of play the Islanders haven't had in a long time on their defense. Carkner is the type of player that no one likes to play against. He's a shutdown defenseman in every way. He's physical, assertive and not afraid to drop the gloves, but he isn't limited to just being a fighter.  
The Islanders now have an extremely balanced defense. The scoring can come from Visnovsky, Mark Streit and Travis Hamonic, while the shutdown defense against other teams' top lines can come from Hamonic and perhaps Carkner. This leaves Andrew MacDonald and one of the prospects to come up and play as a solid two-way second defensive pairing.
The Islanders have changed their look significantly. They acquired large and talented players who now have the ability to play physical and score, a balance that has long been needed on Long Island.